Purchase or subscribe to access this resource.
$14.95
Included with a Premium Membership
Subscribe for instant access to this and every resource on TeacherVision.
Subscribe
A Guide of Tips, Advice, and Printables to Support Teachers with their Physical, Mental, and Emotional Health.
Self-care for teachers is more important now than ever before. That's why we created this guide, to take you through the what, why, and how of physical, professional, emotional, and social self-care. Complete with tips, advice, and printables to support setting and achieving manageable goals, and developing long-term habits to improve your physical and mental health, it has everything you need to become a healthier, happier teacher!
This guide features as part of our self-care offer to support teachers with forming healthier habits and developing good self-care practices. For more support with self-care, including mindfulness and gratitude, time management, work-life balance, and stress management, explore our full range of self-care guides, and other useful resources, in our dedicated Self-Care Hub.
What's Included in this Self-Care Guide
Tips, advice ,and guidance for setting and achieving self-care goals, plus handy printable tracking templates
Physical self-care strategies, including ways to increase exercise, healthy eating, medical care, and good sleep habits
Social and emotional self-care strategies, such as setting aside "me-time", and advice on getting started with mindfulness, gratitude, and reflection practices
Professional self-care strategies tailored for teachers, including tips and advice on setting up your workspace, eye care, posture, taking care of your voice, and relaxation strategies
Tips and advice for turning goals into life-long healthy habits, plus a printable habit tracker to help you along the way!
Healthy Habits and Self-Care Strategies for Teachers
Why is Self-Care Important for Teachers?
Although it may sometimes feel like self-care is just one more thing you have to do in your already busy day, good self-care practices can improve your physical, mental, and emotional health, and promote positive health outcomes like living a longer life and developing better ways to manage stress.
With teacher burnout on the rise, it's becoming increasingly important to find ways to manage the stresses and challenges of teaching. Self-care is an essential component of maintaining balance and keeping mentally and physically healthy. When we take care of ourselves, we have more energy to put into all aspects of our lives and more resilience to deal with the daily stressors we face.
Take Care of Yourself - How to Use This Self-Care Guide
The guide begins with a comprehensive and useful introduction to self-care principles to help you to get a better understanding of what self-care is, and how it can help you to become a happier, healthier, and more resilient person.
Once, you've familiarized yourself with the concept of self-care, you can move on to setting goals for self-care. Make your goals manageable by starting with the one thing that will have the biggest impact on your well-being. This helps you feel motivated to keep working on your next goals. Use the Physical Self-Care Assessment printable to highlight which areas need improvement, then use the handy sign-posting page to find everything you need to start working towards your self-care goal.
Once you're making progress with your self-care goals, think about how you can turn your goals into lifelong habits. We've put together 5 helpful tips to help you form good long-term habits, and the handy habit tracker printable will help you to monitor your progress.
What You'll Find Inside
Self-Care (pages 4-9)
Defining Self-Care:
What is self-care?
Why is self-care important?
What does the research say?
What do experts say?
What do teachers say about the importance of self-care?
Where's the best place to start?
Getting started with planning your self-care goals:
Physical Self-Care Assessment - Self-assessment checklist to rate yourself against critical areas of physical self-care and identify what you're doing regularly and what you'd like to do more.
Goal-Setting Tips - Helpful, practical advice on setting goals to improve your physical wellness.
Choosing Your First Goal - Handy list designed to signpost you to where in the guide you can get help with achieving your self-care goals.
Physical Self-Care: Exercise (pages 10-16)
Setting an Exercise Goal - 7 tips for setting an exercise goal and increasing your physical activity.
My Exercise Goal - Handy printable template with sections for setting your exercise goal, an exercise tracker, and end-of-the-week reflection.
Stretches - Helpful guide to stretches you can try at school (or at home) with instructions and diagrams.
Short Workout Ideas - Easy, practical suggestions for exercise and workouts when you're short on time, plus a handy grid to choose and plan your workouts.
Other Ways to Exercise - Suggestions of activities to try when you have more time available for exercising.
More Exercise Resources - Links to external resources on stretching exercises and short workouts, including stretches you can do at your desk, and quick mini-workouts.
Professional Self-Care: For Teachers (pages 17-23)
Setting a Teaching Self-Care Goal - 6 tips for setting a goal and start taking better care of yourself while teaching.
My Teacher Goal - Handy template for choosing a teaching-specific self-care goal with sections for identifying action steps, tracking progress, and end-of-the-week reflection.
Tips for Good Posture - Practical advice on improving your posture while standing or sitting to help avoid back pain.
Tips for an Ergonomic Workspace - Helpful tips for creating a workspace that supports and improves your physical wellness.
Tips for Eye Care - 8 practical tips for protecting your eyes and keeping them healthy.
Tips for Taking Care of Your Voice - 8 essential tips for teachers to protect and take care of your voices.
Tips for Relaxation Strategies - 3 tried and tested relaxation strategies (deep breathing, mindfulness meditation, and visualization) with helpful step-by-step instructions.
More Teaching Self-Care Resources - Links to external resources to help with improving posture, creating the perfect ergonomic workspace, eye care, taking care of your voice, and relaxation tips for stress relief.
Physical Self-Care: Eating and Drinking Well (pages 24-35)
Setting a Healthy Eating Goal - 6 tips to help you set a goal and start eating healthier.
One-Day Food Log - Handy template to track food/drink consumption on an average day and help you identify a healthy eating goal.
My Healthy Eating Goal - Printable goal-setting template for choosing a healthy eating goal, tracking your progress, and reflecting at the end of the week.
Tips for Increasing Servings of Fruits and Vegetables and Decreasing Servings of Unhealthy Snacks and Sweets - 8 practical tips for developing healthier eating habits.
Tips for Increasing Servings of Water and Decreasing Servings of Caffeine - 8 helpful tips to improve hydration and reduce your caffeine intake.
Tips for Making Healthy Eating Part of Your Daily Life - 8 tips with accompanying resources to incorporate healthier eating habits into your daily routine, including food log and grocery list templates.
Healthy Snack Options - Ideas for healthy foods that are ideal for snacking, simply choose from the list and use the template to build the perfect healthy snack packs.
Healthy Lunch Options - Ideas for healthy teacher lunches, from salads to sandwiches and wraps, power bowls, and healthy tacos, plus links to recipes.
Make-Ahead Meal Ideas for Dinner - Tasty meal ideas that can be prepped or made ahead of time to make eating healthier easier for busy teachers.
More Healthy Eating Resources - Links to external resources including recipe lists, tips for a healthier diet, and advice from leading experts.
Emotional and Social Self-Care: "Me Time" (pages 36-41)
Setting a "Me Time" Goal - 7 tips to help you set and achieve your "me time" goal.
"Me Time" Goal - Goal-setting template for consciously setting aside time for yourself, including a tracker and end-of-week reflection.
Tips for Setting Aside "Me Time" - 6 helpful tips for making time for yourself and taking time out of your busy schedule that is just for you.
Hobbies and Other Fun Activities - Suggestions for hobbies to inspire you to try something new, or get back into an old hobby you stopped making time for.
Relaxing Activities - Ideas for activities to help you let go of your stresses and just enjoy some quiet, peaceful time.
More "Me Time" Resources - Website links and reading suggestions to help you make more time for yourself.
Physical Self-Care: Preventing Illness (pages 42-45)
Setting a Medical Care Goal - 7 tips for taking better care of yourself and achieving your medical care goal.
My Medical Appointments Goal - Handy template to help you keep up with medical appointments, including an appointment planner.
Tips for Defending Against Colds/Flu/COVID - Helpful advice on how to reduce your chances of getting sick.
Tips for Dealing with Seasonal Affective Disorder - Practical advice for easing the symptoms of SAD.
More Medical Care Resources - Links to external websites with medical advice and tips for staying healthy.
Physical Self-Care: Sleep (pages 46-49)
Setting a Sleep Goal - 5 tips for increasing the number of hours you sleep and setting a sleep goal.
My Sleep Goal - Template for setting a goal for better sleep, including a tracker for identifying sleep strategies and hours slept each night, plus end-of-week reflection.
Tips for Getting Better Sleep - 12 helpful tips to help you sleep better, including advice about sleep schedules, screen time, and bedtime routines.
More Sleep Resources - Links to helpful external websites with further information about the importance of sleep and how to sleep better.
Emotional and Social Self-Care: Gratitude and Reflection (pages 50-57)
Setting a Gratitude and Reflection Goal - 6 tips for setting and achieving your gratitude and reflection goal.
My Reflection Goal - Template for setting a goal for time spent on gratitude and reflection each week, with sections for a tracker and end-of-week reflection.
Reflection/Gratitude Journal - Blank template for practicing gratitude and reflection.
Tips for Showing Gratitude - 5 helpful tips for getting started with a gratitude journal.
Tips for Reflection - 21 questions for reflection to help you stop and reflect on the things happening in your life.
More Gratitude and Reflection Resources - Recommended websites and books for more information on using gratitude and reflective journals.
Turning Goals into Long-Term Habits - Advice on forming good long-term habits that improve your health and well-being.
Habit Tracker - Handy template for tracking your habits for the month, including exercise, posture, relaxation, eating, and drinking, to help you form long-term healthy habits.
Further Help (pages 58-62)
Useful Organizations
Useful Books
Other Helpful TeacherVision Resources
Other Self-Care Resources/Downloads
References/Sources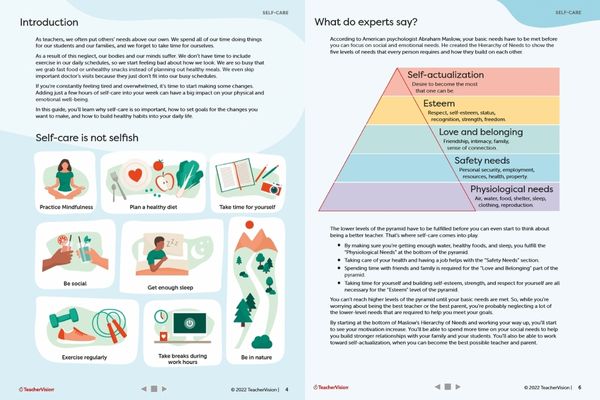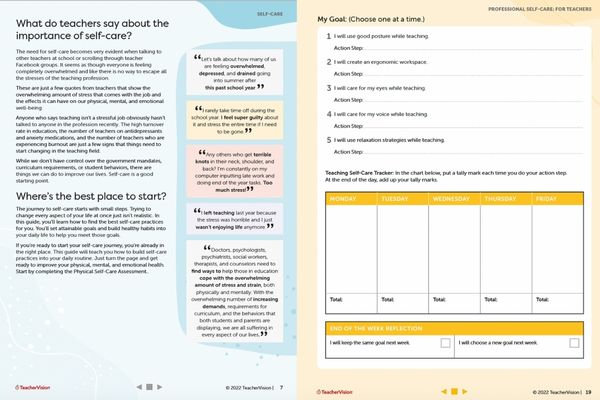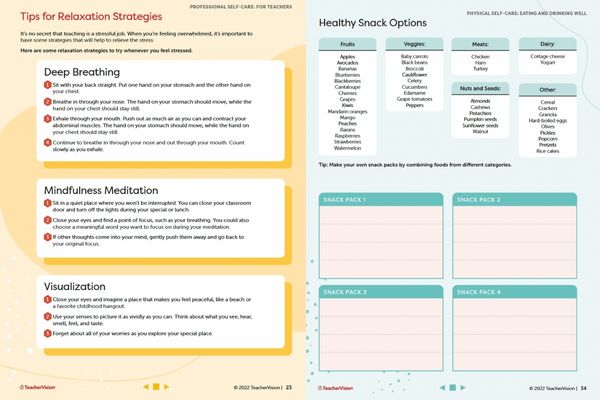 Authored by:
Last edited: October 9, 2022