CREATED BY:
LAST UPDATED: May 24, 2023
This collection of comments and phrases is perfect for end of the year report cards. Customize and tailor them as necessary to provide a fitting look back on the full year in the classroom. Appropriate for all grade levels.
Report Card Comments & Phrases—End of Year
Comments
There has been noticeable improvement in _______'s study habits this year. Please continue to work on these skills over the summer.

Thank-you for your interest in _______'s schoolwork this year. With her continued effort, she will receive much satisfaction from her work.

_______ is a fine citizen and a hard worker. I have thoroughly enjoyed having him in my class this year. Have a wonderful summer.

_______ has matured nicely this year. His progress during this last quarter was impressive. I hope this effort and attitude will carry over into the next school year.

Thank you for your support and interest in our class this year. _______ is a very hardworking boy and should have much success in the ____ grade.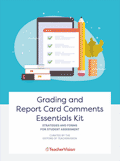 Looking for more report card comment examples?
Download or purchase over 90+ pages of grading comments examples, tips, and advice for managing student grades.
View more examples
Phrases
_______ has matured nicely this year, both academically and socially.

_______'s friendly, sincere way has made him a very popular member of the ___ grade.

_______ would benefit from reading many library books this summer.

_______ needs to improve his reading speed and comprehension if he is to have success in the ______ grade.

_______ continued to blossom as the year progressed.

_______ helped to make my year a pleasant one.

_______ takes a keen interest in all her work and is a most agreeable and willing worker. It has been wonderful having her in my room.

Thank-you for the help I know you have given her.

Please continue during the summer with ______ review and as many reading experiences as possible.

Thank-you for your interest in _______'s attitude.

I'm sorry I didn't get to meet you this year.

Thanks for your cooperation.

With _______'s friendly, cooperative attitude, she will always be a pleasant addition to any class.

I have enjoyed the association I have had with _______.

I enjoyed having _______ in my class.

It has been a pleasure to have _______ in my class.