Authored by:
Last edited: May 18, 2022
Report card comments and phrases highlighting character and social/emotional learning traits. Help parents and students appreciate the development and importance of 21st Century skills and character traits while making the report card writing process faster and easier. Suitable for all grade levels.
Report Card Comments & Phrases—Character and Social/Emotional Traits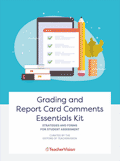 Looking for more report card comment examples?
Download or purchase over 90+ pages of grading comments examples, tips, and advice for managing student grades.
View more examples
Comments
________ has done a great job facing and overcoming big challenges this year. Please continue to encourage this behavior over the summer.

________ is positive, optimistic and confident, and a great role model for his/her classmates.

________ is often among the first to help and mentor other classmates. He/she is a valuable part of our classroom community.

________ has shown great ability to set goals and be persistent in achieving them.

________ is interested in his/her own learning, is attentive, and makes an effort to avoid distractions that would interrupt the learning process.

________ is responsible and accountable. He/she makes good decisions and acknowledges mistakes and opportunities to improve.

________ relates well to others and is appreciative of different perspectives and experiences.

________ manages his/her emotions appropriately and responds well to feedback.

________ looks for ways to be helpful in the classroom, and in the larger school community.

________ is dependable and reliable, takes direction well, and follows through on his/her commitments to self and others

________ communicates and collaborates well with classmates and staff.

________ is thoughtful, insightful and thorough in written and verbal communication, with a talent for expressing ideas clearly.

________ works well with classmates in group projects and activities, often taking a leadership or planning role.

________ is positive and encouraging with classmates in group projects and activities, and both takes and gives suggestions and directions well.

________ is always interested in learning new things and sharing that knowledge with classmates.

________ is very good at seeing things through all the way to the end, and finishing things he/she starts.

________ works hard at solving problems and conflicts with classmates through communication, respect and tolerance.

________ takes a very creative approach to solving problems, and is often very innovative in developing solutions.

________ excels at combining different ideas and concepts to come up with new ways to approach problems or challenges.

________ excels at applying what he/she learns in the classroom to real-world and real-life situations.

It has been a pleasure to have _______'s enthusiasm, energy and passion in my class.