Authored by:
Last edited: May 18, 2022
Make the grading process faster and easier with this set of report card comments and phrases for describing student work and study habits in your classroom. Give students and parents direct feedback on how to improve study habits, study habits examples, and work habits for students.
Report Card Comments & Phrases—Work Habits
Report Card Comments
As I have explained in my previous reports, ________ does not use his/her time wisely in class. Please help him/her to understand that we study in class and play at only certain times in school.

When _______ is able to settle down, he/she does much better work. However, he/she is often seeking the attention of his/her classmates, which causes distraction for everyone.

As we have discussed in previous meetings, __________ must continue to improve his/her study habits. We need to encourage him/her to be much more serious about the work he does.

_______ loves artistic activities. However, I am concerned about the amount of time he/she spends drawing when he/she has other work to do. Can we please meet to discuss strategies to help _________ correct this issue?

________ is doing grade-level work at this time. However, I am sure he is capable of turning in better work. When he improves his concentration abilities, I know the work will improve.

_______ misuses much of his work time daydreaming and then does not complete the work in time. He is capable of finishing the work in the allotted time and needs to start doing so.

________ has been doing good work at times, but it is not consistent. She can be very social and restless and often does not finish his/her work on time. Thank you for your help at home. Please continue to work with him/her on this issue.

________ is very anxious to get his/her work done, yet he/she tends to be bothersome to other students around him/her. Although he/she has shown progress in this area over the past month, he/she still needs to work on it.

_______ is having difficulty because he frequently talks out loud and disturbs the other students. He is trying to improve this bad habit and has shown some growth in the past few weeks.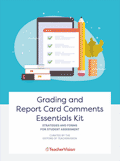 Looking for more report card comment examples?
Download or purchase over 90+ pages of grading comments examples, tips, and advice for managing student grades.
View more examples
Report Card Phrases
General
______ works well in groups, planning and carrying out activities.

______ needs to work democratically with others in groups.

______ needs to develop a better sense of responsibility.

______ wants responsibilities and follows through.

______ now accepts responsibility well.

______ is an attentive student.

______ is gaining self-confidence.

______'s work habits are improving.

______ has the ability to follow directions.

______ requires incentives.

______'s assignments and/or homework are incomplete and/or late.

______ needs to pay attention in class.

______ needs better study skills.

Please encourage him/her to do things on his/her own.
Listening Skills
______ is learning to listen to directions more carefully.

______ is learning to be a better listener.

______ is learning to share and listen.

______ listens carefully.

______ is a good worker and an attentive listener.

______ evaluates what he/she hears.

______ needs to listen to all directions.

______ has difficulty following directions.
Quality of Work
______'s hand work is beautifully done.

______ enjoys doing neat, careful work.

______'s work is neatly and accurately done.

______ does colorful and interesting art work.

______ takes pride in work well done.

______ makes careless errors.

______ is disorganized.

______ needs to proofread work.
Time Management
______ is learning to occupy his time constructively.

______ always uses his/her time wisely.

______ never completes assignments in the allotted time.

______ is becoming more dependable during work periods.

______ is gaining independence.

______ is becoming more self-reliant.

______ works independently on assignments.

______ fails to finish independent assignments.

______ comprehends well, but needs to work more quickly.

______ needs to be urged.

______ lacks independence.

______ is too easily distracted.

______ works too slowly.

______ does not complete assignments in the allotted time.

______ seems unable to finish required work.

______ often completes work early.

______ is not very appreciative of the value of time.

______ is sacrificing accuracy for unnecessary speed in his written work.
Work Potential and Effort
______ has great potential and works toward achieving it.

______ is working to full capability.

______ is a steadfast, conscientious worker.

______ is enthusiastic about work in general.

______ seeks information.

______ is a hard-working student.

______ is extremely conscientious.

______ is a pleasant, conscientious student.

______ is a hard worker.

______ is an enthusiastic worker during the ____ period.

______ is a polite and conscientious pupil.

______ must improve work habits if he is to gain the fundamentals needed for ___ grade work.

______ is inconsistent in his/her efforts, especially in _______.

______ makes little effort when not under direct supervision.

______ is anxious to please.