CREATED BY:
LAST UPDATED: May 18, 2022
These comments and phrases are appropriate for all students across grade levels and are a great time-saver while doing report cards. They are also a great resource to prepare for parent-teacher conferences.
Looking for report card comments for kindergarten? Our team of teaching experts recently put together the top 32 kindergarten report card comments. You may also like our end-of-year report card comments for students.
Report Card Comments & Phrases—Personality & Attitude
Comments
Although there has been some improvement in _______'s attitude toward his schoolwork, it is not consistent. He will need continual guidance from home and school throughout the rest of the year.

This report card is a reflection of ________'s attitude in school. He could improve if he decided to work harder and cooperate more.

_______'s attitude toward our school rules, the other students, and myself is reflected in this reporting quarter. She is capable of being a successful student with effort.

As my past reports have indicated, ______ does not do his schoolwork. He can do better if he makes his mind up to work harder and complete his assignments.

Although there has been some improvement with ______'s attitude toward her classmates, she frequently needs to be reminded to be respectful.

As we discussed in our last conference, ________'s attitude toward the basic skills is poor. Please continue to do a nightly review with her, especially focusing on ________.

Thank you for your interest in our class. I am pleased to report that _______ is showing positive development in regards to his attitude in our classroom.

_______ continues to make nice progress this year concerning her attitude in the classroom and on the playground.

I will continue to need your help and support if _______ is to overcome her attitude and social difficulties. She will find school a much more pleasant place if she can make a positive effort in this area.

_________'s attitude has continued to improve. Thank you for your support and cooperation.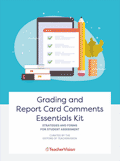 Looking for more report card comment examples?
Download or purchase over 90+ pages of grading comments examples, tips, and advice for managing student grades.
View more examples
Phrases
Attitude
______ displays an excellent attitude.

______'s attitude toward school is excellent.

______ has a good attitude toward school.

______ assumes responsibility well and has a find attitude.

______ shows initiative and thinks things through for himself.

______ is developing a better attitude toward ___ grade.

______ needs to improve classroom attitude.
Personality
______ is a very pleasant student to work with.

______ is a very thoughtful student.

______ has a pleasant disposition.

______ is pleasant and friendly.

______ is cooperative and happy.

______ is cooperative and well mannered.

______ has a pleasant personality.

______ is a pleasure to have around.

______ is friendly and cooperative.

______ is a sweet and cooperative child.

______ is a very happy, well-adjusted child, but _____.

______ is self-confident and has excellent manners.

______ has a sense of humor we all enjoy.

______ has a sense of humor and enjoys the stories we read.

______ gets upset easily.

______ cries easily.

______ often seems tired at school.

Although _____________'s growth in social maturity is continuing, it is not consistent.
Participation
______ is enthusiastic about participating.

______ participates well in class.

______ volunteers often.

______ is willing to take part in all classroom activities.

______ is showing interest and enthusiasm for the things we do.

______ makes fine contributions.

______ takes an active part in discussions pertinent to ______.

______ responds well.

______ speaks with confidence to the group.

______ takes turns talking.

______ enjoys participating in conversation and discussion.

______ needs to actively participate in classroom discussion.