Purchase or subscribe to access this resource.
$6.95
Included with a Premium Membership
Subscribe for instant access to this and every resource on TeacherVision.
Subscribe
A Complete Kit for Teaching Writing Skills and Exploring Nonfiction Writing with Grades 3-5
Equip your grade 3-5 students with the skills to write opinion pieces, newspaper reports, informative or explanatory texts and much more. This comprehensive teaching kit of nonfiction writing lesson plans has everything you need to build strong writers with no hassle, no prep, and no additional resources!
What's Included In This Teaching Kit
For the teacher:
Fully guided lesson plans with 44 accompanying teaching resources, including answer sheets
Lesson plans include warm-ups, main activities, assessment opportunities, extension activities and ideas for homework
Creative teaching ideas for 5 main non-fiction text types: instructions, recounts (newspaper), explanations, persuasion and non-chronological reports
Aligned with Common Core English Language Arts Standards
For the student:
Fun classroom resources to develop and practice writing skills
Opportunities for introducing, practicing and consolidating key grammar elements
Assessment sheet for each unit to monitor and assess students' skills and knowledge
Classroom display ideas to showcase and support students' learning journey
What You'll Find Inside
Section 1: Instructional Writing (pages 8-29)
Teaching Notes and Standards Alignment
Sequencing
Using Precise Language
Example: Shared Reading of a Recipe
Modeled Writing - The Introduction and Ingredients
Shared Writing - The Method
Assessment: Writing Instructions - A Recipe
Assessment Answer Key
Assessment: Sequencing - Writing Instructions
Activity: Writing a Preposition Poem
At-Home Activity: Preposition Hunt
Section 2: News Writing (pages 30-57)
Teaching Notes and Standards Alignment
What Are the Features of a Newspaper Report?
Grammar Focus - Using Adverbial Phrases
Shared Reading: Goldilocks and the Three Bears
Planning a Newspaper Report
Modeled Writing: Orientation and Events
Role Play: Eyewitness and Personal Comment
Proofreading and Polishing
Assessment: Writing a Newspaper Article
Assessment: Features of a Newspaper
Answer Key: Features of a Newspaper
Activity: Using Adverbial Phrases
At-Home Activity: Adverbial Collector
Activity: Arranging the News with Labels
Answer Key: Arranging the News with Labels
Activity: Paragraph Planner
Answer Key: Paragraph Planner
Activity: Little Red Riding Hood Events Timeline
Activity: Eyewitness Interview Role Play
Section 3: Explanatory Writing (pages 58-82)
Teaching Notes and Standards Alignment
What is an Explanation?
Using the Present Perfect
Shared Reading
Modeled Writing
Modeled Writing Part 2
Assessment: Explanations
Answer Key: Explanations
Activity: Explanatory Writing Brainstorm
Activity: Cause and Effect Language Structures
Answer Key: Cause and Effect Language Structures
Home Learning Activity: Puzzling Questions
Adverbial Phrases (a)
Adverbial Phrases (b)
Activity: Paragraph Planner - Planning and Explanation
Home Learning Activity: The Subordinate Clause
Section 4: Persuasive Writing (pages 83-105)
Teaching Notes and Standards Alignment
How Are Persuasive Texts Constructed
Planning a Persuasive Text
Nouns and Noun Phrases
Modeled Writing - Persuasive
Activity: Modeled Writing
Assessment: Persuasive Writing
Example Text: Cinderella's Speech
Answer Key: Cinderella's Speech Assessment
Activity: Finding the Nouns and Pronouns
Activity: Modeled Writing - The First Reading
Answer Key: Modeled Writing - The First Reading
Activity: Can We Persuade You? Persuasive Techniques Checklist
Home Learning - Alliteration
Activity: Planning a Persuasive Speech
Section 5: Non-Chronological Reports (pages 106-129)
Teaching Notes and Standards Alignment
What Is a Non-Chronological Report?
Planning a Non-Chronological Report
Sentence Structure
Modeled Writing: Introduction and Appearance
Modeled Writing: Habitat, Diet, and Behavior
Assessment: Non-Chronological Reports
Answer Key: Non-Chronological Reports
Activity: Shared Reading
Answer Key: Shared Reading
Activity: Sort It Out
Activity: Sort It Out - Answer Key
Activity: Non-Chronological Report Fact File
Activity: Forming Sentences (includes teaching notes)
Activity: Top Trumps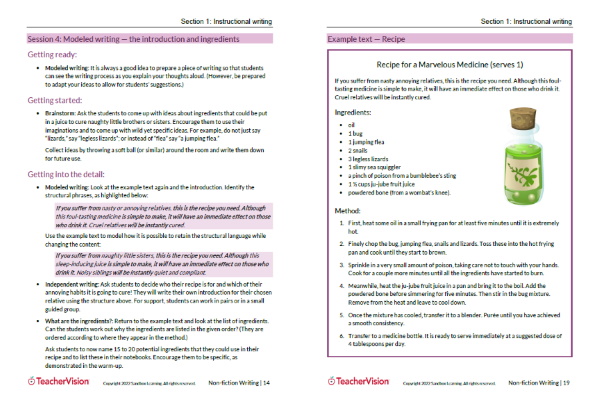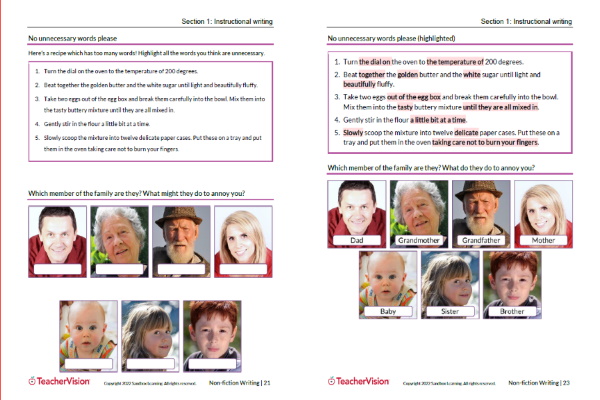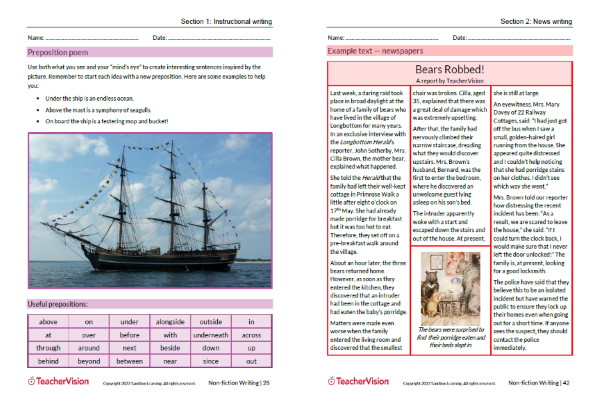 CREATED BY:
LAST UPDATED: August 9, 2022