CREATED BY:
LAST UPDATED: July 27, 2022
We've gathered the best spring bulletin board ideas to help celebrate spring's new beginnings, warmer weather, and engage student learning in your classroom.
Spring often signals the school year is coming to an end. Step out of the dreary winter months with some exciting spring bulletin board ideas to create a fun learning environment for your students.
Bulletin boards or a classroom door can display the hard work your students have achieved this year while keeping them motivated to push through those last few months until summer break! Use these bulletin board ideas as a springboard to freshen up your classroom boards and doors.
Idea #1: Be a Rainbow in Someone Else's Cloud Bulletin Board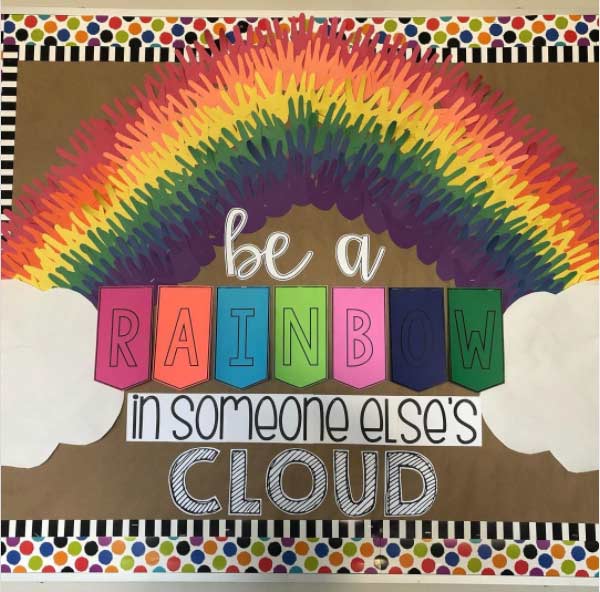 Have your students trace and cut out their handprints from colorful construction paper for this creative bulletin board. We love the motivating message that accompanies the board and that students can play a "hand" in putting it together.
Source: @jillk_inprek

Idea #2: April Showers Bring May Flowers Bulletin Board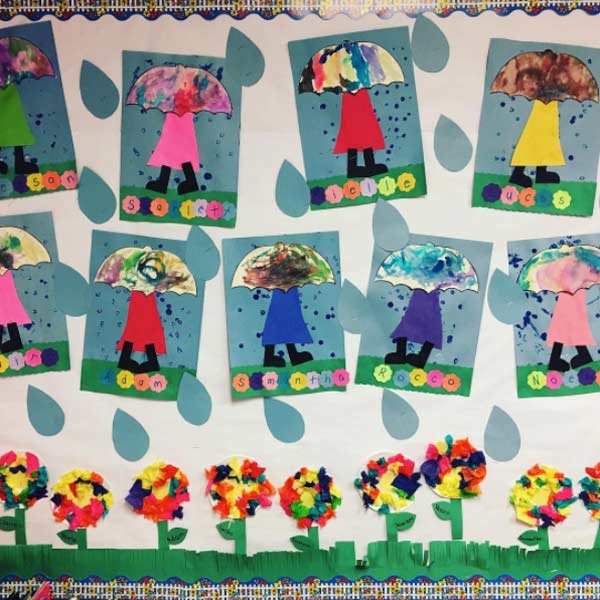 When you think spring, a flower bulletin board probably comes to mind. This spring bulletin board leaves room for multiple art projects, making it a great way to display your craft ideas! Raindrops, flowers, and umbrellas are easy for students to make. This spring bulletin board idea is also a great lesson in what happens after all the rain. If you are looking for spring crafts, there are endless ways to make paper flowers.
Source: @missnancys3s

Idea #3: Spring Into a New Book Bulletin Board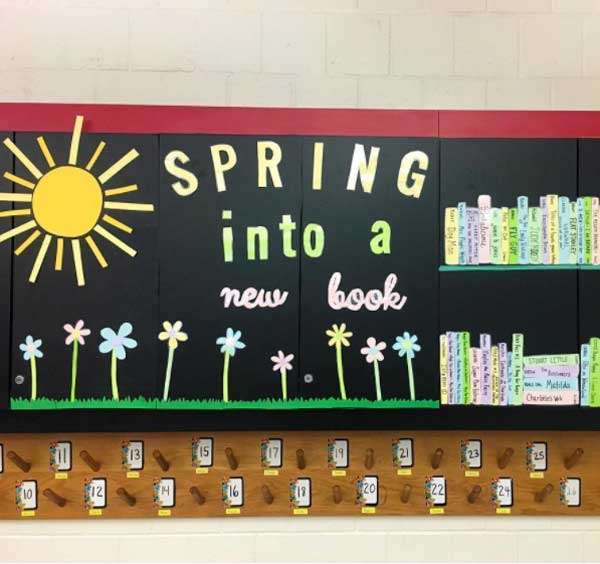 If you're looking to get your students inspired about some spring or summer reading, this easy library bulletin board is a great way to offer some titles. You don't have to limit it just to the library, if you have school bulletin boards this would make a nice hallway display. You can get creative with your bulletin board letters and utilize multiple fonts to really make it pop.
Source: @sierrainthird
Idea #4: The More You Know, The More You Grow Bulletin Board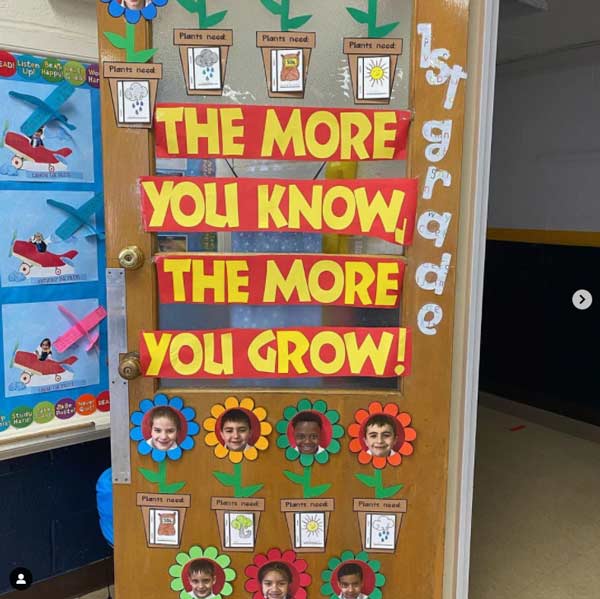 We love the creativity of using door decorations if you're running low on bulletin board space. What a great way to display some spring flowers with facts about what plants need to grow–science in action as door decor! This is also a great way to greet your students when they come to class.
Source: @funandfancykathie
Idea #5: Make Time for Mindfulness Bulletin Board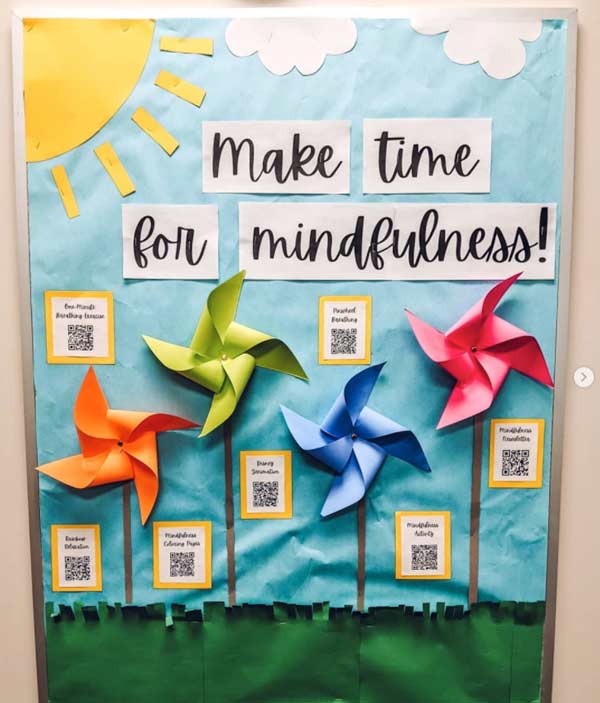 What a great message for students surrounding a lesson on "pinwheel breathing." This particular bulletin board has QR codes for interactive mindfulness techniques but could be tweaked for your specific needs. The pinwheels would make a fun craft if you have young students, but the lesson on mindfulness is wonderful for students of all ages. Pinwheels make a great classroom decoration, too.
Source: @Sch_counselor
Idea #6: We're Having an Un-BEE-lievable Year Bulletin Board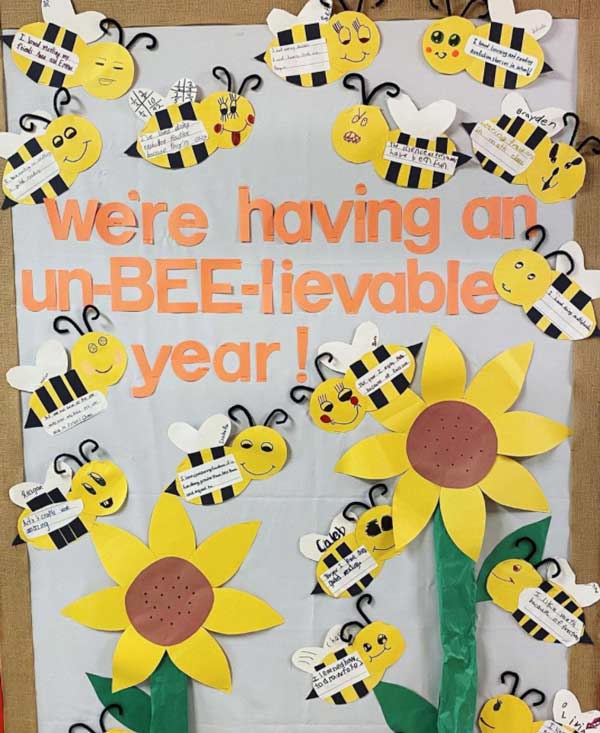 Have your students make a list of the number one thing that made this a great year and put it on display. It's a nice way to reflect on what this year has meant to them and makes an easy classroom bulletin board come together.
Source: @Stoked_stokes_
Idea #7: Shoutout to my Peeps Bulletin Board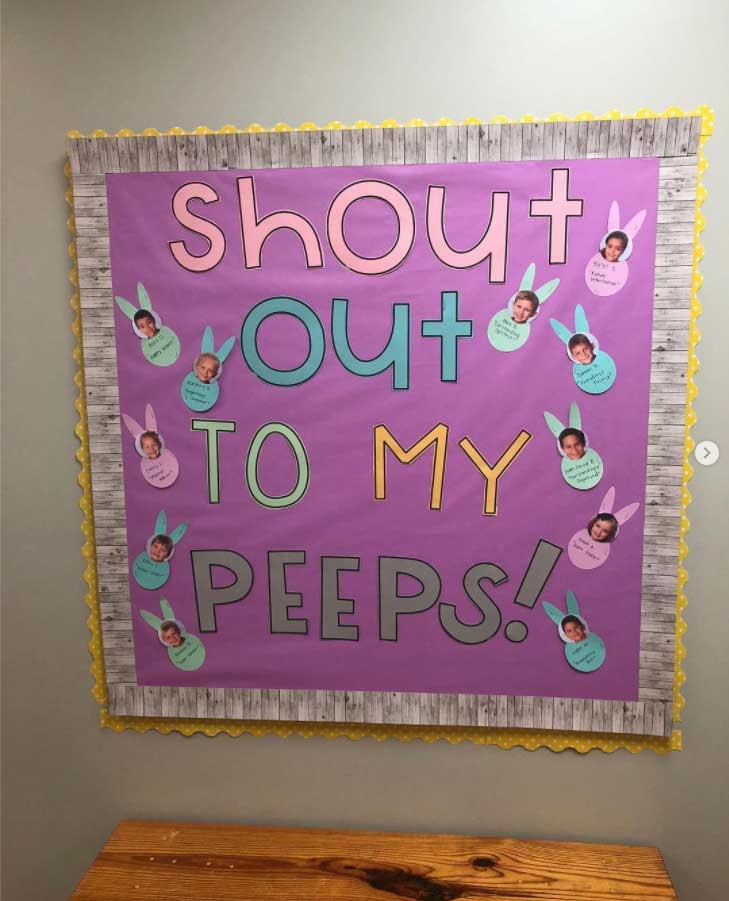 An adorable Easter Bulletin Board idea, this is a great way to highlight something special about your students. If you want to make it extra interactive, have each student write a message to a peer to display on your board.
Source: @loveteachgrow
Idea #8: I Feel Lucky When… Bulletin Board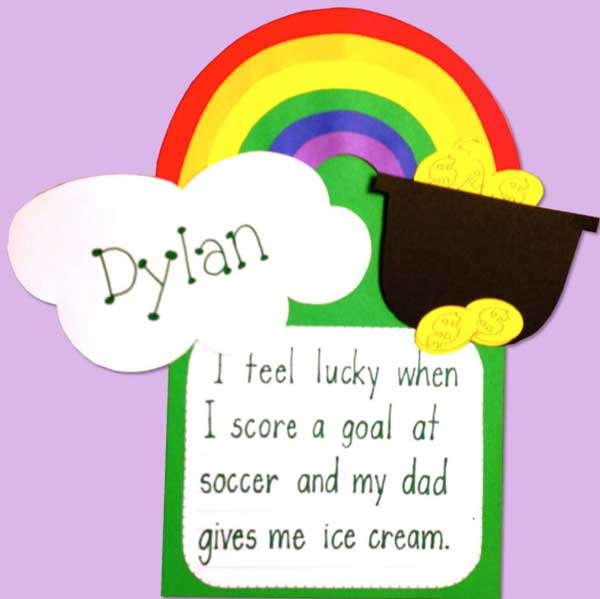 St. Patrick's Day is a great way to jump into springtime.  You can easily create a rainbow and pot of gold printable that your students can fill in.  They'll love reading about what makes each other feel lucky.
Source: @sweetsensationstpt
Idea #10: Tree of Life Bulletin Board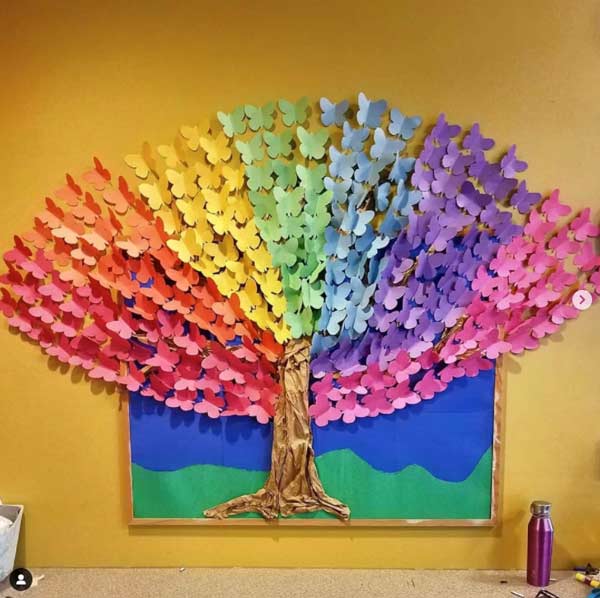 This 3D bulletin board really pops! It's not your typical flower board for the spring and would make for lovely classroom decor. Get ready to DIY with the tree trunk. Brown paper bags would work well if you don't have craft paper. Create a butterfly template and let your students help cut them out. This is a great spring bulletin board idea for middle school students.
Source: Instagram @crafty_teacher_display
Idea #11: This Year I have Learned… Bulletin Board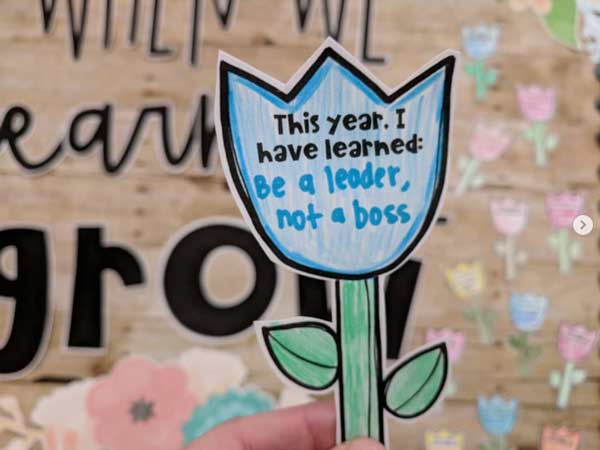 This is a great end-of-school-year bulletin board idea for spring. The writing prompt will make your students think back and reflect on something they have learned. From daycare to high school, this simple writing prompt can be adapted for any student.
Source: Instagram @lottsoflearning
Idea #12: Hanging With My Gnomies Bulletin Board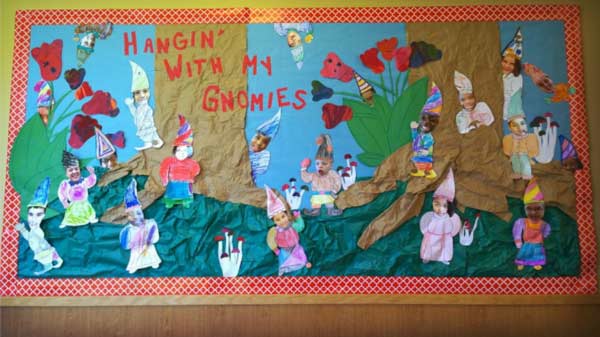 A really fun way to recognize spring with garden gnomes! This is great for door ideas if you want to welcome students into the classroom.
Source: @mbargrrr
Looking for more great ideas?
Find classroom inspiration for any season by checking out our Pinterest board, or head over to read 11 Bulletin Boards You'll Never Want to Take Down.