Authored by:
Last edited: April 21, 2022
There are so many things on your to-do list as a teacher. Writing lesson plans, grading papers, and attending meetings are just a few of the things that take your time after school and on weekends.
You would love to come up with fun, creative ideas to decorate the bulletin boards in your classroom, but you're already exhausted from doing all of your other teacher jobs. Don't worry! Here are 15 awesome bulletin board ideas that your administrators and students will love!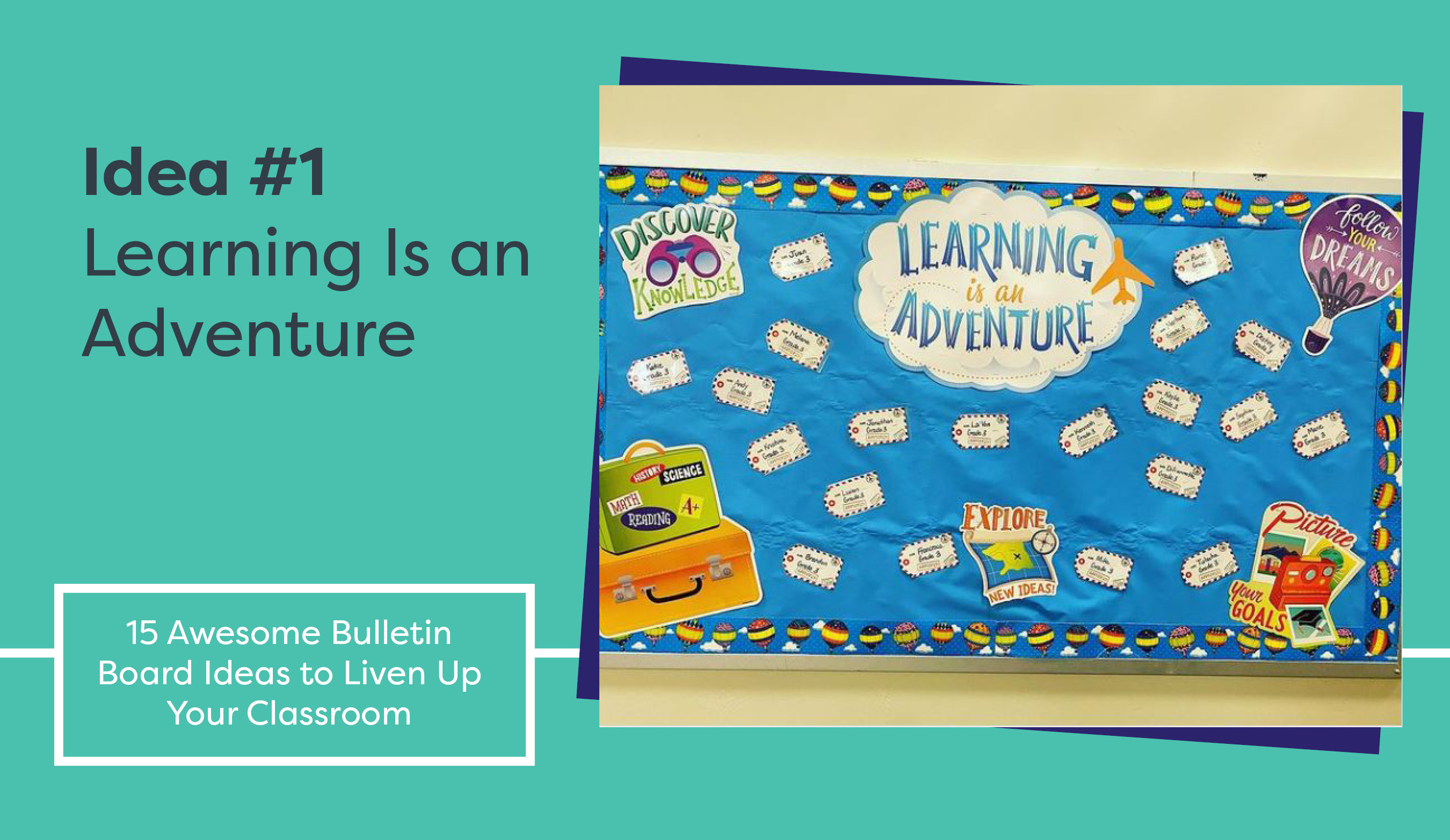 Idea #1 - Learning Is an Adventure
Get your students excited about any new unit with this travel-themed bulletin board. Seeing their names on tickets will get them ready to go on a learning adventure with you and their classmates. 
Source:  @mrsgrenevich on Instagram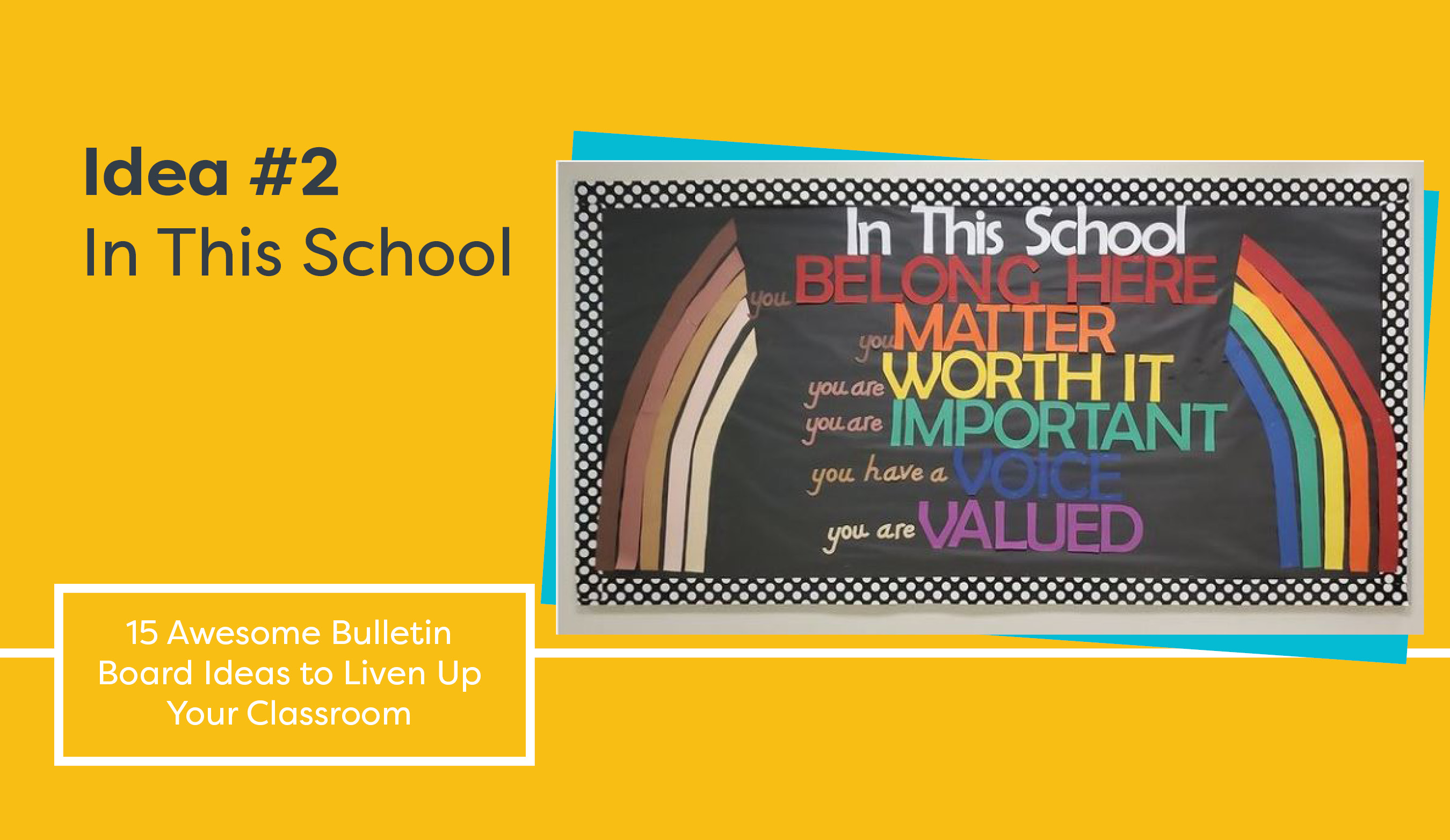 Idea #2 - In This School
Remind your students that they are valued members of your school community by displaying this bulletin board. Seeing it each day as they enter your classroom will remind them that they are special and important. 
Source: @madisonmpsd on Instagram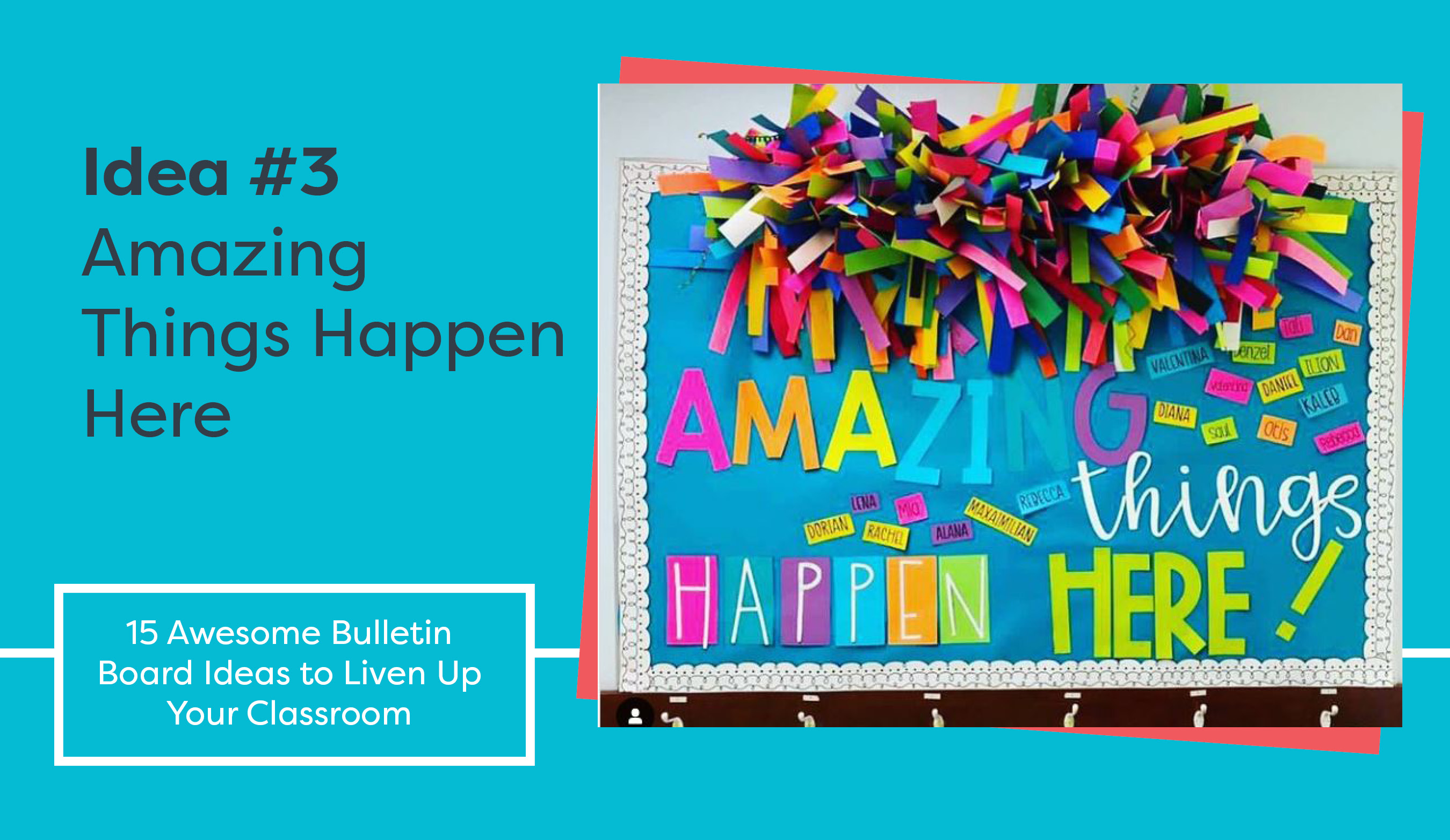 Idea #3 - Amazing Things Happen Here
There's nothing boring about this bulletin board! The bright colors and fun confetti cloud will catch the attention of anyone who walks into your classroom. Adding your students' names to the display shows them that you think they are amazing.
Source: @joeyudovich on Instagram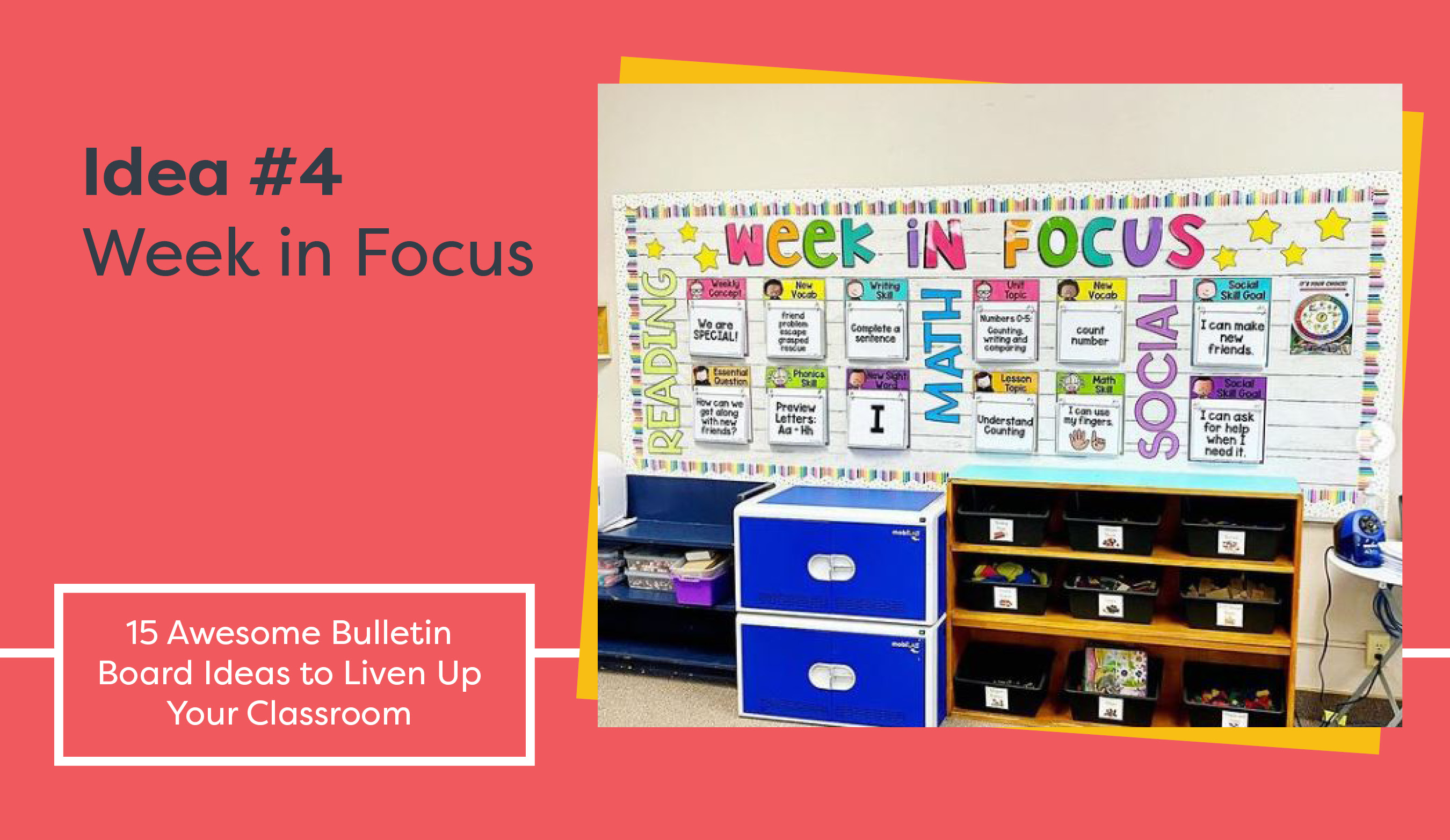 Idea #4 - Week in Focus
This practical and beautiful bulletin board serves two purposes. It will definitely liven up your classroom, and it's the perfect place to display standards and "I Can" statements so your students can see them during your lessons. 
Source: @katie_pettingill on Instagram
Idea #5 - Pop Into a Good Book
Encourage your students to read with this fun, colorful bulletin board! Pop it fidget toys are so popular with students, and they will love seeing them on this display. Multi-colored paper plates make it really easy to create this bulletin board. 
Source: @teachstarter_us on Instagram
Idea #6 - Whooo's Reading a Good Book?
Use this bulletin board to show all the amazing books people in your school are reading. You could display pictures of teachers reading their favorite books to give your students new ideas for books to choose. Another option would be to take pictures of your students with their favorite books. That way, they can get recommendations from their peers. 
Source: @greatlibrarydisplays on Instagram
Idea #7 - So Many Reasons to Love Math
If you're an elementary or middle school math teacher, this is the perfect bulletin board to liven up your classroom. Get your students involved in the creation of this bulletin board by giving them each a paper heart. They can write a reason they love math on the heart. Then, display all the hearts on the bulletin board.
Source: @mathemizer on Instagram
Idea #8 - Math Teaches Us to. . .
Help your students understand why math is so important with this bulletin board. It shows them all the important skills they will learn by solving math problems. You can even refer to it while you're teaching and point out what skills your students are applying in the lesson.
Source: @letsbefranco on Instagram 
Idea #9  - Awesome Authors
One great way to use your bulletin board is to display student work. Each time your students complete a new writing project, hang it on this display. Using clothespins on this bulletin board makes it so easy to change your students' work. 
Source: @sunflowerscaffolds on Instagram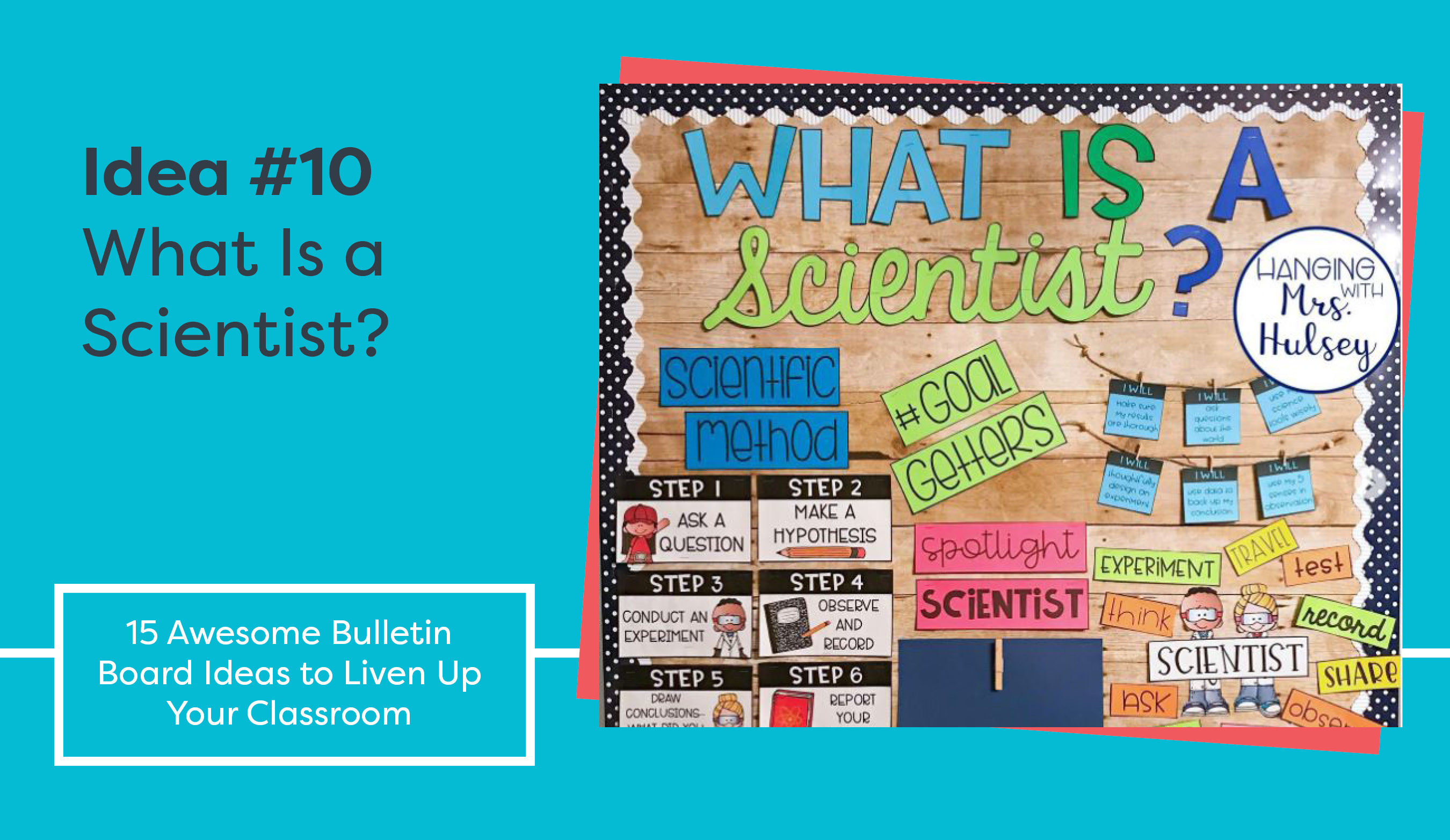 Idea #10 - What Is a Scientist?
This is the perfect bulletin board for a science class. Your students can look at it to help them remember the scientific method and important science vocabulary words. There's even a "Spotlight Scientist" section to honor a special scientist in your class. 
Source: @hangingwithmrshulsey on Instagram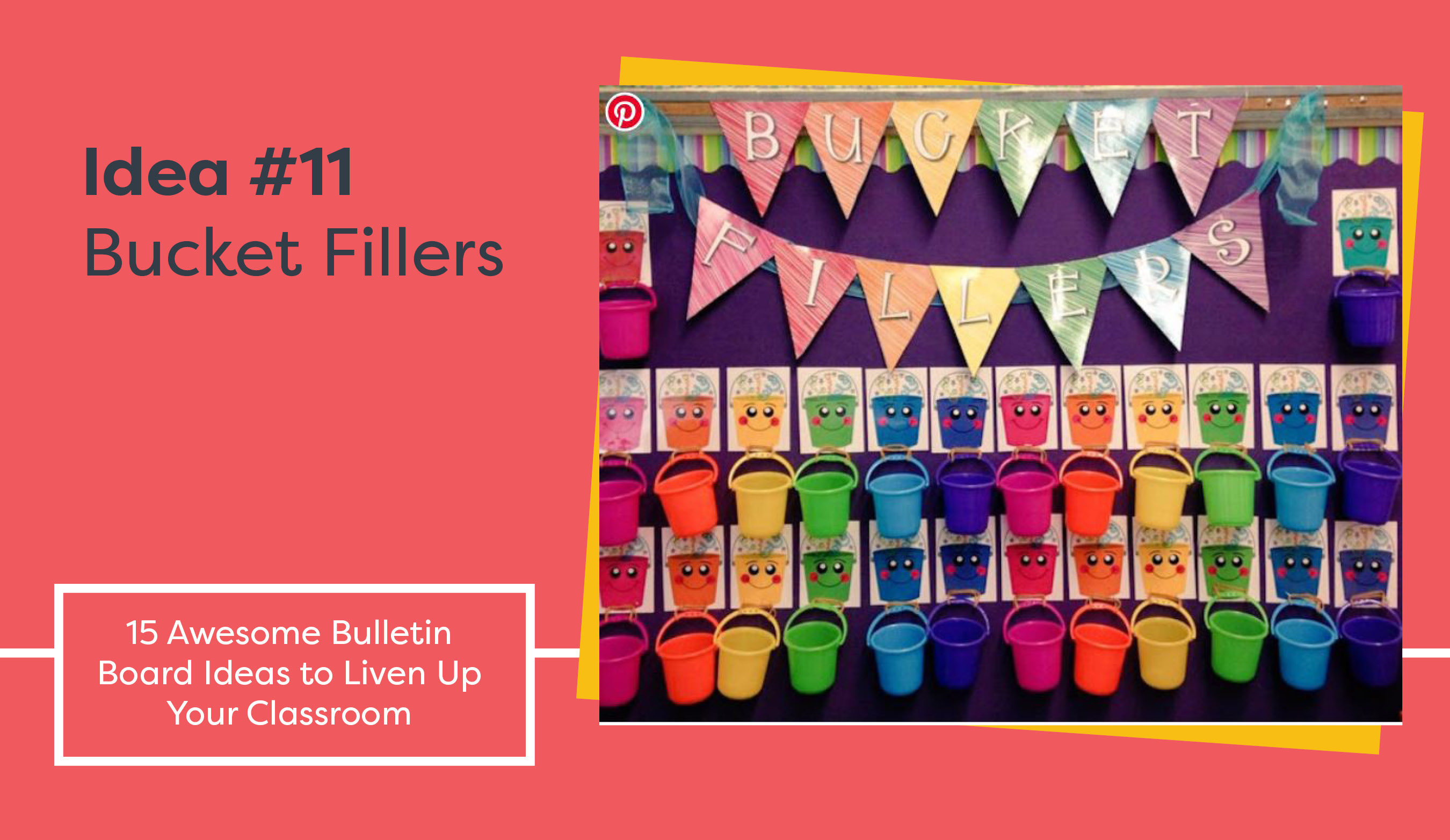 Idea #11 - Bucket Fillers
Inspire kindness in your students by helping them fill other students' buckets. Read the book Have You Filled a Bucket Today? to your class. Brainstorm ways your students can be kind to others and fill their buckets. Give each of your students a bucket on the bulletin board, and provide pieces of paper so your students can write kind messages to add to other students' buckets. 
Source: Primary Graffiti blog
Idea #12 - Donut Stress
Remind your students about ways to reduce stress with this cute donut-themed bulletin board. This is the perfect bulletin board to display during state testing or any other time of year that is stressful for your students. All they have to do is glance at it to get a stress-relieving idea.
Source: @fadelesspaper on Instagram
Idea #13  - Change Your Words; Change Your Mindset
If you're teaching your students to have a growth mindset, this is the perfect bulletin board for your classroom. When they are using words that show a fixed mindset, you can have your students look at the display and choose new words to use to show a growth mindset. 
Source: @mrwhoke on Instagram
Idea #14 - Goal Getters
Help your students set and track their goals with this bulletin board. Give the students balloon cut-outs, and have them write their goals on them. Display them on the bulletin board as a reminder of their goals. 
Source: @michellescommunicationcorner on Instagram
Idea #15 - Anything Is Popsicle With This Cool Bunch
Your students will love seeing their names on this bright bulletin board. It's the perfect way to welcome your students back for the new school year or to send them off for summer vacation at the end of the school year. 
Source: @teachertalk.and.sidewalkchalk on Instagram 
Visit our Bulletin Board hub to find bulletin boards for a wide range of topics, from cookies and ecology to measurement and diversity! Whether you teach science, reading, art, or social studies, you're sure to find the perfect bulletin board to fit your current theme or topic of discussion.