Authored by:
Last edited: April 4, 2023
The Easter bunny will be hopping your way soon-time to put up an Easter bulletin board inside and outside your classroom. Whether you make it purely decorative or instantly interactive, your students are sure to love a festive board.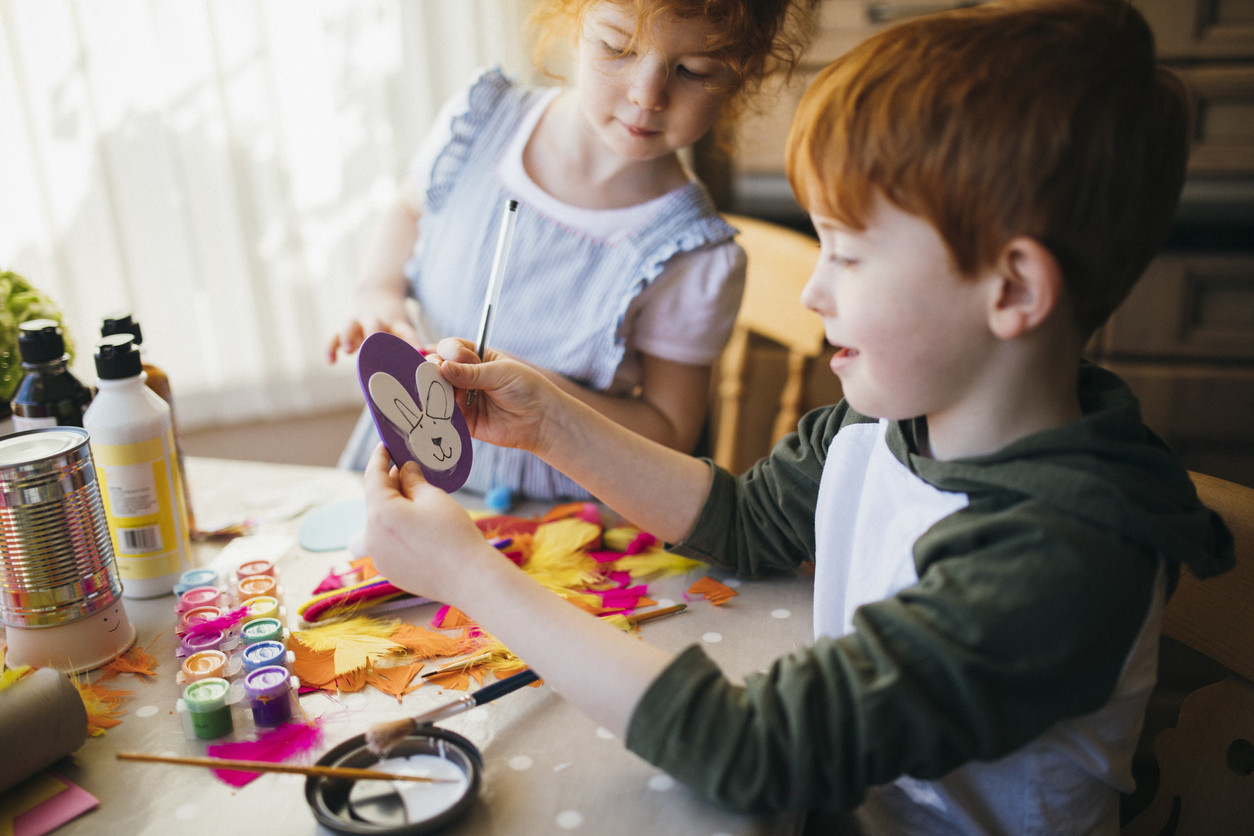 If you need some ideas and inspiration for egg-cellent Easter or Christian-related bulletin boards, check out some ideas below!
What are Some Easter Bulletin Board Ideas?
1. Hoppy Easter, Every Bunny!
Perfect to enhance your spring decorations, this crafty, cute, and quirky bulletin board requires students to cut out ears, get their hands painted to make a print and requires teachers to gather some other odds and ends, like paper plates, crayons, and a wide array of cardstock and construction paper.
Students should also each make a few easter eggs, which can be added to the center of the board, next to your diy oversized easter basket.
While this Easter bulletin board isn't interactive, it makes an adorable classroom bulletin board that showcases each student's name and creation and enhances the overall vibe and theme in the classroom. It requires students to create their own easter bunny, which enhances fine motor skills and helps everyone get involved with creating classroom decorations.

Source
2. Hunt for Kindness
You will love this interactive spring bulletin board if you want to subtly incorporate the Christian way and have students complete selfless acts just as Jesus would. Use construction paper to cut out the letters to spell the words "Hunt for Kindness." Allow students to create easter eggs out of cardstock for you. You can create egg templates for younger students to track first. Write one reward on the back of each colorful egg. When students complete a random act of kindness, they can choose one egg from this themed bulletin board, in essence allowing them to literally hunt for kindness!
This springtime bulletin board is great to put up right after Valentine's Day or St. Patrick's Day to welcome spring. It also is a wonderful bulletin board display for a daycare setting or a church bulletin board, where kindness is key!

Source
3. Eggcited for Spring
Both interactive and decorative, you'll love putting up this 'Eggcited for Spring' Easter bulletin board. Students will have fun with the art project aspect of the project, cutting and pasting construction paper squares on easter eggs. Spread them all over the board and add an easter basket cut out and a festive bulletin board border.
Have students write about what they are most excited about for Easter. Whether it's seeing the Easter bunny, going on egg hunts, enjoying candy from their baskets, or celebrating Jesus, students can express themselves through writing or drawing (for younger learners).

Source
4. Hanging with my Peeps
Great to set up as a classroom door decoration or place on any flat wall space, your students will love this bulletin board set. Allow each student to create their own peep. You can provide students with a printable peep-to-color or an easy-to-trace template. This is a cute bulletin board decoration to have up and ready just in time to welcome spring or when students come back to school from over a weekend.
Label each peep with students' names to promote a festive, fun, and positive rapport to your classroom.
This display could also work in a Sunday school classroom, a pre-k room in a daycare setting, and can be made partially interactive and connected by giving students peep problem-solving worksheets or stories to read where peeps are the main character.

Source
5. He Is Risen
Ideal for celebrating new life, a 'He Is Risen' theme makes a beautiful spring bulletin board or door decorating idea for church, Sunday school, and in Catholic school classrooms. Sure to put everyone in a Happy Easter mood, this board doesn't take a lot of time to create and makes a beautiful, strong statement.
Create an oversized cross, some colorful blooms, and have students help you create butterflies that symbolize new life and rebirth. You can opt to have students write their names on the butterflies or flowers to add personalization to this special display.

Source
More spring bulletin board inspo over at our blog hub - March Bulletin Board Ideas, April Bulletin Board Ideas
6. Spring Showers Bring Pretty Flowers
The perfect combination of a spring bulletin board and Easter theme, this board requires some cut-out flowers, some DIY rainbow-colored construction paper links, and a little time and patience. Ideal for incorporating into a science classroom during a plant unit, the content and theme will go perfectly hand in hand.
Pre-k teachers can even put up this spring bulletin board if they are doing a weather unit or to teach cause and effect relationships.
The creation of the chain is a great art activity that promotes direction following and different fine-motor skills. Older learners can practice tracing and cutting out raindrops, and you can even ask a special volunteer to create a large sun for the corner of the display. 

Source
7. Jesus Helps Us Grow
This bulletin board idea provides quick and easy easter activity through the use of easter crafts and also easter decor that has a deeper meaning, intertwined-new life and Jesus.
To make this gorgeous board:
Create an oversized watering can and have your students decorate printable flower templates to reflect their unique personalities.
Showcase this springtime display on your door or a wall space in or outside of your classroom.
Be sure each student signs their name on each flower so it can be seen on the school bulletin board.
8. Hop On In
Short, simple, and sweet, students will enjoy looking at a friendly and welcoming funny bunny as they enter your classroom. Place this display on your door or board and utilize a textured fabric border to line your work. The bright colors and cheerful display will set the tone for the season and get everyone excited for springtime and the Easter bunny.

Source
9. Hello Spring!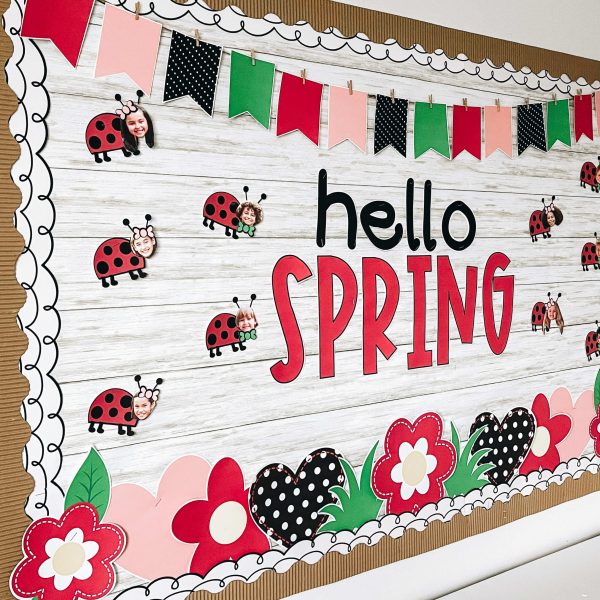 It's spring; let's sing! Consider getting crafty and making some ladybug bodies for your little bugs in class. Take their picture and cut around their faces. Paste their face onto the bug body, and you have an instantly adorable bulletin board that reflects the spring season and adds a lot of warmth into your classroom as soon as they "fly" in!"
10. April Showers
You know the saying! April showers bring May flowers. Consider creating a bulletin board centered around your students' unique art. Set aside some time to allow them to create a silhouette of their body, complete with boots. Give each student an umbrella template and allow them to decorate it as they like. Give each student enough blooms to represent each letter of their name and paste it on the bottom. Don't forget the best part! Allow them to "sprinkle" drops of blue watercolor paint around their umbrella to represent rain!
11. Goodbye Winter!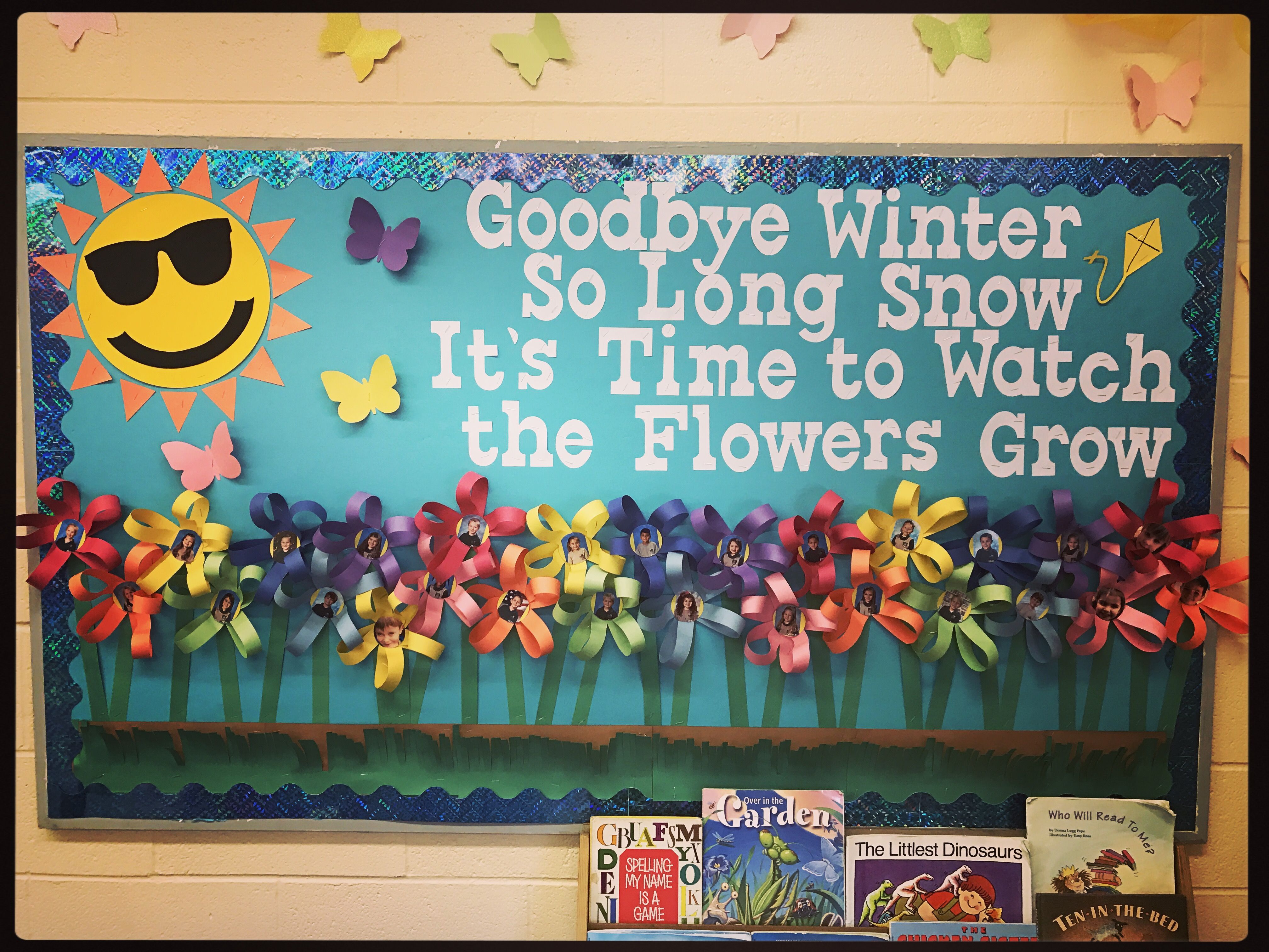 Welcome spring with open arms! This warm and bubbly bulletin board will set the tone for the end of the school year. Fill it with bright colors, a cheerful large sun, and line the bottom of the board with flowers. Place a small picture of each student in the center of the flower and allow students to write their names on the flower stem or leaf. 
12. We're Egg-Cited!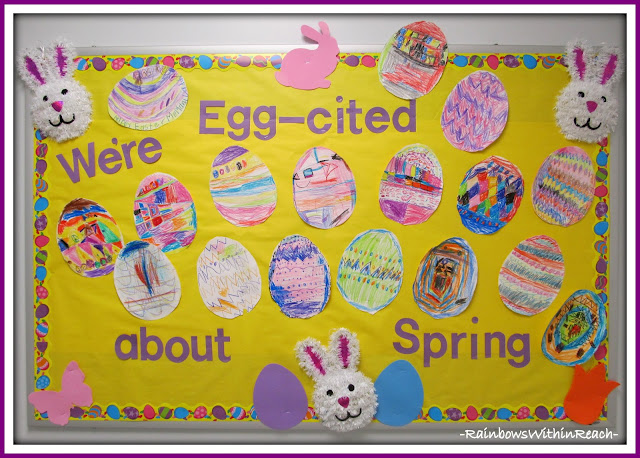 Get students egg-cited about spring by creating this bulletin board and asking them to help! Visit your local dollar store to line the border with embellishments like bunnies or chicks. Give each student a blank egg. Allow them to either color and design it to their liking, or create a STEAM lesson. Give each student a small dollop of whipped cream on their egg and give them a few drops of food coloring. Encourage them to mix the concoction with their hands and spread it all over their egg to create a solid or swirled effect! Give it a few days to dry before hanging it on the board. 
13. A Rainbow of Our Own
Students will love getting their hands painted to add to this special bulletin board, ideal for preschool or kindergarten. Gather a few basic supplies like paintbrushes, paint, and markers, and allow them to create a rainbow arch in color order. Let them practice writing their name with one of their handprints, truly making it a rainbow of their own!
14. Be a Rainbow
A famous quote, "Be a rainbow in someone else's cloud," is appropriate for spring but also a wonderful reminder to have hanging in a school hallway. Perfect for a guidance counselor or administrator to make and greet the students as they enter the building, spring is a great season for new beginnings and spreading sunshine and kindness! Take it one step further and feature special students who have gone above and beyond to show kindness to others by adding their pictures to the bulletin board!
15. Our Class is Egg-Celllent!
Is behavior starting to slip toward the end of the school year? This bulletin board will help you get them back on track! Create a bunch of blank eggs and hang them on the board. Each time the class did something well holistically, write their deed on the blank egg. Examples could be 95% of the class earned an A on a test. Or, the class behaved nicely for a substitute. Once all the eggs are filled with positive words and behaviors, have a spring party as a reward!
16. Our School is Un bee-lievable!
Perfect for preschools, Sunday school classrooms, or entrance bulletin boards in any building, this cheerful board will have everyone "buzzing!" Short on time? Allow older elementary students to create it as a reward if they finish their work early or if they excel in art class!
17. Spring into a Good Book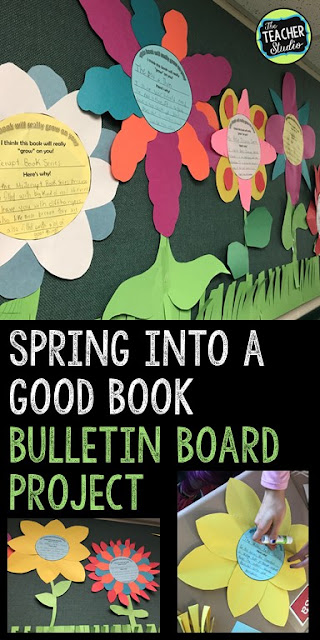 Perfect to put up right around Read Across America Month, it combines this fun holiday with spring. Allow older elementary students to design their own flower during center time and write either the favorite title of their book in the flower's center; or encourage them to write story elements of a book they've chosen to read in each flower petal.
18. Silly Rabbit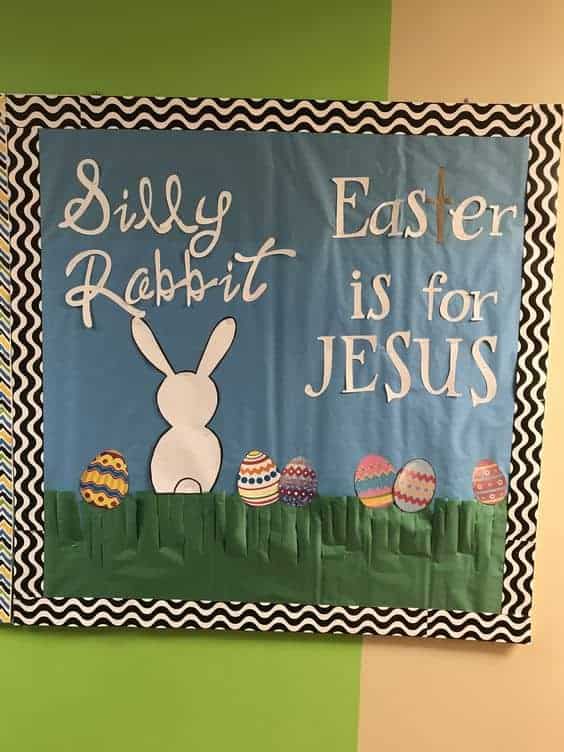 A bulletin board you're sure to love, it helps keep the true meaning of Easter intact. Perfect for a church classroom or a bulletin board in a private Catholic school, this silly rabbit board is eye-catching and cute!
 
Source
19. Inching Our Way Into Spring
This adorable inchworm is a unique and different approach to a spring bulletin board, perfect to create after learning about measurement in the springtime. It's great for schools that cannot create an Easter-themed board but want to hang something up for the season. Take it one step further and have students write one object in each circle that they estimate to be about an inch!
20. Make a Joyful Noise
This bulletin board is simple yet sweet, ideal for either a regular education classroom, a school hallway, a cafeteria, or a music classroom! Full of birds, flowers, and budding tree branches, nothing captures spring better!
How Can I Make My Bulletin Board More Attractive?
Whether you choose one of the bulletin boards described above or create your own school bulletin board, there are some tips and tricks to make it more attractive. Check them out!
Tip #1 Smooth Out Your Paper
The biggest mistake teachers make is stapling up wrinkled paper. Take your time as you staple and secure your paper, and do one section at a time, using your hand like an iron as you place each piece!
Tip #2 Consider Fabric
Many daycare and classroom teachers opt to use fabric as a background. Not only will it not wrinkle, but it's also more durable and sturdy, adding warmth and texture to any display.
 Tip #3 Don't Over Do It!
While you want to highlight your springtime board, it can get too busy very quickly if you aren't careful. Be sure to only put necessary items that stick to the theme and heading of your board. Stay clear of adding little extras, like stickers, all over, which can make the board look too cluttered.
Tip #4 Spruce Up Your Bulletin Board Border
Consider adding a border that is textured, fabric, or that goes beyond basic and solid toned. You can choose from hundreds (if not thousands) online (or you can even make your own).
Tip #5 Slow and Steady Wins the Race
Slow down when putting up your board. Often, teachers rush when creating a holiday bulletin board, and items become crooked, not secured properly, or even wrinkled. Take a step back to admire your hard work as you go and ensure everything looks awesome before you call it a day!
Tip #6 Have a Visual
Having a visual in front of you can be helpful when setting up your themed door or bulletin board. There are many resources online that can provide you with bulletin board ideas and set-up tips.
Tip #7 Use Color
Black and white bulletin boards can be sleek and chic, but for a spring-themed board, you want to go for color pastels or bold and bright! 
Tip #8 Browse Websites
There are a number of teacher websites that boast beautiful boards for you to try. You may even get inspired by one of their images or suggestions and will be able to put your own spin on a bulletin board. 
Tip #9 Collaborate with Colleagues
Your colleagues are a wealth of knowledge. Consult with them before you begin building a board to get their input and see if they have any awesome ideas you may want to try to make your board more attractive. 
Tip #10 Don't Break the Bank
Building a more attractive bulletin board doesn't mean breaking the bank. Your students are your best resource for creating the items to be displayed. Plus, you may already have dozens of materials and items to add to your board in your classroom, art corner, or even at home. Do a little digging and think outside the box so you don't have to spend money creating your Easter bulletin board set. 
With all this in mind, a classroom bulletin board is important to add to the theme and scheme of a classroom. When choosing the best Easter bulletin board this season, consider your audience, opt for lots of pastel colors, and use catchy phrases and themes that will get the attention of all.
Whether you incorporate an Easter art project into your lesson plan to allow your students to help you create the board or opt to do it yourself, there are a number of beautiful boards that will fit your needs, style, budget, and time frame! Hop to it so everyone around you can enjoy your board and have a Hoppy Easter!
Looking for more great ideas?
Head over to our Bulletin Boards Resource Hub where you'll find a wide range of topics of bulletin board ideas and creative lessons.
Sign up for the TeacherVision newsletter to get daily or weekly updates on everything new and coming up in the world of teaching. Create a free TeacherVision account to start downloading your free teaching resources and lesson plans from our huge library of resources and too.