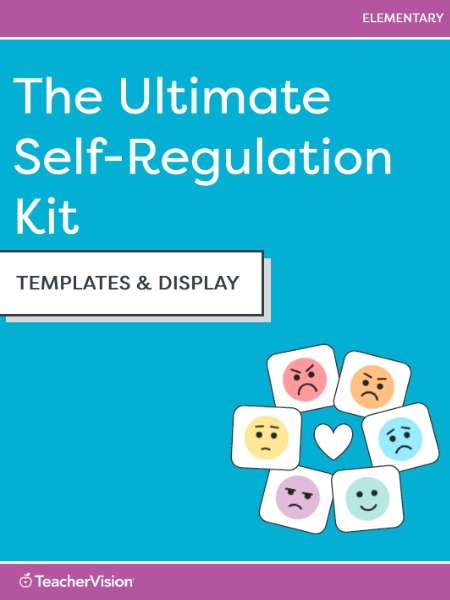 Purchase or subscribe to access this resource.
$7.95
Included with a Premium Membership
Subscribe for instant access to this and every resource on TeacherVision.
Subscribe
A Complete Toolkit of Calm Down Corner Printables and Self-Regulation Strategies for Students
Support your students with emotional self-regulation with this flexible set of resources including a feelings thermometer, emotions flashcards, calm down cards, breathing exercises, and a daily emotions tracker. Designed for use in the classroom, in lessons, for displays, or for setting up a calm down corner.
Using Calming Strategies for Emotional Self-regulation
Self-regulation — the ability to understand and manage your thoughts, feelings, and behaviors — is something that students need support learning and practicing. This toolkit provides resources that help students recognize and identify their emotions, and can be used in lessons, for daily discussions, or around the classroom. By using the accompanying calming strategies, tools, and printables, such as breathing exercises and calm down cards, students can start to develop important coping skills for self-regulation.
What's Included in this Toolkit?
Printables for understanding feelings and emotions - including How Do You Feel? Posters, Emotions Flashcards, and a Feeling Meter
Calm down printables - including Calm Down Cards and Calming Breathing Exercises - perfect for creating a calm down corner
Printable How Do You Feel? sentence starters and daily emotions tracker to support regular discussions around emotions
Certificates for celebrating students' progress in managing their emotions
All resources are available in both ready-to-print PDF formats and as an editable PowerPoint (which can be converted to Google Slides).
Calm Down Corners for Self-Regulation
Calm down corners - also known as mindfulness corners - are becoming a popular tool for helping students develop self-regulation skills. They are safe spaces that students can go to when they need to regain control of their emotions and usually contain comforting objects and materials to promote mindfulness.
5 Steps for Creating a Calm Down Corner Using the Ultimate Self-Regulation Kit
1. Choose the Right Location
Find a space in your classroom that can permanently become the new calm down corner, it should be a quieter space, perhaps at the back of the classroom where students won't feel like everyone's looking at them. Make sure the space is easy to find and has enough space for some seating, and if possible, a small table.
2. Create a Safe and Cozy Space
Fill the space with soft seating like throw pillows, floor cushions, or a bean bag chair, and maybe a stuffed animal or two. If you have enough space, it could be helpful to divide the space from the classroom using low shelving or something similar to make it semi-private.
3. Provide Calming Strategies and Visual Aids
This is where The Ultimate Self-Regulation Kit comes in. The resources can be used for displaying on walls, laminated and hung on clotheslines, or for smaller spaces, you can create a Calm Down Binder or an easily accessible caddy with laminated calm down cards and breathing exercises inside.
4. Offer a Choice of Calm Down Tools
As well as the visual aids, calm down cards, and prompts, you can also provide other items that help students to regain control of their emotions. Calming books and sensory items like stress balls, sand timers, Play-Doh, bubbles, kinetic sand, and sensory bottles are really helpful tools for students. Some items, like sensory bottles, can be made cheaply and easily, so setting up the space shouldn't be expensive or require purchasing lots of new materials.
5. Teach Students How to Use the Calm Down Corner
Make sure students understand what the space should be used for, when they can use the space, and how to make use of the space. It can be helpful to share with them what the goal is when they use it - e.g. to feel calmer and ready to join the class again. You may wish to practice using calming strategies and breathing techniques with students first, so they're familiar with them when they need to use the space.
What You'll Find Inside this Toolkit
Introduction and Guidance (page 3)
How Do You Feel? Printables (pages 4-10)
A set of printables including emotion posters with and without images, a blank template for designing your own emotion poster, and a cut-out How Do You Feel? image set to use for self-regulation activities.
Emotions Flashcards (pages 11-16)
Printable flashcards that display a range of emotions from furious and stressed to calm and curious.
Feelings Thermometer (page 17)
Printable feelings thermometer with calm down strategies and suggestions to support students with emotional regulation.
Feelings Meter (page 18)
Printable cut-out feeling meter to help students recognize how they are feeling.
Calming Down Cards (pages 19-21)
Printable calm down cards with clear calming strategies to help students deal with those big feelings.
Calming Down Breathing Exercises (pages 22-24)
A set of breathing cards with visual aids for calming down through 3-step, 5-step, or 10-step breathing techniques. The cards can be printed and displayed as posters, or laminated and used as smaller individual cards.
How Do You Feel? Sentences (page 25)
Printable sentence starters to help students recognize how they're feeling and support with discussions around managing emotions.
Managing My Emotions Daily Tracker (page 26)
Printable emotions tracker for each day of the week to support daily reflection and discussion about how to manage emotions, including ideas for self-regulation strategies.
Managing Your Emotions Award Certificate (page 27)
Printable certificate to celebrate students' progress with managing their emotions.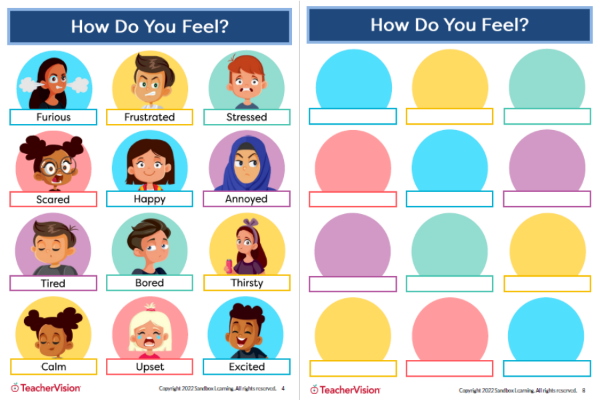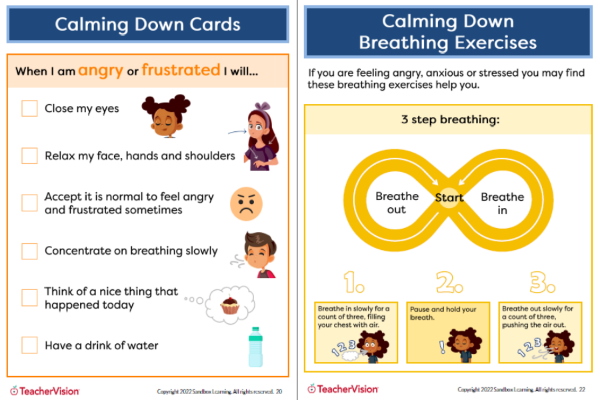 Authored by:
Last edited: November 3, 2022