CREATED BY:
LAST UPDATED: January 23, 2020
Dr. Seuss's Bartholomew and The Oobleck is a wonderful look at the perils of getting what you think you want, a great lesson for children to learn at an early age.
Bartholomew and the Oobleck
by Dr. Seuss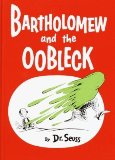 The King of Didd loved to look into the sky. But he was increasingly unhappy when he saw only rain, snow, fog, and sunshine. As a powerful king, he decided to change things so he could get more variety. Follow Bartholomew, the page boy, as he witnesses the bizarre events that unfold.
To buy this book, click here or on the book cover.
Enrichment Activities
Internet Resources
Books by Dr, Seuss
---
Enrichment Activities


Venn Diagram
Use this two-part Venn diagram to identify differences and similarities of real and imaginary weather patterns that are depicted in the book.


Weather Songs Have students sing familiar weather songs, to develop their individual and ensemble singing. Some examples of weather songs are the following:

"I Love a Rainy Night"
"The Rain Song"
"Wind of Change"
"Dust in the Wind"
"Let It Snow"
"Rain, Rain, Go Away"
"Heat Is On"
"Here Comes the Sun"
"Blue Skies"
"Ain't no Sunshine"
"Somewhere over the Rainbow"
"You Are My Sunshine"


Weather Watcher Kite
Help your students create a kite with each day's weather recorded on the tail.


Weather Word Search
This word find has students searching for weather terms.


A Weather Calendar
Use this graphic organizer to record the weather for each day of the month.
Internet Resources

Seussville
Grade Levels: Primary, Middle
Students can play games, chat with the Cat in the Hat, win prizes, find out about new Dr. Seuss books, and much, much more!
http://www.randomhouse.com/seussville/
Books by Dr. Seuss
And to Think That I Saw It on Mulberry StreetDr. Seuss' Sleep BookHorton Hatches the EggsHooray for Diffendoofer DayOh, the Places You'll Go!On Beyond ZebraScrambled Eggs SuperThe 500 Hats of Batholomew CubbinsThe Butter Battle BookThe Lorax