CREATED BY:
LAST UPDATED: January 23, 2020
In Chris Van Allsburg's The Garden of Abdul Gasazi, the dog who protagonist Alan is supposed to be watching runs off and gets lost in the garden of a former magician.
Page 1 of 2
The Garden of Abdul Gasazi
by Chris Van Allsburg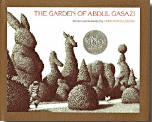 A Caldecott Honor winner, The Garden of Abdul Gasazi charms readers with its engaging storyline and brilliant pencil drawings. The adventure begins when Alan loses Fritz, the dog he is sitting for. Fritz wanders into a garden owned by a former magician. Alan hopelessly looks for Fritz and to his dismay thinks that the dog has been turned into a duck by the old magician.
Enrichment Activities
Internet Resources
Books by Chris Van Allsburg
---
Enrichment Activities


Garden Creation
Point out to students the pictures of the animal-shaped hedges throughout the story. Then have students become gardeners using green cutouts of circles, triangles, ovals, and rectangles. Create the magic garden at the back of the house – the garden that was never seen.


Gardening Tools
On the board, brainstorm a list of tools the magic gardener uses to keep the animal hedges so well manicured. Draw a chart to show these tools and the function they have in the garden. Gardening catalogues may be helpful in finding pictures of the tools.


Story Setting
Students will use the Story Setting sheet to describe the different settings that appear in The Garden of Abdul Gasazi.


Class Garden
Help your students set up their own "magical" garden by using this lesson plan.


Literature Graphic Organizers
Use this slideshow of literature graphic organizers to organize information gleaned from The Garden of Abdul Gasazi.