CREATED BY:
LAST UPDATED: January 23, 2020
Laura Joffe Numeroff's humorous book If You Give a Mouse a Cookie tells the story of a demanding mouse and the child who deals with him. This lesson includes activities and resources to go with the book.
Page 1 of 2
If You Give a Mouse a Cookie
by Laura Joffe Numeroff, Felicia Bond (Illustrator)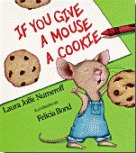 If You Give a Mouse a Cookie is a wonderful tale of a boy who tries to meet the demands of a very needy mouse. Young readers will come away smiling at the mischief in this delightful picture book.
To buy this book, click here or on the book cover.
Enrichment Activities
Internet Resources
---
Enrichment Activities
Card Games
Make a card game by drawing the objects the mouse demands on file cards. If the students make duplicate pictures, they can play "Go Fish" or "Concentration."
 
Charades
Students can play charades to act out the parts of the story.
 
Class Collage
Assign each child to draw or paint a picture of one of the things the mouse demands. Make a class collage of the pictures, or arrange the pictures in sequential order so your students can retell the story using those images.
 
If You Give...
Read the author's sequels to this story: If You Give a Moose a Muffin and If You Give a Pig a Pancake. Compare the three books. Your students can then make a picture chart reflecting the similarities and differences between them. They can also use this comparison chart graphic organizer to organize their thoughts and ideas.
 
Scavenger Hunt
Host a scavenger hunt to locate the objects that the mouse demands in the story. Here is an example of a scavenger hunt that may help you organize the game.
 
Story Sequel
Write a sequel to the story using a different animal and sequence of events. (For example, If You Give a Chimp Some Chips, If You Give a Dog a Bone, etc.) Have your students write their stories in an accordion-folded pop-up art book that they create. They can also include illustrations.
Internet Resources
If You Give a Moose a Muffin
Grade Levels: Primary, Intermediate
The activities, discussion ideas, and related book suggestions come from Carol Hurst's Children's Literature Site.
http://www.carolhurst.com/titles/ifyougiveamoose.html
If You Give a Pig a Pancake
Grade Levels: Primary
Printable coloring pages and a quiz.
http://www.harperchildrens.com/pigpancake/
A Visit with Laura Numeroff
Grade Levels: Primary, Intermediate
An interview with this award-winning author gives insight into her books and style.
http://www.harperchildrens.com/catalog/book_interview_xml.asp?isbn=0060283289