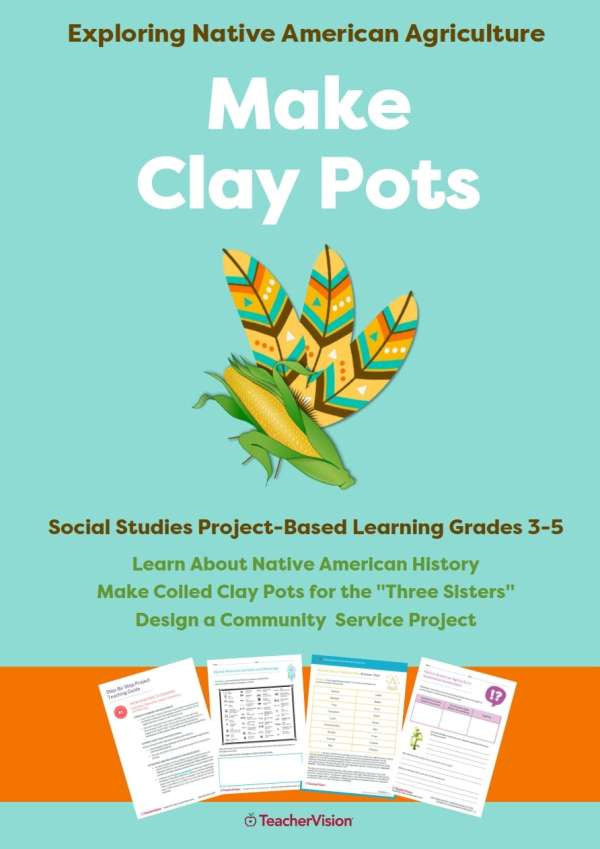 Purchase or subscribe to access this resource.
$14.95
Included with a Premium Membership
Subscribe for instant access to this and every resource on TeacherVision.
Subscribe
A Historical Native American Agriculture Lesson and Community Citizenship Project
Build background knowledge of the transition from hunting to farming, create and play a game of "Hunt and Gather or Farm and Feast," explore the Native American legends behind the "Three Sisters" crops, design, create, and decorate a clay coiled pot for "seed keeping," learn about and use Native American symbols in a culturally-responsive manner, and synthesize that knowledge by planning a a community service project that embodies Native American ideals about nature.
Your students will learn about historical Native American agricultural practices in this project-based learning unit for grades 3-5 social studies. They'll learn all about the transition from hunter/gather society to farming communities, dive into the legends and reality of the Three Sisters crops, design, create, and decorate clay coiled pots for seed-keeping, and work together on a community service project that embodies the Native American ideals about the natural world and resources.
What's Inside
Packed with hands-on inquiry-based activities, extensions and enhancements, cross-curricular independent and group work, and engaging and interactive challenges, this 69-page project-based unit comes complete with:
For the Teacher: A complete Native American Agriculture Lesson Plan with step-by-step instructions for all activities, teaching tips, assessment guidance, and inquiry questions.
For Students: A full-color Student Pack complete with all of the printables, slides, photos, and instructions students need for the research, experiments and activities - just print (or share) and teach!
A complete, ready-to-teach Teacher Pack that includes:
Teacher versions of all the student printables with step-by-step annotations and notes for teaching Native American Agriculture;
Formative and summative assessments, answer keys, and a full project rubric;
Instructions and guidance for the extension activities and project enhancements;
Materials and resources lists, links to articles, videos, and research, plus additional resources for lecture and presentation.
What's Included
Lesson Plan - Step-by-Step Project Guide
Milestone 1: From Hunters to Farmers
Milestone 2: Companion Planting
Milestone 3: Saving Seeds
Milestone 4: Pots and Symbols
Milestone 5: Heirlooms 
Teacher and Student Resources
Materials List for the Projects in this Unit
Books About Native American Life (optional)
Native Land: Whose Land Was Your School Built On? Activity
Native American Contributions to American Culture Reading Passage
What Did Native Americans Teach European Settlers Activity and Answer Key
A Guide to Making Popcorn Handout
From Nomadism to Farming Reading Passage
From Nomads to Farmers Activity and Answer Key
Hunt and Gather or Farm and Feast Game Instructions
Deer and Corn Cards Handout for Hunt and Gather or Farm and Feast Game
Hunt and Gather or Farm and Feast Wrap--Up Writing Prompt
Milestone #1 Inquiry Question Writing Prompt
How Are we Different? Reflection Activity
You've Got a Friend in Me Activity and Answer Key
The Three Sisters (Corn, Beans, Squash) Reading Passage
Three Sisters Images Handouts: Corn, Beans, Squash
Milestone #2 Inquiry Question Writing Prompt
Making a Coiled Pot Reading Passage
Native American Pottery Activity and Answer Key
Teaching Tips for Making Coiled Pots
Milestone #3 Inquiry Question Writing Prompt 
Native American Agriculture Quick Quiz and Answer Key
Family Heirlooms Research/Interview Activity
Native American Symbols and Meaning Handout
Classroom Seed Pot Design Drawing and Labeling Activity
Pottery Design Sheet
Teacher Notes for Coiled Seed Pots Design 
Milestone #4 Inquiry Question Writing Prompt
Voting Slips Handout for Community Project Activity
Global Citizen Project Proposal Worksheet
Teacher Notes for Community Project Ideas
Heirloom Seeds and Their Role in Preserving Agricultural Heritage Teaching Notes
Milestone #5 Inquiry Question Writing Prompt
Native American Agriculture Summative Assessment and Answer Key
Native American Agriculture Project Rubric
OVERVIEW:
This project-based learning lesson is designed to support and reinforce the concepts taught as part of a social studies lesson or unit on Native Americans. It is built around 5 inquiry-based milestones that incorporate cross-curricular hands-on projects, formative and summative assessments, independent and group activities, and extensions.
STUDENT/GROUP OUTPUT:
In the course of this project-based learning unit, students will:
Build background knowledge about the Native American transition from nomadism to farming;
Explore the Native American legends behind the Three Sisters crops and contrast the with the real-world reliance on these three staples;
Design and create Native American coiled pots for seed-keeping (or planting) using quick-dry clay;
Learn about Native American symbols and how to use them in culturally-responsive ways to decorate their pots;
"Show what they know" by planning a community service project that embodies the Native American ideals around nature and resources.
SUGGESTED SUBJECT PREREQUISITES:
Students will acquire necessary background knowledge of Native American agriculture as part of this project, and instructional materials for providing that background are included in the Teacher Pack. 
SEQUENCE AND PACING
This project-based unit is divided into 5 milestones. The minimum suggested duration for completing this project-based unit is 5 class periods. However, the unit is completely flexible can be lengthened or shortened as necessary or desired, based on available class time and interest level.
TECHNOLOGY RESOURCES (suggested):