CREATED BY:
LAST UPDATED: October 26, 2022
This literature guide includes enrichment activities and internet resources for In the Year of the Boar and Jackie Robinson, a book about a Chinese child who comes to Brooklyn, New York in 1947 and becomes Americanized by her love for baseball.
In the Year of the Boar and Jackie Robinson
by Bette Bao Lord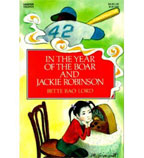 Shirley Temple Wong sails from China to America with a heart full of dreams. Her new home is Brooklyn, New York. America is indeed a land full of wonders, but Shirley doesn't know any English, so it's hard to make friends. Then a miracle happens: baseball. It is 1947, and Jackie Robinson, star of the Brooklyn Dodgers, is everyone's hero. Jackie Robinson is proving that a black man, the grandson of a slave, can make a difference in America. And for Shirley as well, on the ball field and off, America becomes the land of opportunity.
Enrichment Activities
Books for Black History Month
---
Enrichment Activities
Conflict Dissection
This graphic organizer will help students to study the story's setting, problem, and solution. Use the Conflict Dissection organizer.

Jackie Robinson and Civil Rights

This lesson gets students thinking critically about the Civil Rights movement and its key players, as they explore a biographical site about Jackie Robinson.

Jackie Robinson Coloring Page
A printable coloring book page with a picture of the baseball legend.



Books for Black History Month


Dark Thirty: Southern Tales of the Supernatural, by Patricia C. McKissack
Recommended Ages: 10-13
These 10 stories of the supernatural are based on historical facts but be warned: they're scary! These haunting tales are perfect for reading aloud and they also address deep issues of racism.

Kidnapped Prince: The Life of Olaudah Equiano, by Olaudah Equiano
Recommended Ages: 10-13
This is a gripping tale of a young African boy's odyssey of betrayal, cruelty, and courage.

Nappy Hair, by Carolivia Herron
Recommended Ages: 4-8
The gospel rhythm of this lovely children's book is matched only by the bold, color-saturated illustrations of little nappy-haired Brenda.

Nightjohn, by Gary Paulsen
Recommended Ages: 12 and up
After he escaped to freedom in the north, Nightjohn returns to slavery to teach other enslaved people how to read. And 12-year-old Sarny is willing to risk mutilation and death for precious knowledge.

Something Beautiful, by Sharon Dennis Wyeth
Recommended Ages: 5-8
This is the inspiring story of a young girl's search for beauty in her violence-torn neighborhood. The illustrations and story are both beautiful and realistic.

Watsons Go to Birmingham, by Paul Curtis
Recommended Ages: 10 and up
The Weird Watsons of Flint, Michigan are taking a trip like no other. They're heading south to Birmingham, Alabama, toward one of the worst moments in American history.