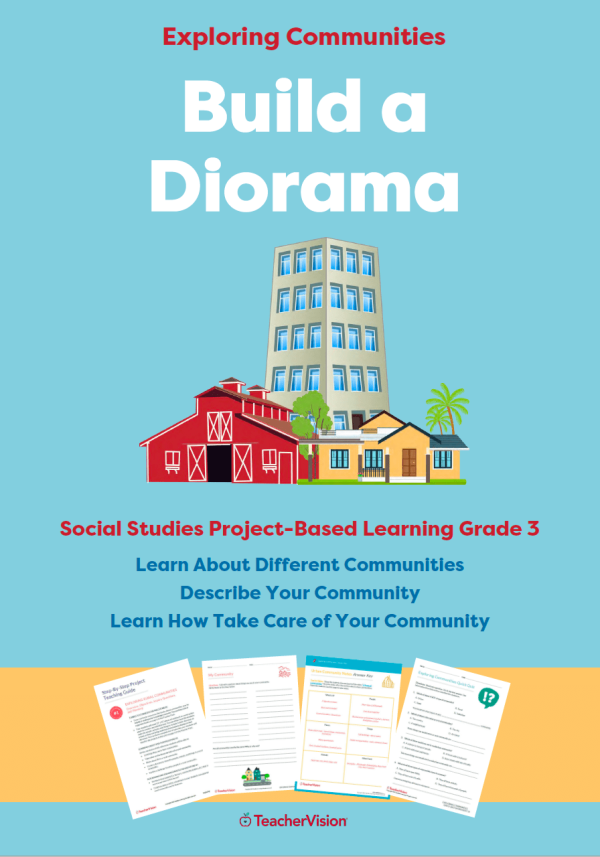 Purchase or subscribe to access this resource.
$14.95
Included with a Premium Membership
Subscribe for instant access to this and every resource on TeacherVision.
Subscribe
Engaging Social Studies Lessons on Urban, Suburban and Rural Communities for Grade 3
Build knowledge and understanding of life in urban, suburban and rural communities, identify and compare the characteristics of these different communities, design and create a diorama for each community and explore the challenges they face. 
Your 3rd grade students will identify the characteristics and challenges of urban, suburban and rural communities. They will create a pyramid diorama of the people, animals, and things in each community. Students will also compare and contrast the different communities, reflecting on their own communities, before brainstorming ways to help their communities.
What's Inside
Packed with fun, hands-on activities, extension and enhancement ideas, opportunities for independent and group work, and engaging inquiry-based challenges, this 52-page project-based unit comes complete with:
For the Teacher: Engaging social studies lessons with teacher notes, step-by-step instructions for all activities, assessment guidance, and inquiry questions.
For Students: A full-color Student Pack complete with all of the printables, slides, photos, and instructions students need for the activities - just print (or share) and teach!
A complete, ready-to-teach Teacher Pack that includes:
Teacher versions of all the student printables with step-by-step annotations and notes for teaching informational writing;
Formative and summative assessments, answer keys, and a full project rubric;
Instructions and guidance for the extension activities and project enhancements;
Materials and resources lists, links to articles, videos, and research, plus additional resources for lecture and presentation.
What's Included
Lesson Plan - Step-by-Step Project Teaching Guide
Milestone 1: Exploring Rural Communities
Milestone 2: Exploring Urban Communities
Milestone 3: Exploring Suburban Communities
Milestone 4: Comparing and Contrasting Communities
Milestone 5: Community Service
Teacher and Student Resources
Materials Needed for the Projects in this Unit 
Books About Communities 
Rural Community Notes Answer Key 
Urban Community Notes Answer Key 
Suburban Community Notes Answer Key 
Exploring Communities Quick Quiz
Exploring Communities Quick Quiz Answer Key 
Paragraph Writing Checklist 
Exploring Communities Summative Assessment 
Exploring Communities Summative Assessment Answer Key 
Exploring Communities Project Rubric
My Community 
Rural Community Notes 
Rural Communities 
Pyramid Diorama Project Guidelines 
Milestone #1 Inquiry Question
An Interesting City 
Urban Community Notes 
Urban Communities 
Milestone #2 Inquiry Question
Getting Food 
Suburban Community Notes 
Suburban Communities 
Milestone #3 Inquiry Question
Town Mouse, Country Mouse 
Types of Communities 
Our Community Cover 
Communities Venn Diagram 
Milestone #4 Inquiry Question
Taking Care of My Communities 
Milestone #5 Inquiry Question
OVERVIEW:
This project-based learning lesson is designed to support and reinforce the concepts in a Grade 3 Social Studies unit on communities. It is built around 5 inquiry-based milestones that incorporate cross-curricular hands-on projects, formative and summative assessments, independent and group activities, and extensions.
STUDENT/GROUP OUTPUT:
In the course of this project-based learning unit, students will:
Build background knowledge about rural, urban and suburban communities;
Create dioramas of the people, animals and things in rural, urban and suburban communities;
Identify characteristics and challenges of each community and find out what life is like there, comparing and contrasting the different communities;
Reflect on how their own community compares to other types of communities, choose one way to help their community and explain how it would help the community.
SUGGESTED SUBJECT PREREQUISITES:
Students will acquire necessary background knowledge of rural, urban and suburban communities as part of this project, and instructional materials for providing that background are included in the Teacher Pack. 
SEQUENCE AND PACING:
This project-based unit is divided into 5 milestones. The minimum suggested duration for completing this project-based unit is 5 class periods. However, the unit is completely flexible and can be lengthened or shortened as necessary or desired, based on available class time and interest level.
TECHNOLOGY RESOURCES (suggested):
Internet access