Authored by:
Last edited: January 23, 2020
Use this literature guide to help you teach On the Far Side of the Mountain, by Jean Craighead George.
Page 1 of 2
by Jean Craighead George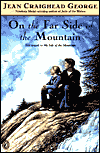 This is the sequel to My Side of the Mountain and is the continuation of the story of Sam Gridley. After running away from their home in New York City, Sam and his sister Alice are happy in their wilderness home. Then one day, a man claiming to be a conservation officer confiscates Sam's falcon Frightful and Alice disappears.
To buy this book, click here or on the book cover.
Enrichment Activities
Books by Jean Craighead George
---
Enrichment Activities
Author Research
Think about the author, Jean Craighead George. Have students research her life, searching specifically for information on how her grandmother came to know so much about the outdoors. Look at other novels she wrote. How many of them center around young people surviving on their own? Has she written a sequel to any of the others? Why do you think she chose to do another story about Sam Gridley?


Create Models
Use various materials to have students create models of the different projects undertaken by Sam and Alice: the compasses, the barometer, the mill, the dam, etc.


Mapping Skills
Students can use the information in the book and maps of the Catskills to find the route taken by Alice and Sam. Students can search for inaccuracies (if there are any) in the directions given in the book. They can also calculate the total distance that Alice and Sam traveled.


Natural Food Tasting
On the Far Side of the Mountain contains a lot of information about natural foods found in the wilderness. Find and taste some of them. What edible plants grow wild in your area? Put together a guide to them and their uses.


Wilderness Hunt
If possible, go to the closest wilderness/forest area you can find. Divide the class into teams and have them leave clues for each other. Ask students how obvious the clues should be?