Give students a general overview of some of the major explorations and early explorers of North America through the PowerPoint slideshow in this mini-lesson.
Excerpted from
Eyewitness: Explorer
This book takes a look at the often hazardous and perilous world of exploration from the lives and navigation techniques of the first sailors to the types of food eaten on space missions.
Objective
Students will get a big picture overview of some early explorers of North America.
Suggested Time
15 minutes
Reading Level
Upper Elementary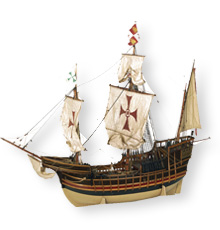 Teacher Background
Six thousand years ago people knew little of what existed more than a few days' journey away from their own homes. Because they could grow
Read more
Continue the Conversation
Invite students to share any stories of their own explorations. Were they scared? Excited? What did they learn? Remind students to think about the days when exploration was not supported with technology. How do they think the word was spread back in the day of Lewis and Clark?
Write about it
Ask students to pick a location that they would like to explore. Then have them write a persuasive "recruitment letter" to convince others to join them on their expedition. Encourage them to use descriptive language to convince readers to sign up for their journey.
Lesson Contents
TEACHER RESOURCES
Extension Activities
Reinforcements
Explorers of North America Word Power
Grade: 4 - 6
Students practice vocabulary relevant to explorers by using each defined word in a sentence.

All About Early Explorers
Grade: 2 - 5
Use these worksheets to teach children about early world exploration while improving word-matching skills.