Give students a general overview of some of the major explorations that have occurred in the 20th century through the PowerPoint slideshow in this mini-lesson.
Excerpted from
Eyewitness: Explorer
This book takes a look at the often hazardous and perilous world of exploration from the lives and navigation techniques of the first sailors to the types of food eaten on space missions.
Objective
Students will get a big picture overview of some of the expeditions that have occurred within the last 110 years.
Suggested Time
15 minutes
Reading Level
Upper Elementary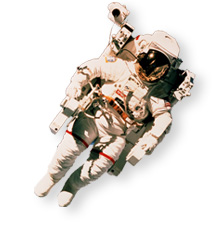 Teacher Background
Many important explorations have taken place within relatively recent years—during the 19th, 20th, and 21st centuries. For example,
Read more
Continue the Conversation
Ask students if they would like to become a future astronaut or oceanographer. What qualifications do they think they would need to do this? Invite them to name their own personal "explorer heroes" and describe why they admire them.
Write about it
Ask students to write a list of questions they would like to ask a person who saw the first moon landing on television in 1969. Then have them take those questions home to ask a parent or grandparent who remembers seeing the event. Discuss the findings in class the next day.
Lesson Contents
TEACHER RESOURCES
Extension Activities
Reinforcements
20th-Century Explorers Word Power
Grade: 4 - 6
Students practice vocabulary relevant to 20th-century explorers by using each defined word in a sentence.

Matthew Henson, Explorer
Grade: 4 - 8
A biography of Matthew Henson, an African-American explorer, with related activities.