With over 20,000 learning resources to choose from, MyTeacherVision is a powerful new way to discover and manage the TeacherVision content that's most relevant to your needs.
Updated on: September 14, 2017

Welcome to your new home on TeacherVision! Using MyTeacherVision, you can:
Discover resources created with you and your students in mind.
MyTeacherVision is your new one-stop classroom shop—a place where you can plan your day, quickly find the materials you need, and get recommendations based on your interests as a teacher—and setting it up couldn't be easier. Simply fill out your profile to begin receiving new, handpicked content every morning.
Start each day with the "Today" page.
The "Today" page is a newsfeed made just for teachers. Powered by our Morning Announcements blog, "Today" is where you'll discover all of the day's important events, read the latest articles by fellow teachers and education experts, and find timely resources to bring it all into your classroom.
Access the Teacher's Survival Guide.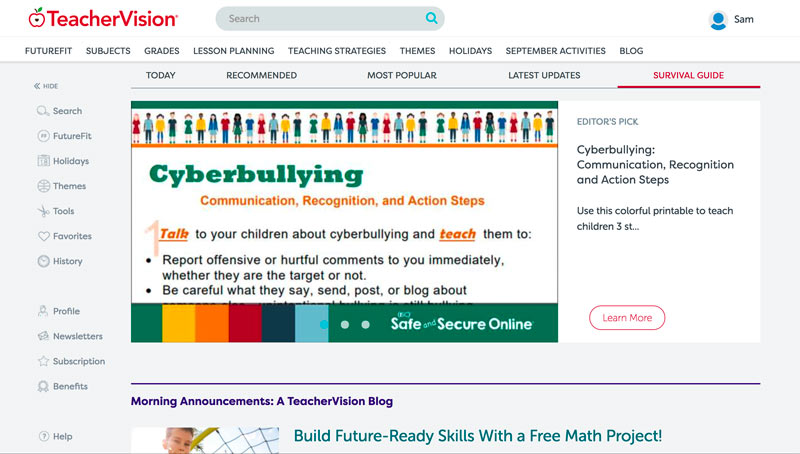 Teaching isn't only about helping your students. It's also about you, the teacher! The "Teacher's Survival Guide" page is chock full of resources designed to empower and inspire you as a teacher. Curated by our editors, every piece of content is chosen specifically to help you become a better educator.
Use TeacherVision resources in a whole new way.
Find everything you need quickly—and on any device. With MyTeacherVision, you can now view your site history, manage your lesson plans, and share your favorite content all in one place. It's a revolutionary way to utilize the resources that millions of teachers trust TeacherVision to provide.
Get instant access to MyTeacherVision when you sign up
for any of TeacherVision's paid membership plans.