We're helping teachers bring real-world skills into existing curriculum.
Future-Ready skills, Social Emotional Learning (SEL), 21st Century Skills—teachers know these skills are crucial to students' success in the classroom, community and eventually workplace. But, finding the time and resources to effectively teach these skills is far from easy.
That's why TeacherVision is launching our new FutureFit resources, designed to make teaching future-ready skills easier for teachers.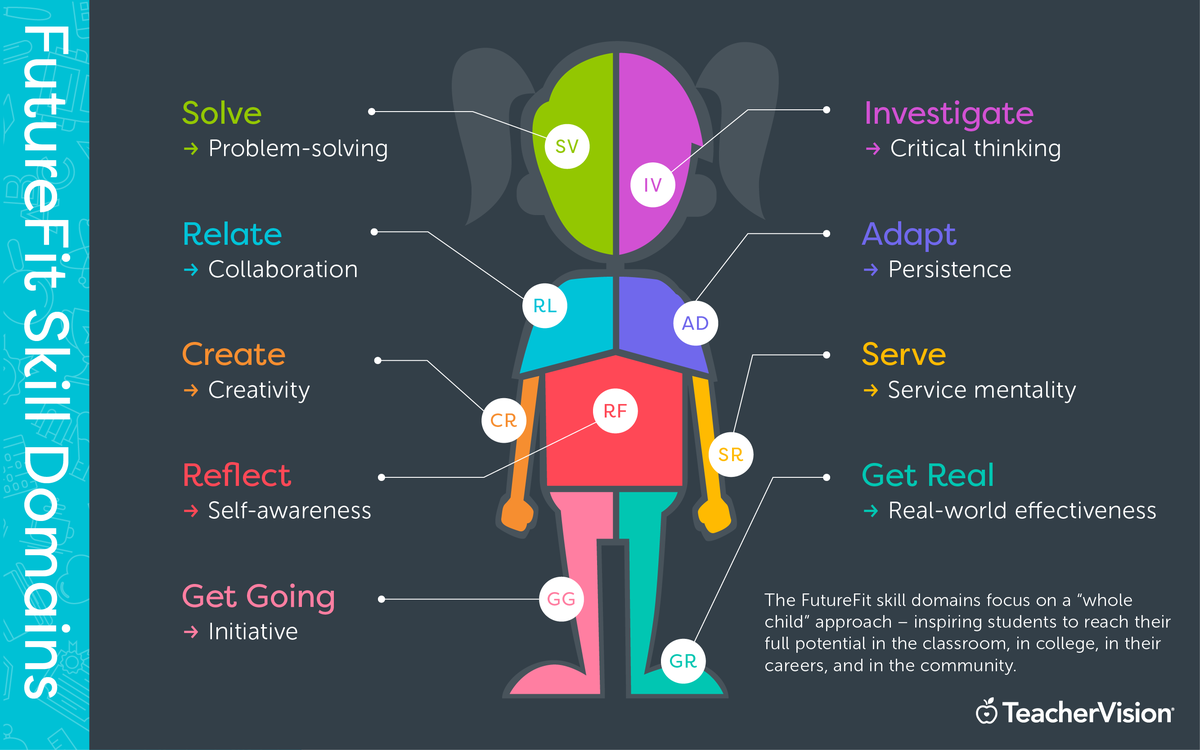 FutureFit is featured on EdSurge!
"Teachers tell us they would love to teach these skills, but they don't know where the resources are and how to fit them into the curriculum," explains TeacherVision's Senior Content Editor Stephen Solomon. "They say it's not self-evident how you can attach empathy to earthquakes or community engagement to sixth-grade math, for example. And frankly, they don't have the time to put that together on their own."
However, TeacherVision's new FutureFit resources are designed to make it as easy as possible for teachers to incorporate skills such as creativity, persistence, problem-solving, collaboration, self-awareness and more into the curriculum.
Focused on core subjects including science, social studies, ELA and math for K-12 students, here's what you'll find in our new FutureFit resources:
A collection of content clearly tagged as FutureFit resources. We've made it easy to find and use videos, worksheets, interactive activities, projects, online resources and games, designed to teach specific future-ready skills.
New FutureFit projects—these four-to-five-day lesson plans include a complete lesson plan outline to help you use the collection to foster future-ready skills while reinforcing core subject area concepts.
FutureFit extension activities—these project-based mini-activities are designed to engage and excite students.
Science teacher Stephanie Morris helped design some of the new FutureFit resources, and expects they will make teaching SEL and future-ready skills easier for teachers.
"I think especially for those teachers who are in the maths and sciences, this is going to be a big shortcut for them—because they don't have to spend a lot of time thinking and researching how to incorporate these skills into lessons. They can just see by looking at the activities how to take a social emotional learning (SEL) approach to a lesson."
For example, in a science lesson about biomes and habitats Morris created, students use their knowledge of habitats to create a fun commercial advertising their habitat to a specific animal.
As Morris explains, in this activity students think creatively to personify squirrel for example, while also working in groups—so there's plenty of collaboration and cooperation. They gather and share material from the internet, using information gathering and critical thinking skills. Throughout the lesson they are also constantly reflecting, 'Am I doing this correctly? Is this going to be interesting to my class?'
"They're using all these skills together to do science," explains Morris. "Normally in a project all these things wouldn't be specifically spelled out for the teacher. Now the teacher has those things written on paper and he or she can easily see how to incorporate SEL into their lessons. It's a really neat approach."
TeacherVision's new FutureFit resources are here! Keep watching our Twitter feed, Facebook page and website for updates and see for yourself how easy it can be to incorporate future-ready skills in your lessons.
Want to learn more about the benefits of SEL skills?
Solomon suggests checking out The Collaborative for Academic, Social, and Emotional Learning (CASEL). You can find research and information about the benefits and results teachers can expect from incorporating SEL into the classroom.
Want to read more from this author? Check out Wendy's posts on this free math project, Genius Hour, and her suggestions for your summer reading list.
Author Bio:
Wendy McMahon is an education technology writer who has been working and writing in the edtech field for more than 15 years. She currently writes for EdSurge, EdTech Magazine and Pearson. She holds a Journalism Degree from the University of King's College. Follow her on Twitter at @wendymcmahon.