FutureFit is a curriculum enhancement framework designed to empower you to easily integrate social-emotional learning and character education into traditional academic curriculum. Through specially-curated resources, project-based lessons, and a variety of mini-activities, you can bring life skills to the classroom and new life to your teaching.
Updated on: August 14, 2017
A Collection of Easy-to-Understand Skills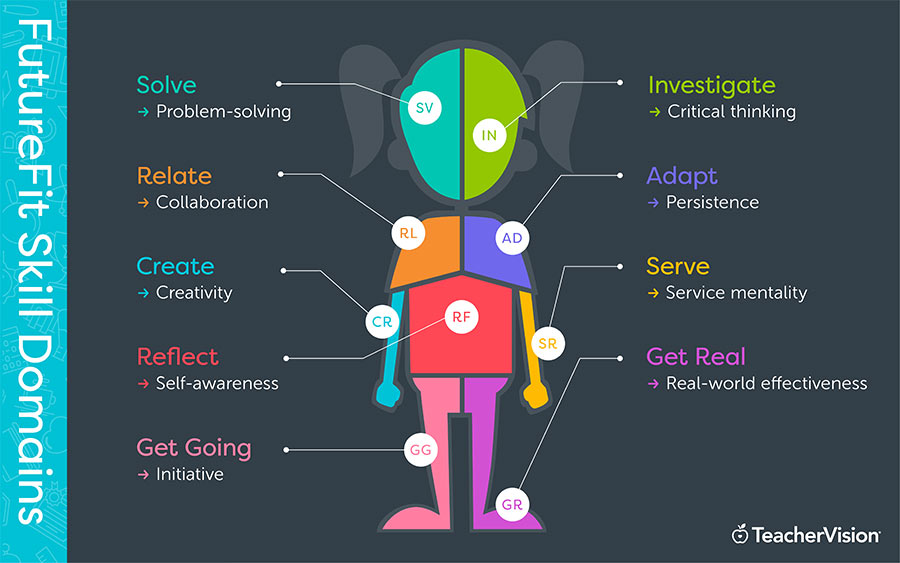 The FutureFit skill domains, conceived with input from educators, focus on a "whole child" approach, inspiring students to reach their full potential in the classroom, in college, in their careers, and in the community. Designed to be agnostic while also acknowledging the important work and prior research conducted in this area, the FutureFit skill domains are robust and flexible. Learn more about the complete list of FutureFit skills here. 
Resources for every classroom




Look for the special FutureFit icons throughout TeacherVision to help identify resources curated for use in social-emotional and character-education lessons.  FutureFit consists of three distinct types of resources:
FutureFit Projects: Complete project-based lessons developed by teachers and curriculum experts to incorporate FutureFit concepts into standard curriculum units
FutureFit Boost Extension Activities: Concise, focused FutureFit activities and projects specially written by teachers and curriculum experts to accompany other TeacherVision resources
FutureFit Supplemental Resources: A variety of specially-curated worksheets, videos, lesson plans, reading guides and related resources throughout TeacherVision.
Why use FutureFit?
With FutureFit, incorporating skills and concepts like growth mindset, critical thinking, collaboration, self-awareness and service mentality into traditional math, ELA, science, and social studies lessons you already use is simple and straightforward.
"This is the stuff that teachers crave.  This is the stuff that we wish desperately was in the existing curriculum." 

Lisa Koplik

4th Grade teacher, Wakefield, MA public schools
Easily Add SEL and Character Education to What You Already Teach
We've created and curated a collection of resources that give you the freedom and flexibility to easily add a FutureFit focus to your classroom. Whether you're looking for a complete project-based lesson or worksheets, videos, assessments and activities that integrate SEL and character education, you can find and identify them throughout the TeacherVision site by looking for the FutureFit icons.  
Inspire Your Students to be Changemakers
We know that teaching is aspirational, that you want to make a difference every day, and that you don't get out of bed every morning to preside over the administration of a pile of "drill and kill" practice tests. We also know that a teacher's job is never done, and that finding the time to inspire your students in ways that extend beyond their academic lessons can be challenging. FutureFit helps your aspirations become inspirations. Adding lessons in effective communication, reflective practice, initiative, global awareness, leadership, and accountability to your teaching is easy using our curated FutureFit resources. The time you'll save looking for the perfect blend of social-emotional and academic learning can now be used to accomplish the things you DO get out of bed for in the morning: inspiring and enabling your students to be capable, well-rounded, inquisitive and productive. 
The right resources, right now
FutureFit resources are specially curated and easily discoverable throughout TeacherVision. Look for the FutureFit icons as you search or browse our resource pages, explore the FutureFit Projects section, and add FutureFit lessons, worksheets, videos and other resources directly to your Favorites. We're continually adding new resources to the FutureFit collection. If you'd like to be notified when new FutureFit Projects, Boost activities, or resources are added, sign up for our DailyTeach newsletter or visit the TeacherVision Morning Announcements blog.
NEXT UP:
FUTUREFIT SKILL DOMAINS