Authored by:
Last edited: August 21, 2022
If you are one of the many teachers who will be starting the 2020 school year in a remote learning or hybrid teaching scenario, veteran elementary teacher and distance-learning pro Heather has some practical tips and tech suggestions for making the most of your time in online classes.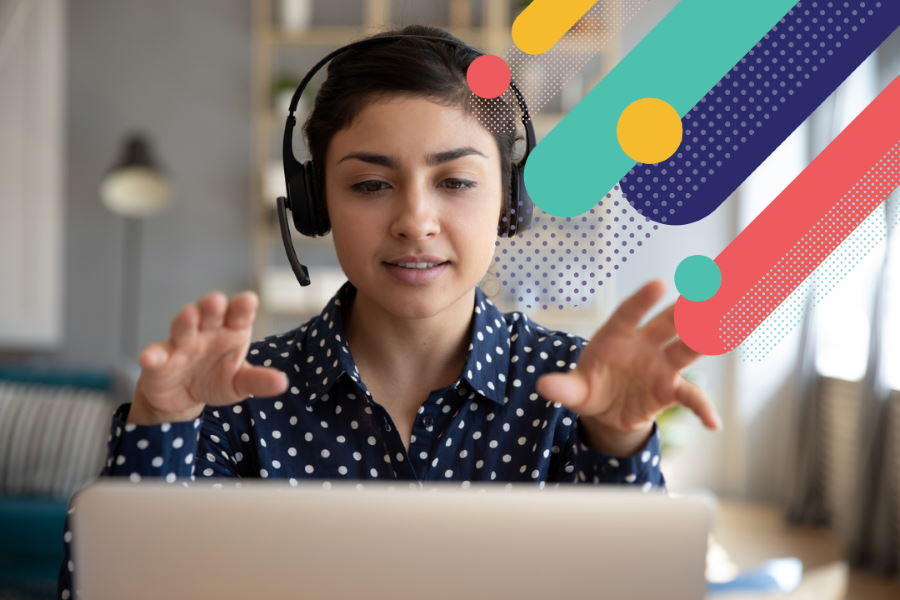 If your district just announced that you will begin the new school year by teaching virtually, your teaching game may be turned upside down! It seems that all teachers will be taking their usual beginning of the year rituals and routines and tossing them straight out of the window! Whether you are new to remote learning or you rank yourself as a seasoned pro, you can certainly make your students feel welcome, build an online classroom community, create a virtual presence with parents, and present engaging lessons and activities for all of your students. Here are some tips and tech tools that will help you successfully navigate through your first two weeks of school. 
Tip 1:  Set Up a Virtual Classroom
Youtube is loaded with step by step, easy to follow tutorials in order to create a virtual classroom. Complete with creating your own Bitmoji to place in your customized classroom, the design options are endless and a virtual classroom will help make your students feel connected to you. After your classroom is designed, you can link important websites to objects in your room that students can quickly click on, post updates for parents, list weekly assignments, or even post pictures of completed online work. 
Tip 2:  Post a Picture
Using Google Slides, you can ask each student to post a picture that represents who they are or something they like! This will help students put a name with a face, especially if your district does not allow for Zoom lessons or Google Hangouts where students and teachers can interact in live time. 
While some students (and parents) may be strangers to Google Slides, you can add a step-by-step direction list to help them participate in the picture activity. 
Begin by adding a picture of yourself and something you personally enjoy or want to share with your class. When sharing the slide, be sure to click on the setting icon and unclick the two checked off boxes. This will ensure students cannot edit the permissions and share with anyone outside of your classroom and zero printing can occur from other viewers and commenters. 
Students will also have the opportunity to design their own slide and showcase their personality and interests artistically. 
Tip 3:  Connect With Parents
The free app Remind allows for two way communication between parents and yourself. ClassDojo is another freebie and is excellent for communicating with parents. It will allow you to award points for students who participate in discussion online or in your Google Classroom.  The nice thing about these free apps is that you don't have to manually put in parents' email addresses or contact info like you would in your school email group settings. Parents sign up themselves and the two of you are instantly connected. 
Tip 4:  Set Up Office Hours
Many districts are mandating office hours in which teachers must be available during a set time to field phone calls (if issued district cell phones), answer emails, or provide instructional support through the use of chat or digital live time platforms. If this is something that your district did not implement, you can certainly gain permission from your administrator to set something like this up for your students and/or parents. Every Wednesday, for example, from the hour of 12:30-1:30 could be the chance for uninterrupted talk time with a parent who needs help or has concerns.  
If you will be teaching live most of the time, this set aside time is essential for communication and feedback. It is a time parents can rely on to get in touch with you!
Tip 5:  Video Yourself
Most districts will allow you to video yourself talking to students, welcoming them to your online classroom, or teaching lessons. It is an amazing opportunity to break down steps, provide visuals, promote think-alouds, and the chance to model instruction across the curriculum. While many districts are providing educators with cameras or other forms of technology to make this happen, as long as you have a camera and microphone enabled on your laptop, you should be good to go!
Favorite Technology Tools For Educators
Because remote learning is so new and foreign for most of the teaching community, there are some awesome technology tools that will help you start the school year successfully. Here are some sites you should check out to make teaching online easier!
Quizlet
This learning site is loaded with premade quizzes set up by grade and subject area. You can even create your own class and your own learning materials, which can easily be sent via email or as a link for Google Classroom. The site is awesome for promoting independent study of vocab and other essential learning terms, and is very easy for parents to navigate as well to help!
Kahoot!
Kahoot makes learning awesome. Usually played as a whole class game, it now has the convenient feature of self-study. The basic version is free for educators and you can browse premade trivia games made by other educators or make one yourself. Educators can and will find topics on any and every subject they teach-take some time to check it out!
Flipgrid
This amazing platform allows students to record their thoughts and answers to a topic that you post! This keeps the learning process going well after your lesson ends. It's a wonderful tool to hear each students' voices and opinions. It gauges their learning level and helps you analyze their understanding or comprehension of a certain topic. Signing up is free and easy, and you may need to get parental permission via one of the site's premade forms before setting everything up for your students. 

While this school year may leave you feeling overwhelmed, uneasy, and frankly bummed out that you're physically away from your new set of students, these technology tools and tips will help you get off to a great start. Remember, tough times don't last, but tough teachers do!
Heather Aulisio is a third grade teacher in Pennsylvania. She has been a teacher for nearly 15 years and holds multiple degrees and certifications. A freelancer for The Mailbox and other education-related clients and publications, she enjoys writing in order to help and entertain fellow teachers. She currently resides with her husband, Bryan; son, Matthew; and two pugs, Lily and Leo.