A new school year is quickly approaching, and it's time once again to think about saying, "Welcome back!" to your students. Why not catch their attention with a one-of-a-kind bulletin board? The right
bulletin board
can be a fun and interactive way to establish a fun and welcoming classroom community.

The Purpose of Welcome Back Bulletin Boards
I don't know about you, but I used to think bulletin boards were a waste of precious time. I was required to design one during my student teaching but only had enough time to throw up a fun border and some student work. Today, a classroom bulletin board can be a great way to help your students feel welcome and safe as they return to school after three challenging years of the COVID-19 pandemic.
Welcome bulletin boards can do more than just comfort students on the first day of school. They can act as the center of multifunctional student activities that will have your classroom bustling with teamwork from the start!
In the example designs that follow, you will see how you can use interactive bulletin boards to teach your students skills that they can apply to real-life situations such as:
Communicating effectively
Problem-solving
Goal setting and developing a growth mindset
Individual artistic expression
Understanding current events 
Making interdisciplinary connections
These skills will not only impact student engagement but also make classroom management more effortless. Bulletin Boards are underutilized resources, but they don't have to be anymore.
Creating Themed Bulletin Boards
Many elementary and middle school teachers design their classrooms around themes; they can be simple, such as "apples", or something more complex, such as based on Harry Potter houses.
If you don't know where to begin with your bulletin board, start with a theme. Then, consider what lesson or skill you can connect to your theme. For an excellent example of a themed-based bulletin board, see our Apple Bulletin Board, which is used to coordinate students' classroom responsibilities. Teachers can change it quickly and frequently to update classroom duties as required.
If you want to change your theme seasonally, the Fall Reading Bulletin Board encourages students in 2nd grade or 3rd grade to read and keep track of their books. You can easily swap out seasonal bulletin board borders to emphasize the importance of reading from season to season.
Harry Potter has become a common theme in English teachers' classrooms, and teachers can use it to teach many life lessons. This back-to-school board by Nyla's Crafty Teaching encourages personal responsibility by using tiny mirrors to inspire students to reflect on their actions.
A themed classroom may not be your style, however. You can still find many innovative ideas online, including templates and entire bulletin board sets designed by other teachers. Just search for "welcome back to school bulletin boards."
Related resource: Bumper Bulletin Board Kit
Designing a Back to School Bulletin Board
Take a look at these fabulous examples from Mrs. Jump's class. What is the first thing you notice about all of these bulletin boards? Maybe it's the bright color schemes or the clever puns, like "anything's popsicle."
No matter what grade or subject you teach, a back-to-school bulletin board should have one thing in common: it needs to be engaging for your grade level. For example, a 5th or 6th-grade class won't enjoy the same images as a high school class.
Obviously, most boards will probably include the word "welcome," but feel free to be creative in what your text says. For example, if you teach a foreign language or a class on World Cultures, you may want to include the word in multiple languages. Mrs Jump's bulletin boards all use alternative wording to create a welcoming environment that lasts beyond the first day of school.
Aside from a welcoming message, anything goes. You can be as creative as you'd like or rely on already-existing ideas on the internet to help you design the perfect bulletin board displays. You can even buy already-designed board decorations online or wherever you buy your borders. Your only limits are your imagination and your ability to DIY.
Of course, a back-to-school bulletin board doesn't have to be fully assembled when your students walk in the door. After all, you have so many other things to think about in your limited time. A simple "welcome" sign on your classroom door and a fun border around the board can be enough to start. Think about it as an opportunity to create a creative, open community.
"The right bulletin board can be a fun and interactive way to establish a fun and welcoming classroom community."
More Example Welcome Back Bulletin Board Ideas
Need more inspiration? Try one of these interactive school bulletin board ideas that will create a welcoming environment and teach valuable lessons:
Kindness Grows in Our Class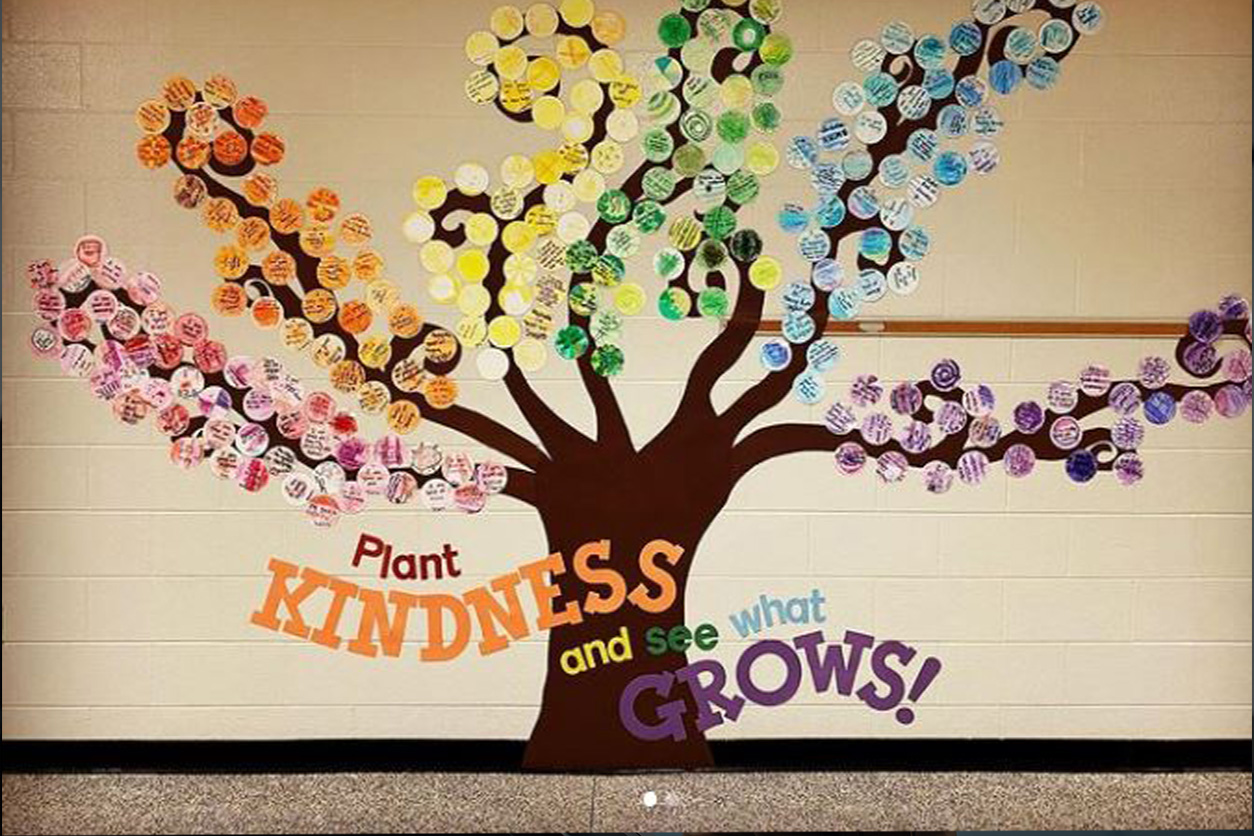 Image source: busylittleashley
Before your students arrive, use colorful paper to create a garden scene on a large bulletin board. Place the wording "Kindness Grows in Our Class" at the top of the board. Add a sun in the upper corner, and hang flower cutouts with each student's name on the board as well.
During class, give each student a small plastic zip-lock bag with their name on it. Add a lima bean to the bag and seal it tightly. Next, have students moisten a napkin or paper towel and place it inside the bag. Finally, staple the bags on the bulletin board next to each child's flower.
Direct attention to the bulletin board over the course of two weeks, adding a spray of water as needed and jotting observations down in a science journal. Watch with your students as the lima bean begins to sprout!
Meanwhile, if you observe an act of kindness from a classmate, you can record the kind act on the flower on the bulletin board. Each student's goal is to get caught displaying at least 3 acts of kindness in the first month of school!
Positive Impact on Classroom/Students:
Encourages cross-curricular connections
Promotes kindness in the classroom
Introduces students to a growth mindset
Recipe for a Successful Year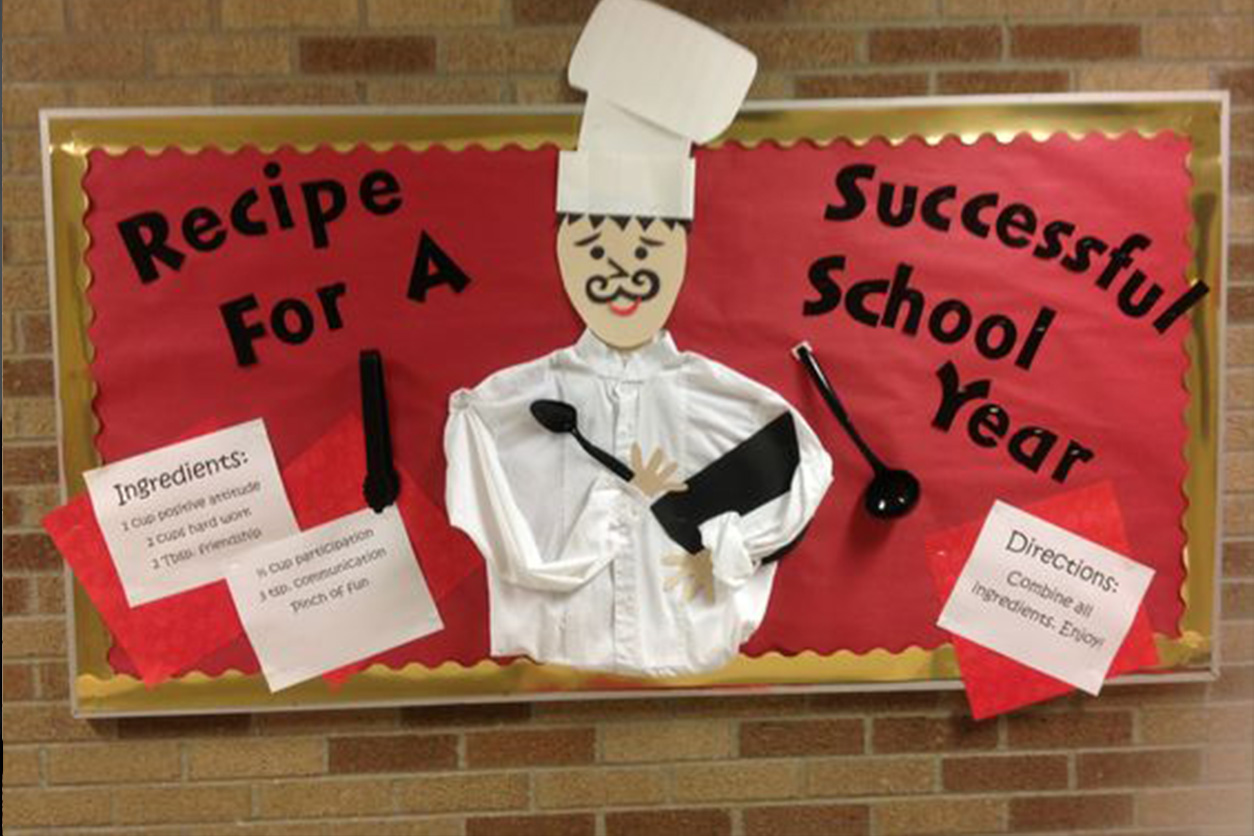 Image source: Pinterest
Are you looking for a delicious welcome back bulletin board idea? Look no further! Both the message and taste of this project will hit the spot! Create an oversized recipe card on the board (leave it blank). Decorate its perimeter with a large spoon, mixing bowl, and other cooking/baking accessories.
Welcome students to your room. Sit with your new group and tell them they need to develop a recipe for a successful year. Explain to them that they need five key ingredients that will allow the class to run smoothly for everyone.
Engage in a discussion and summarize the top five responses. Students may say things like, "Make sure we complete our homework each day," or "Ask for help when you're stuck."
Walk your students to the bulletin board and write down the five ingredients you have settled on. Then, back in the classroom, pull out a 5-ingredient snack that can be easily mixed together while reviewing the recipe for a successful year. 
Items such as yogurt, granola, chocolate chips, coconut flakes, and cinnamon are easily portable (be sure to scope out any food allergies ahead of time to plan accordingly).
This project is an easy way to set and remember classroom rules/tips for success.
Positive Impact on Classroom/Students
Sets high standards for all students
Encourages a democratic classroom setup, which makes classroom management easier
Establishes rules and expectations
Encourages hands-on creativity
"A simple "welcome" sign on your classroom door and a fun border around the board can be enough to start."
Grow Your Mindset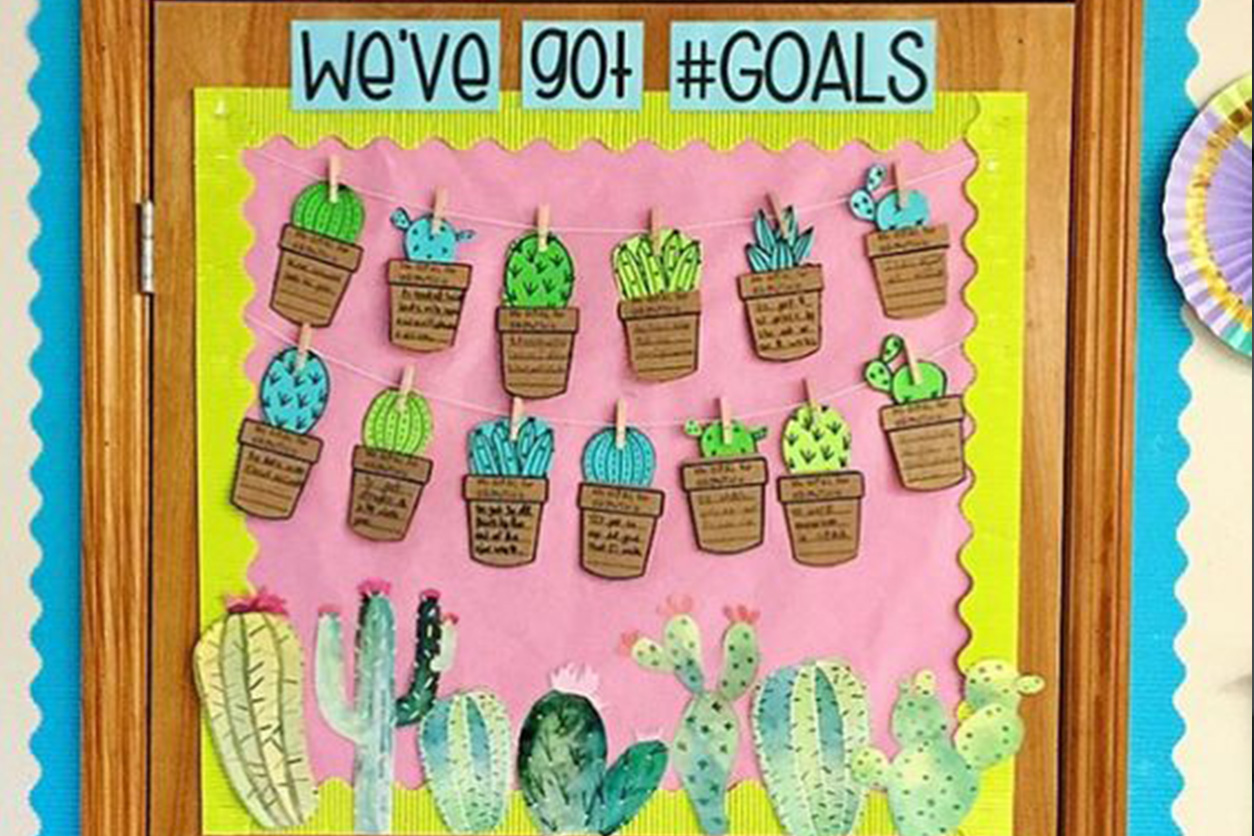 Image source: Pinterest
This bulletin board design goes well with a rustic or cacti-themed classroom. Teachers can use this activity for any grade level to teach goal setting and encourage a growth mindset.
In this already-made printable, students brainstorm their goals for the school year and then create a plan to make them happen. Later, you can ask students to return to the bulletin board to reflect on their success or address their challenges.
Positive Impact on Classroom/Students
Introduces or reinforces a growth mindset
Emphasizes the need for reflection and problem solving
Year-Round Bulletin Board Ideas
Classroom decor can be interactive and educational throughout the school year with some time and creativity. One easy way to ensure that you're constantly refreshing one of your displays is to create a birthday bulletin board. Ask students to update the board during their birth month to include their pictures, information about their hobbies, favorite books, etc.
One of my favorite things about elementary school was when my 4th-grade teacher created a "reading worm" that wound around the classroom walls. Whenever a student finished a book, she added a section to the worm. This activity can be an entertaining alternative to your typical reading bulletin board while also encouraging independent reading and goal setting. Students can earn a special prize at the end of the year if they make the worm wrap about the entire room.
Related article: 15 Awesome Bulletin Board Ideas to Liven Up Your Classroom
More Helpful Resources for Teachers
These are just a few bulletin board ideas that go beyond the typical welcome message into valuable content. Updating boards can be time-consuming, but when they reinforce curriculum or enhance learning opportunities, they are well worth the effort.
For more activities, printable resources, and other classroom ideas, visit our Back-to-School Headquarters and subscribe to the Teachervision Newsletter.