A biography of Stephen Grover Cleveland.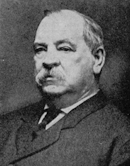 Return to U.S. Presidency - Index Page.
Return to U.S. Presidents' Biographies Page.
Born: 3/18/1837
Birthplace: Caldwell, N.J.

(Stephen) Grover Cleveland was born at Caldwell, N.J., on March 18, 1837. He was admitted to the bar in Buffalo, N.Y., in 1859 and lived there as a lawyer, with occasional incursions into Democratic politics, for more than 20 years. He did not participate in the Civil War. As mayor of Buffalo in 1881, he carried through a reform program so ably that the Democrats ran him successfully for governor in 1882. In 1884 he won the Democratic nomination for president. The campaign contrasted Cleveland's spotless public career with the uncertain record of James G. Blaine, the Republican candidate, and Cleveland received enough Mugwump (independent Republican) support to win.
As president, Cleveland pushed civil service reform, opposed the pension grab and attacked the high tariff rates. While in the White House, he married Frances Folsom in 1886. Renominated in 1888, Cleveland was defeated by Benjamin Harrison, polling more popular but fewer electoral votes. In 1892, he was elected over Harrison. When the Panic of 1893 burst upon the country, Cleveland's attempts to solve it by sound-money measures alienated the free-silver wing of the party, while his tariff policy alienated the protectionists. In 1894, he sent troops to break the Pullman strike. In foreign affairs, his firmness caused Great Britain to back down in the Venezuela border dispute.
In his last years Cleveland was an active and much-respected public figure. He died in Princeton, N.J., on June 24, 1908.
Died:
6/24/1908