A biography of George Herbert Walker Bush.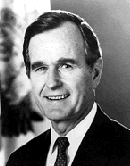 Return to U.S. Presidency - Index Page.
Return to U.S. Presidents' Biographies Page.
Born: 6/12/24
Birthplace: Milton, Mass.

George Herbert Walker Bush was born June 12, 1924, in Milton, Mass., to Prescott and Dorothy Bush. The family later moved to Connecticut. The youth studied at the elite Phillips Academy in Andover, Mass.
The future president joined the Navy after war broke out and at 18 became the Navy's youngest commissioned pilot, serving from 1942 to 1945. The man later derided by some as a "wimp" fought the Japanese on 58 missions and was shot down once. He won the Distinguished Flying Cross.
After the war, Bush earned an economics degree and a Phi Beta Kappa key in two and a half years at Yale University. While there he captained the baseball team and was initiated into "Skull and Bones," the prestigious Yale secret society.
In 1945 Bush married Barbara Pierce of Rye, N.Y., daughter of a magazine publisher. With his bride, Bush moved to Texas instead of entering his father's investment banking business. There he founded his oil company and by 1980 reported an estimated wealth of $1.4 million.
Throughout his whole career, Bush had the backing of an established family, headed by his father, the autocratic and wealthy Prescott Bush, who was elected to the Senate from Connecticut in 1952. And his family helped the young patrician become established in his early business ventures, a rich uncle raising most of the capital required for founding the oil company.
In the 1960s, Bush won two contests for a Texas Republican seat in the House of Representatives, but lost two bids for a Senate seat and one for the presidency. After Bush's second race for the Senate, President Nixon appointed him U.S. delegate to the United Nations with the rank of Ambassador and he later became Republican National Chairman. He headed the United States liaison office in Beijing before becoming Director of Central Intelligence.
In 1980 Bush became Reagan's running mate despite earlier criticism of Reagan "voodoo economics" and by the 1984 election had won acclaim for devotion to Reagan's conservative agenda despite his own reputation as somewhat more liberally inclined. Nevertheless, die-hard right-wingers could find satisfaction in Bush's war record and his government service, particularly with the C.I.A. Throughout he remained influential in White House decisions, particularly in foreign affairs.
In the 1988 campaign, Bush's choice of Senator Dan Quayle of Indiana for vice president surprised his friends and provoked criticism and ridicule that continued even after the Administration was established in office. Nonetheless Bush strongly defended his choice.
George Herbert Walker Bush became president on January 20, 1989, with his theme harmony and conciliation after the often-turbulent Reagan years. With his calm and unassuming manner, he emerged from his subordinate vice-presidential role with an air of quiet authority. His Inaugural address emphasized "A new breeze is blowing, and the old bipartisanship must be made new again."
In his first months, the President, the nation's 41st, established himself as his own man and all but erased memories of what many had regarded as his fiercely abrasive presidential election campaign of 1988 and questionable tactics against his Democratic opponent. People liked his easy style and readiness to compromise even as he remained a staunch conservative, although that readiness had disconcerted some conservatives.
Bush's early Cabinet choices reflected a pragmatic desire for an efficient, nonideological government. And with his usual cautious instinct, in 1990 he nominated to the Supreme Court the scholarly David H. Souter, with broadly conservative views. Souter was confirmed without a bruising battle.
In his first year, Bush, a World War II hero, had won plaudits at home and abroad for his confident, competent conduct at the NATO 40th anniversary summit meeting in Brussels, the Paris economic conference, on his tour of Eastern Europe, and at the Malta conference with Gorbachev. Grave challenges in that year were the Lebanese hostage crisis and the ongoing war against drug trafficking.
Domestically, Bush had to cope with such issues as the Exxon Valdez oil spill in Alaska and the dispute over flag-burning restrictions, which was resolved, if only for a time, in mid-1990.
But in his second year, 1990, the President confronted a mounting array of problems, the most critical being on the domestic side. Chief among them were the staggering and mushrooming budget deficit and the savings and loan crisis. Other vexing issues were the question of cutting defense expenditures with consequent economic dislocation, the war on drugs, and environmental matters.
At home, the President's popularity dipped sharply from its near-record public approval following the invasion of Panama in late 1989. This plunge followed Bush's recantation of his campaign "no new taxes" pledge as he sat down with Congressional leaders to tame the budget deficit and deal with a faltering economy.
In 1991, the 67-year-old president emerged as the leader of an international coalition of Western democracies, Japan, and even some Arab states that freed invaded Kuwait and vanquished, at least for a time, Iraq's President Saddam Hussein and his armies.
A nation grateful at feeling the end of the "Vietnam syndrome" gave the President an overall rating of 89 percent in a Gallup poll in March after the end of the war. The approval rate fell as the year went on, but a solid majority continued to approve the President's performance, although with growing concern about the faltering economy and other domestic problems. And there were nagging doubts about the Persian Gulf war, its motives and conduct, and about the ensuing refugee crisis.
A major Bush accomplishment in 1991 was the Strategic Arms Reduction Treaty (Start), signed in July with Soviet president Mikhail S. Gorbachev at their fourth summit conference, marking the end of the long weapons buildup. Succeeding events in the Soviet Union and the apparent disintegration of the Communist empire could only enhance his status.
The year also saw the President undergoing treatment for Graves' disease, a thyroid disorder, from which he suffered serious side effects.
In the 1992 presidential election, Bush was defeated by Gov. Bill Clinton of Arkansas.
The Bushes have lived in 17 cities and more than a score of homes and have traveled in as many countries. In her husband's frequent absences during the early years, Mrs. Bush was often matriarch of a family of four boys (George, Jeb, Neil, and Marvin) and a girl (Dorothy).
After the Clinton inauguration in January, the Bushes returned to Houston, Texas.