A biography of James Abram Garfield.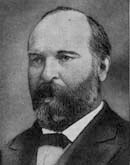 Return to U.S. Presidency - Index Page.
Return to U.S. Presidents' Biographies Page.
Born: 11/19/1831
Birthplace: Cuyahoga County, Ohio

James Abram Garfield, the last president to be born in a log cabin, was born in Cuyahoga County, Ohio, on Nov. 19, 1831. A Williams graduate, he taught school for a time and entered Republican politics in Ohio. In 1858, he married Lucretia Rudolph. During the Civil War, he had a promising career, rising to major general of volunteers; but he resigned in 1863, having been elected to the House of Representatives, where he served until 1880. His oratorical and parliamentary abilities soon made him the leading Republican in the House, though his record was marred by his unorthodox acceptance of a fee in the DeGolyer paving contract case and by suspicions of his complicity in the Credit Mobilier scandal.
In 1880, Garfield was elected to the Senate, but instead became the presidential candidate on the 36th ballot as a result of a deadlock in the Republican convention. In the election, he defeated Gen. Winfield Scott Hancock, the Democratic candidate. Garfield's administration was barely under way when he was shot by Charles J. Guiteau, a disappointed office seeker, in Washington on July 2, 1881. He died in Elberton, N.J., on Sept. 19.
Died:
9/19/81