An article outlining the Harlem Renaissance and its major players.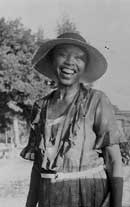 Zora Neale Hurston, 1935.
Originally called the New Negro Movement, the Harlem Renaissance was a literary and intellectual flowering that fostered a new black cultural identity in the 1920s and 1930s. Critic and teacher Alain Locke described it as a "spiritual coming of age" in which the black community was able to seize upon its "first chances for group expression and self determination."

With racism still rampant and economic opportunities scarce, creative expression was one of the few avenues available to African Americans in the early twentieth century. Chiefly literary--the birth of jazz is generally considered a separate movement--the Harlem Renaissance, according to Locke, transformed "social disillusionment to race pride."

Perfect Timing


The timing of this coming-of-age was perfect. The years between World War I and the Great Depression were boom times for the United States, and jobs were plentiful in cities, especially in the North. Between 1920 and 1930, almost 750,000 African Americans left the South, and many of them migrated to urban areas in the North to take advantage of the prosperity--and the more racially tolerant environment. The Harlem section of Manhattan, which covers just three square miles, drew nearly 175,000 African Americans, turning the neighborhood into the largest concentration of black people in the world.
| | |
| --- | --- |
| The orig. manuscript of Hughes's Ballad of Booker T. |   |
Literary Roots


Black-owned magazines and newspapers flourished, freeing African Americans from the constricting influences of mainstream white society. Charles S. Johnson's Opportunity magazine became the leading voice of black culture, and W.E.B. DuBois's journal, The Crisis, with Jessie Redmon Fauset as its literary editor, launched the literary careers of such writers as Arna Bontemps, Langston Hughes, and Countee Cullen.

Other luminaries of the period included writers Zora Neale Hurston, Claude McKay, Jean Toomer, Rudolf Fisher, Wallace Thurman, and Nella Larsen. The movement was in part given definition by two anthologies: James Weldon Johnson's The Book of American Negro Poetry and Alain Locke's The New Negro.

"Our Individual Dark-Skinned Selves"


The white literary establishment soon became fascinated with the writers of the Harlem Renaissance and began publishing them in larger numbers. But for the writers themselves, wider acceptance by the white world was of secondary importance, as Langston Hughes put it, to the "expression of our individual dark-skinned selves."