Character traits are the individual characteristics and qualities that make characters from books, stories, movies, plays, and other art forms come to life for readers.
Use the following list of character traits as a guideline when writing book reports and essays about the different characters you've read about. Don't stop with this list, though; you can probably think of many more terms to describe your characters.
Search and explore the definitions of character trait with our sister company Infoplease's dictionary.
Values, Morals, and Beliefs Character Traits
Honest
Brave
Compassionate
Leader
Courageous
Unselfish
Loyal
Hard-working
Independent
Selfish
Responsible
Considerate
Self-confident
Humble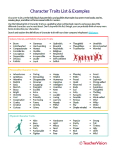 Looking for a printable list of character traits?
Our printable character traits list features more than 200 characteristics and qualities that your students can use for writing or a character study.
Download
Physical and Emotional Character Traits
Poor
Rich
Strong
Tall
Dark
Light
Handsome
Pretty
Ugly
Messy
Gentle
Wild
Joyful
Busy
Patriotic
Neat
Popular
Successful
Short
Prim
Proper
Dainty
Able
Fighter
Tireless
Plain
Expert
Imaginative
Conceited
Mischievous
Personality Character Traits
Demanding
Thoughtful
Keen
Happy
Disagreeable
Simple
Fancy
Plain
Excited
Studious
Inventive
Creative
Thrilling
Intelligent
Proud
Fun-loving
Daring
Bright
Serious
Funny
Humorous
Sad
Lazy
Dreamer
Helpful
Simple-minded
Friendly
Adventurous
Timid
Shy
Pitiful
Cooperative
Lovable
Ambitious
Quiet
Curious
Reserved
Pleasing
Bossy
Witty
Energetic
Cheerful
Smart
Impulsive
Humorous
Sad
Lazy
Dreamer
Helpful
Just like real people, literary characters have behaviors, attitudes, traits, and beliefs that give them a unique personality. These can be surface characteristics, like personality or physical traits - or they can be deeply-held values and morals. Writers develop characters with myriad traits to help readers build empathy or antipathy, relate to the narrative, create realism, and develop various plot points and storylines.
Looking for activities, lessons, and printables on character traits to use in your classroom? View all of our character trait resources here.
Recommended Character Traits Classroom Resources