Read this profile of Alabama to learn about the state's history, points of interest, and government. Also find interesting facts about each state, including the state's motto, symbols, and when it entered the union.
Capital: Montgomery
State abbreviation: Ala.
Postal code: AL
Population est.: 4,557,808
Largest City (2005 est.): Jefferson, 657,229
Land area: 50,744 sq mi. (131,427 sq km)
U.S. Representatives: 7
Entered Union (rank): Dec. 14, 1819 (22)
Motto: Audemus jura nostra defendere (We dare defend our rights)
Origin of name: From Alabama River by early European explorers and named "Alibamu" after the local Indian tribe.
State symbols:
| | |
| --- | --- |
| flower: | camellia |
| bird: | yellowhammer |
| song: | "Alabama" |
| tree: | Southern longleaf pine |
Nickname: Yellowhammer State
Residents: Alabamian, Alabaman
Did you know: Alabama is home to George Washington Carver, who discovered more than 300 uses for peanuts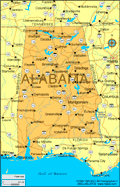 History
Spanish explorers are believed to have arrived at Mobile Bay in 1519, and the territory was visited in 1540 by the explorer Hernando de Soto. The first permanent European settlement in Alabama was founded by the French at Fort Louis de la Mobile in 1702. The British gained control of the area in 1763 by the Treaty of Paris but had to cede almost all the Alabama region to the U.S. and Spain after the American Revolution. The Confederacy was founded at Montgomery in Feb. 1861, and, for a time, the city was the Confederate capital.
During the later 19th century, the economy of the state slowly improved with industrialization. At Tuskegee Institute, founded in 1881 by Booker T. Washington, Dr. George Washington Carver carried out his famous agricultural research.
In the 1950s and '60s, Alabama was the site of such landmark civil-rights actions as the bus boycott in Montgomery (1955-56) and the "Freedom March" from Selma to Montgomery (1965).
Today paper, chemicals, rubber and plastics, apparel and textiles, primary metals, and automobile manufacturing constitute the leading industries of Alabama. Continuing as a major manufacturer of coal, iron, and steel, Birmingham is also noted for its world-renowned medical center. The state ranks high in the production of poultry, soybeans, milk, vegetables, livestock, wheat, cattle, cotton, peanuts, fruits, hogs, and corn.
Points of interest include the Helen Keller birthplace at Tuscumbia, the Space and Rocket Center at Huntsville, the White House of the Confederacy, the restored state Capitol, the Civil Rights Memorial, the Rosa Parks Museum & Library, and the Shakespeare Festival Theater Complex in Montgomery; the Civil Rights Institute and the McWane Center in Birmingham; the Russell Cave near Bridgeport; the Bellingrath Gardens at Theodore; the USS Alabama at Mobile; Mound State Monument near Tuscaloosa; and the Gulf Coast area.