Set the stage for your students to learn about sense organs with this slideshow. This mini-lesson presents a general overview of the anatomy and physiology of the human eye and ear.
Excerpted from
Eyewitness: Human Body
Take an in-depth look at our incredible bodies and what makes them tick, through an unique integration of words and pictures.
Receive 20% off your DK purchase with promo code DKCLIP.
Objective
Students will learn that the eye and ear serve as sense organs that collect information for the brain to interpret.
Suggested Time
15 minutes
Reading Level
Upper Elementary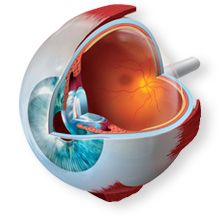 Teacher Background
Vision is the body's dominant sense. It provides an enormous amount of information about our surroundings during every
Read more
Continue the Conversation
Ask students to discuss some ways that people protect their hearing and sight. (Examples may include sunglasses, goggles, ear plugs, etc.) Ask them to describe situations where they might have encountered sounds that were uncomfortably loud. Introduce the idea of "noise pollution" and ask them to discuss whether or not they think it's a serious issue that should be addressed.
Write about it
Tell students to imagine that they are a writer trying to describe a scene at an amusement park. Ask them to write a brief description of what they are seeing and hearing. Encourage students to use very descriptive language so the reader feels like they are actually there.
Lesson Contents
TEACHER RESOURCES
Extension Activities
Reinforcements
Eyes and Ears Word Power
Grade: 4 - 6
Students practice vocabulary relevant to the eye and ear by using each defined word in a sentence.>

Sensory Poems
Grade: 3 - 5
Students practice writing poetry using words related to the senses.