Purchase or subscribe to access this resource.
$6.95
Included with a Premium Membership
Subscribe for instant access to this and every resource on TeacherVision.
Subscribe
A Complete Teaching Kit for Practicing Multiplication Facts with Grade 3
Help your students master multiplication facts with creative activities, engaging worksheets and differentiated word problems. This comprehensive kit for teaching multiplication tables to 3rd graders has everything you need for ongoing practice with no hassle and no prep - just simply print and share!
What's Included In This Teaching Kit
For the teacher:
Teaching ideas, games and activities with printable worksheets and charts
Challenge sheets - Timed assessment sheets which increase in difficulty - with answers included
Handy collection of PowerPoints (convertible to Google Slides) with warm-up activities for tackling each of the multiplication facts
Aligned with Common Core Math Standards for Grade 3
For the student:
Teaching resources and activities which are easily adaptable for all learners
Fun multiplication games for 3rd graders
Essential assessments for mastering the multiplication facts to 10 x 10
For students who are ready, extra lessons that cover multiplication up to 12 x 12
What You'll Find Inside
Section 1: Adaptable Resources and Activities (pages 7-26)
Verbal Games
General Resources
Games and Activities
Multiplication Chart
100 Chart
Speedy Multiplication Chart
Mini Speedy Multiplication Charts
Multiplication Triangles
Rapid Recall Cards
Arrays
Multiplication Flower
Multiplication Dartboard
Bingo! Charts
Multiplication Flashcards
Section 2: Multiplication Facts: 2's, 5's and 10's (pages 26-44)
Multiplication Dominoes — 2's, 5's and 10's
Activity: I Can Skip Count by 2's
Activity: I Can Multiply by 2's
Activity: I Can Multiply by 5's
Activity: I Can Multiply by 10's
Activity: 1-, 5- and 10-Cent Coin Challenge
Teaching Notes and Answers for the Coin Challenge
2's, 5's and 10's — Multiplication Problems
2's, 5's and 10's — Multiplication Problems: Answers
2's, 5's and 10's – Multiplication Challenge Problems
2's, 5's and 10's – Multiplication Challenge Problems: Answers
Section 3: Multiplication Facts: 3's, 4's and 8's (pages 25-35)
"Follow Me" Cards (3's, 4's and 8's) and Teaching Notes
Activity: I Can Skip Count by 3's, 4's and 8's
Activity: I Can Multiply by 3's
Activity: I Can Multiply by 4's
Activity: I Can Multiply by 8's
Activity: The Witches' Cauldron Problem
3's, 4's and 8's — Multiplication Problems
3's, 4's and 8's — Multiplication Problems: Answers
3's, 4's and 8's — Multiplication Challenge Problems
3's, 4's and 8's — Multiplication Challenge Problems: Answers
Section 4: Multiplication Facts: 6's, 7's, 9's, 11's and 12's (pages 68-90)
"Follow Me" Cards — All Multiplication Tables — and Teaching Notes
Activity: Multiplication Jigsaw
Activity: I Can Skip Count by 6's, 7's, 9's, 11's and 12's
Activity and Teaching Notes: Factor Bugs
Activity: Aliens Math Problem
All Multiplication Problems
All Multiplication Problems: Answers
All Multiplication Challenge Problems
All Multiplication Challenge Problems: Answers
Section 5: Individual Multiplication Assessment Sheets (pages 91-105)
Multiplication and Division Facts: 2's
Multiplication and Division Facts: 3's
Multiplication and Division Facts: 4's
Multiplication and Division Facts: 5's
Multiplication and Division Facts: 6's
Multiplication and Division Facts: 7's
Multiplication and Division Facts: 8's
Multiplication and Division Facts: 9's
Multiplication and Division Facts: 10's
Multiplication and Division Facts: 11's
Multiplication and Division Facts: 12's
Individual Multiplication Assessment Sheets: Answers
Section 6: Multiplication Challenge Sheets (pages 106-124)
Challenge Sheets 1-12
Class Assessment Sheet
Answers for Challenge Sheets 1-12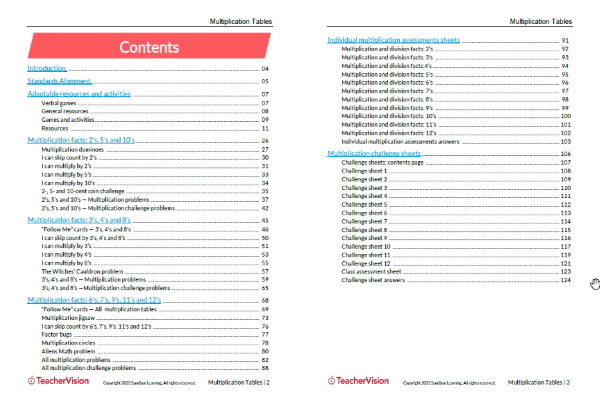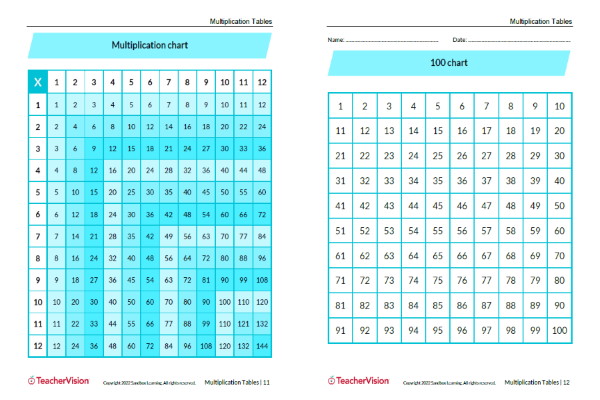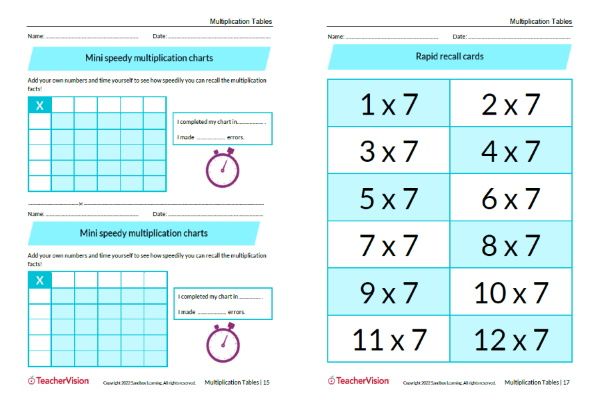 CREATED BY:
LAST UPDATED: May 19, 2022