CREATED BY:
LAST UPDATED: January 23, 2020
Slaughterhouse-Five is about the complex journey of Billy Pilgrim. The novel follows Pilgrim through many chapters of his life after he becomes trapped in time. One voyage focuses on his POW experience during World War II in Germany.
Slaughterhouse-Five
by Kurt Vonnegut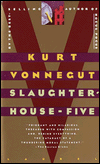 Named after the building where POWs were held, Slaughterhouse-Five tells the story of Billy Pilgrim, a man who becomes unstuck in time after he is abducted by aliens. The novel follows Pilgrim through all phases of his life, concentrating on his experience as an American prisoner of war who witnesses the firebombing of Dresden.
Enrichment Activities
Internet Resources
Books by Kurt Vonnegut
---
Enrichment Activities
Culminating Projects
Having students complete a culminating project is an important aspect of any literature unit.

Discussion Ideas and Questions
Throughout a literature unit the discussion component is crucial, especially when reading a complex book such as Slaughterhouse-Five.

Theme Analysis
Three of the most important themes in this book are good vs. evil, war and its effects, and nationalism.


Internet Resources

Kurt Vonnegut's Home Page
Grade Levels: Secondary
Read a welcome letter from the famous author.
http://www.vonnegut.com/



Books by Kurt Vonnegut

Bluebeard, 1987
Breakfast of Champions, 1973
Cat's Cradle, 1963
Deadeye Dick, 1982
Galapagos: A Novel, 1985
God Bless You, Mr. Rosewater, 1965
Hocus Pocus, 1990
Jailbird, 1979
Mother Night, 1961
Player Piano, 1952
The Sirens of Titan, 1959
Slaughterhouse-Five, 1969
Slapstick, 1976
Timequake, 1997