Charlie and the Chocolate Factory
by Roald Dahl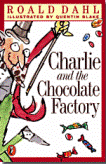 Children have been waiting patiently for the chocolate gates of Willy Wonka's chocolate factory to open. The twist is that only five lucky children can be let inside. Charlie Bucket's dream comes true when he finds a winning ticket that allows him to go into the chocolate factory. This is an amusing tale that has been entertaining children for more than three decades.
---
Enrichment Activities
Comprehension Test
Use a multiple choice test to see if your students understand the basics of the book.

Projects for Charlie and The Chocolate FactoryDiscover fun project ideas that tie into the chocolate theme of the book. Students can make models of Oompa-Loompas, write the next chapter in the book, or create a chocolate cookbook.
Newspaper Ad
This activity encourages students to expand their imagination by creating a Newspaper Ad about the chocolate treats they have created.
Story Map
Have each student choose a character from the book and use a story map to identify key elements of his or her character.

Story SettingThe settings in Charlie and the Chocolate Factory are very creative. Use story setting graphic organizer to identify and organize each unique setting in the book.
Character Traits
Have your students choose four characters in the book and use the character traits list to identify three traits that each character shows.

Books by Roald Dahl
The BFG
Charlie and the Chocolate Factory
Charlie and the Great Glass Elevator
Danny, the Champion of the World
The Enormous Crocodile
Esio Trot
Fantastic Mr. Fox
George's Marvelous Medicine
The Giraffe and the Pelly and Me
The Gremlins
James and the Giant Peach
The Magic Finger
Matilda
The Minpins
The Twits
The Vicar of Nibbleswicke
The Witches
If you need to teach it, we have it covered.
Start your free trial to gain instant access to thousands of teacher-approved worksheets, activities, and over 22,000 resources created by educational publishers and teachers.
Start Your Free Trial