CREATED BY:
LAST UPDATED: January 23, 2020
Students love James and the Giant Peach, an action-filled fantasy that will amuse and encourage them to read more. Use the activities and resources provided to extend appreciation and learning.
Page 1 of 2
James and the Giant Peach
by Roald Dahl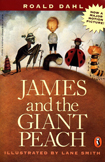 For Grades 3-8

Enter promo code TEACH for 15% off.

For James Henry Trotter, life with the exceedingly nasty Aunt Sponge and Aunt Spiker is pure misery. James dreams of a better life, but he's totally unprepared for the wild adventures ahead of him when he drops the magic crystals he receives from a strange old man. Before long, James is off on a weird, wonderful journey inside a giant peach with an odd assortment of traveling companions!

Enrichment Activities
Choral Reading
The poems in this story are especially great to read aloud. Have students practice choral-reading techniques and deliver presentations to the rest of the class or to other classes. Some kinds of choral reading are:
Unison (all read together)
Refrain (teacher reads verses, students recite a repetitive refrain)
Antiphonal (students are in groups with each group responsible for a certain part of the poem).

You might also have the students experiment with volume and pace -- variation makes for different experiences.

People We Know
Roald Dahl used the technique of personification (giving human characteristics or qualities to nonhumans) in this story. Many of these human characteristics are exaggerations. Yet, some of your students may recognize these traits in people they know or in characters from another book. Create a chart which details people or characters who have similar traits as the insects and James. Remind students not to hurt anyone's feelings!

Research on Insects
Some students may be squeamish about the insects in this story . You can help them to learn more about these critters by assigning research projects.

Poetry Writing
There is a great deal of wonderful poetry in this story. This would be a perfect opportunity for your students to try their hand at writing poetry. You may want them to mimic the narrative form of poetry in the story. Or you could explore other poetic forms: haiku, diamante, odes, sonnets.

The Movie
Show your students the video version of James and the Giant Peach. discuss and/or create a Venn diagram to compare and contrast the movie with the book. Which one was better? Why?

Draw A Scene
Roald Dahl developed fantastic images in this book. Have your students create a mural of the places the peach visited -- a timeline of the book's main events that runs along the bottom of an extra-wide piece of paper will help orient them.

Overcoming Fear
A recurring theme in James and the Giant Peach is overcoming fear. Have your students write about a time they had to overcome a fear. Questions you can use to encourage good writing: What was James afraid of? What were the insects afraid of? What are you (the student) afraid of? What strategies did the characters use to overcome their fear? What strategies did you (the student) use to overcome your fear? What are some common techniques of overcoming fear?
Internet Resources
ScreenIt Review of Movie
Grade Levels: Intermediate, Middle
http://www.screenit.com/movies/1996/james_&_the_giant_peach.html