Purchase or subscribe to access this resource.
$7.95
Included with a Premium Membership
Subscribe for instant access to this and every resource on TeacherVision.
Subscribe
A Complete Unit Plan of 3rd Grade Writing Lessons, Printables, and Nonfiction Writing Activities
Help your students to develop and improve their nonfiction writing skills with 6 weeks of lessons and creative nonfiction writing activities, aligned with Common Core Standards for Grade 3. The unit plan covers instructional writing, explanatory writing, and opinion writing, and includes everything you need from detailed teacher guidance, to ready-to-use activities and worksheets - simply print and go!
What's Included in This Unit Plan?
For the teacher
Fully-guided nonfiction writing unit plan with writing activities for 3rd common core
Lesson plans with detailed, step-by-step instructions, timings, suggested materials, standards alignment, and accompanying printable teaching resources
Suggestions for warm-up activities, main teaching activities, assessment opportunities, and ideas for support, extension and homework
Five 'sessions' or lessons that explore three main nonfiction text types: instructional writing, explanatory writing, and opinion writing.
For the student
Creative nonfiction writing activities - choose from independent and collaborative tasks
Opportunities to monitor and assess students' writing skills and knowledge with an assessment sheet for each section
Support with grammar throughout the unit to build and develop students' grammar skills
Ideas for displaying students' learning journey and providing support via a Working Wall.
What's Inside the Unit Plan?
Introduction (page 3)
Standards Alignment (pages 4-5)
Section 1: Instructional Writing (pages 6-24)
Session 1 - Sequencing Instructions
Session 2 - Using Subordinating Conjunctions
Session 3 - Shared Reading of a Recipe
Session 4 - Modeled Instructional Writing
Session 5 - Shared Writing
Assessment Sheet for Instructional Writing
Example Text - Recipe for a Marvelous Medicine
Instructional Writing Activity
Who's the Audience?
Sequencing Instructions Activity
Subordinating Conjunction Hunt
Combining Sentences Activity
Section 2: Explanatory Writing (pages 25-47)
Session 1 - What is an Explanation?
Session 2 - Using the Present Perfect
Session 3 - Shared Reading
Session 4 - Modeled Explanatory Writing (1)
Session 5 - Modeled Explanatory Writing (2)
Assessment Sheet for Explanatory Writing
Example Text - Why Are Gnomes So Small?
The Key Features of an Explanation Text - Answer Sheet
Explanatory Writing Activities
Transition Words
Modeled Writing Activities
Homework - Puzzling Questions
Advervial Phrases
Paragraph Planner - Planning an Explanation
Homework - The Subordinate Clause
Section 3: Opinion Writing (pages 48-57)
Session 1 - How Are Opinion Pieces Constructed?
Session 2 - Planning an Opinion Piece
Session 3 - Nouns and Noun Phrases
Session 4 - Modeled Opinion Writing (1)
Session 5 - Modeled Opinion Writing (2)
Assessment Sheet for Opinion Writing
Example Text - Cinderella's Speech
Finding Noun Phrases and Pronouns
Possessive apostrophes — spot the difference!
Homework - Alliteration
Planning an Opinion Piece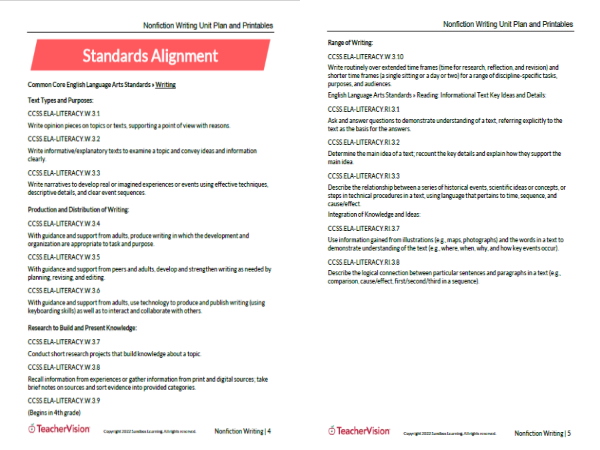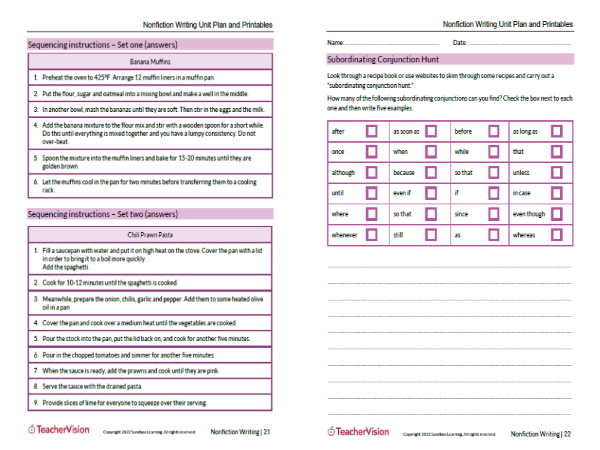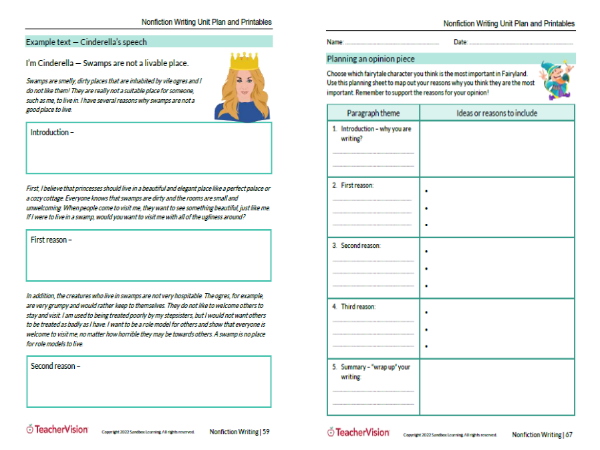 CREATED BY:
LAST UPDATED: August 11, 2022