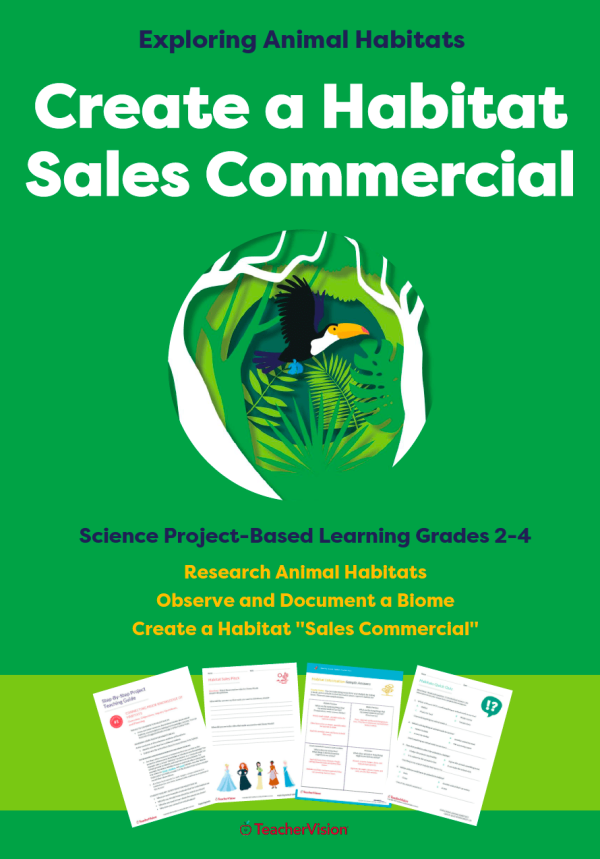 Purchase or subscribe to access this resource.
$14.95
Included with a Premium Membership
Subscribe for instant access to this and every resource on TeacherVision.
Subscribe
A Comprehensive Lesson on Animal Habitats and Biomes
Research and explore animal habitats, compare and contrast the habitat needs of various animals, and design and create an interactive "sales pitch" to convince an animal to move to your habitat in this science PBL unit.
Your students will learn all about animal ecosystems in this complete project-based learning unit on habitats and biomes for 2nd to 4th grade science. They'll research where and how animals live in detail, compare and contrast different habitats (including their own), and design and create a "sales pitch" presentation that enables them to synthesize and showcase their knowledge of force and motion.
What's Inside
Packed with hands-on inquiry-based activities, extensions and enhancements, cross-curricular independent and group work, and engaging and interactive challenges, this 55-page project-based unit comes complete with:
For the Teacher: A complete animal habitats Lesson Plan with step-by-step instructions for all activities, teaching tips, assessment guidance, and inquiry questions.
For Students: A full-color Student Pack complete with all of the printables and instructions students need for the experiments and activities - just print (or share) and teach!
A complete, ready-to-teach Teacher Pack that includes:
Teacher versions of all the student printables with step-by-step annotations and notes for teaching habitats and biomes;
Formative and summative assessments, answer keys, and a full project rubric;
Instructions and guidance for the extension activities and project enhancements;
Materials and resources lists, plus additional resources for lecture and presentation.
What's Included
Lesson Plan - Step-by-Step Project Guide
Milestone 1: Connecting Prior Knowledge of Habitats
Milestone 2: Researching Habitats
Milestone 3: Writing a Persuasive Commercial
Milestone 4: Creating Visual Aids for the Commercial
Milestone 5: Presenting the Commercial
Teacher and Student Resources
List of Books About Animal Habitats Habitat Cards
Find My Home Animal Cards
Email Template
Habitat Clues
Habitat Information Sample Answers
Commercial Planning Sample Answers
Habitats Quick Quiz
Habitats Quick Quiz Answer Key
Sample Visual Aid
Oral Presentation Mini-Lesson
Habitats Summative Assessment
Habitats Summative Assessment Answer Key
Exploring Animal Habitats Group Presentations Rubric
Biome Exploration
Habitat Sales Pitch
Animal Information
Milestone #1 Inquiry Question
How to Do Good Research
Habitat Information
Milestone #2 Inquiry Question
Commercial Planning
Milestone #3 Inquiry Question
My Habitat
Tips for Making Posters
Milestone #4 Inquiry Question
Exploring Animal Habitats Group Presentations
Milestone #5 Inquiry Question
OVERVIEW:
This project-based learning lesson is designed to support and reinforce the concepts taught as part of a lesson on Animal Habitats and Biomes. It is built around 5 inquiry-based milestones that incorporate cross-curricular hands-on projects, formative and summative assessments, independent and group activities, and extensions.
STUDENT/GROUP OUTPUT:
In the course of this project-based learning unit, students will:
Research and document different animal habitats by going on virtual field trips and a biome walk;
Research and document living and non-living things that exist in various types of habitats and biomes;
Choose an animal and a habitat to develop expert inquiry-based knowledge about, through group research and activities;
Synthesize acquired research and empirical knowledge into the creation and design of a "sales pitch" designed to entice the animal they researched to live in the habitat they researched;
"Show what they know" by presenting their "sales pitches" to the class, and offer feedback on presentations given by other students.
SUGGESTED SUBJECT PREREQUISITES:
Students will acquire necessary background knowledge of animal habitats and biomes as part of this project, and instructional materials for providing that background are included in the Teacher Pack.
SEQUENCE AND PACING
This project-based unit is divided into 5 milestones. The minimum suggested duration for completing this project-based unit is 5 class periods. However, the unit is completely flexible can be lengthened or shortened as necessary or desired, based on available class time and interest level.
TECHNOLOGY RESOURCES (suggested):
Internet access
Microsoft Office PowerPoint, Google Slides, or other presentation software.
STANDARDS ALIGNMENT
These activities support the following NGSS curriculum standards:
LS2.A, Interdependent Relationships in Ecosystems
2-LS4-1, Make observations of plants and animals to compare the diversity of life in different habitats