Used in permission with FactMonster.com
Although in modern times Christmas is one of the most widely celebrated holidays in the world, it was not observed by early Christians. Christmas was added to the church calendar as a feast day in the fourth century. Since that time, Christmas has developed into an international holiday celebrated by religious and secular people alike. Follow this slideshow to learn about the origins of many Christmas traditions.
Santa Claus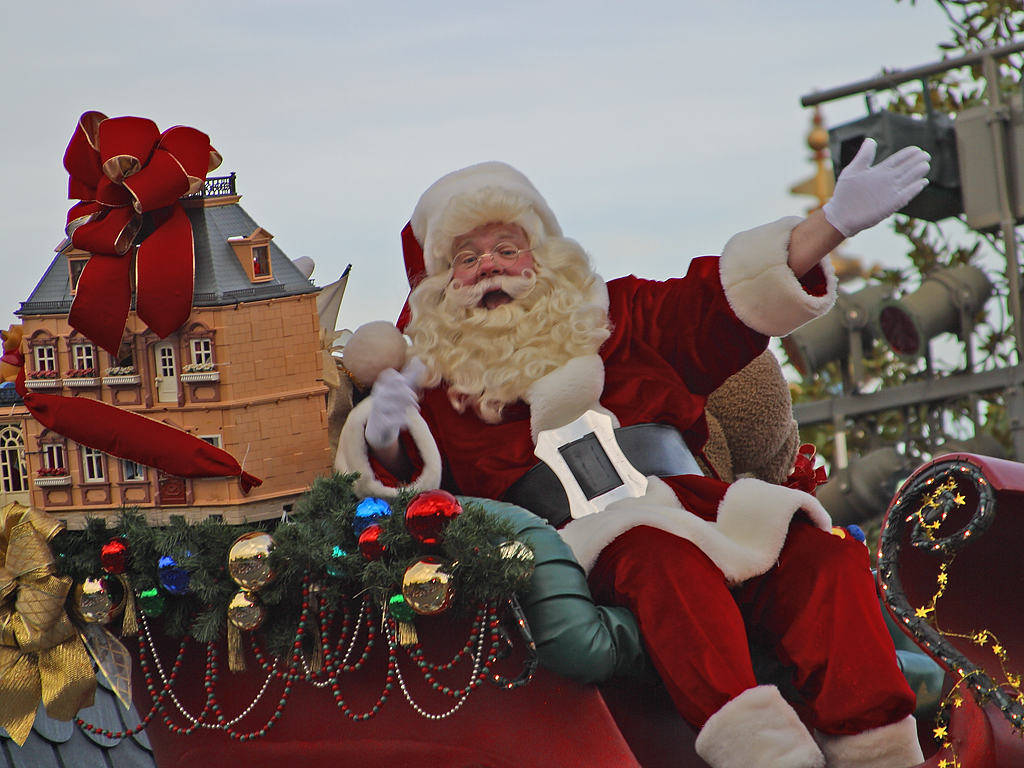 Santa Claus
The patron saint of children and sailors, Saint Nicholas was a fourth-century bishop from Asia Minor. He was famous for giving gifts to children. His feast day, December 6, became a children's holiday in Holland, where he is known as Sint Nikolaas. English colonists in New York (previously the Dutch colony of New Amsterdam) called him "Santa Claus" because they couldn't pronounce the Dutch name. The English began celebrating the feast day on Christmas.
Fun Fact: In the Netherlands and Germany, the Santa Claus figure often rode through the sky on a horse to deliver presents to children. He often wore a bishop's robes and was sometimes accompanied by Black Peter, an elf who whipped naughty children.
Photo source: library2.nalis.gov.tt
Christmas Tree
Christmas Tree
The modern Christmas tree was likely born in the eighth century, when St. Boniface was converting the Germanic tribes. The tribes worshipped oak trees and decorated them for the winter solstice. When St. Boniface cut down an enormous oak tree, a fir tree grew in its place. The evergreen was offered as a symbol of Christianity, which the newly converted Germans began decorating for Christmas.
Fun Fact: Prince Albert, who was German, introduced the Christmas tree to England after his marriage to Queen Victoria in 1840. German immigrants to Pennsylvania brought Christmas trees to America.
Photo source: www.whitehouse.gov
Mistletoe

Mistletoe
The custom of kissing under a branch of mistletoe apparently originated among the Druids and other early Europeans, to whom mistletoe was sacred. From early times it has been associated with folklore and superstition; it was thought to cure many ills. The Druids believed mistletoe fell from heaven and grew from a tree that sprang from Earth. Mistletoe thus represented the joining of heaven and earth, and God's reconciliation with mankind.
Fun Fact: A kiss under mistletoe symbolized acceptance and reconciliation.
Photo source: istockphoto.com
Holly
Holly
The evergreen English holly (Ilex aquifolium), the common holly of Europe, cultivated also in North America, is closely associated with Christmas tradition. One of the most popular decorations, holly has sharp edges, symbolic of the crown of thorns worn by Jesus at his crucifixion. The red berries represent blood.
Fun Fact: The hard white wood of Holly is used for cabinetmaking and related purposes; it is close grained and polishes easily.
Photo source: istockphoto.com
Yule Log
Yule Log
The custom of the Yule log was noted in France and Italy as far back as the 1200s. It later spread throughout Europe. On Christmas Eve, an enormous log would be cut and placed in the hearth. The log would be sprinkled with salt, oil, and mulled wine, and prayers said to protect the house from the devil and lightning.
Fun Fact: As iron stoves replaced giant hearths in the 1800s, Yule logs became decorative, often being used as Christmas centerpieces and decorated with evergreens and candles.
Photo source: istockphoto.com
Candy Cane
Candy Cane
Some scholars believe a confectioner developed candy canes to represent Jesus. The shape of the "J" was for Jesus, or the shepherd's staff. The white color symbolized purity, while the red stripes represented blood. Peppermint is similar to hyssop, the Middle Eastern mint mentioned in the Bible.
Fun Fact: The use of candy canes on Christmas trees made its way to America by the 1800s.
Christmas Cards
Christmas Cards
The custom of sending Christmas cards started in Victorian England. Earlier, some adults had written Christmas letters. But letter-writing took time; people wanting to share season's greetings with many others found it a daunting task. London printers Charles Goodall & Sons became the first to mass produce Christmas cards. In 1862 they created cards saying "A Merry Christmas." Later, they designed cards with various designs, including robins, holly, mangers, snowmen, and even Little Red Riding Hood.
Fun Fact: In 1851 Richard Pease, a variety store owner, commissioned the first printed Christmas card in the U.S.
Photo source: istockphoto.com
Advent Calendar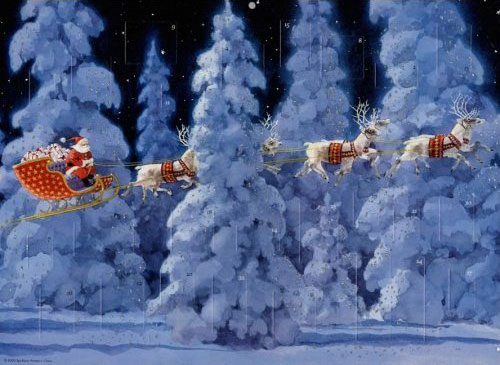 Advent Calendar
Advent is the four-week period preceding the Christmas season and begins on the Sunday nearest November 30, the feast day of St. Andrew the Apostle. The word "advent," from Latin, means "the coming." For centuries, Advent has been a time of spiritual reflection as well as one of cheer and anticipation. Considered a fun way to count down the days until Christmas, an Advent calendar is a card or poster with 24 small doors, one to be opened each day until Christmas Eve. Each door conceals a picture. This popular tradition arose in Germany in the late 1800s and soon spread throughout Europe and North America.
Fun Fact: The images in Advent calendars were originally derived from the Hebrew Bible. In modern times, many Advent calendars have no religious content and sometimes contain chocolate treats.
Christmas Carols
Christmas Carols
For many people, Christmas carols are synonymous with the holiday season and can invoke the spirit of Christmas in even the most Scrooge-like individuals. Originally, carols were religious hymns written about the birth of Christ and the nativity. Beginning with St. Francis of Assisi (1182-1226), carols were sung in church to celebrate the birth of Jesus Christ. In recent history, carols have come to encompass not only the nativity, but the Christmas season, and secular holiday traditions, including reindeer, snowmen, Santa Claus, and more.
Fun Fact: The oldest printed collection of Christmas carols was published in 1521 by Englishman Jan van Wynkyn.
Photo source: BigStock
Eggnog
Eggnog
Many believe eggnog, a drink made of eggs, milk or cream, sugar, and, usually, rum or wine, originated in Europe. The term "eggnog" is derived from the word "noggin," which is a carved wooden mug used many years ago in England. Eggnog means, "egg in small cup". The first eggnog was an alcoholic beverage that usually consisted of Sherry or brandy, and milk. Given its ingredients, it was an expensive drink that was popular with the English aristocracy. Eggnog likely came to the United States from England with aristocratic immigrants.
Fun Fact: Brandy was indeed a precious commodity in the New World, so rum became the most common alcohol in the North, while bourbon became typical in the South.
Photo source: istockphoto.com