We're outlining the best teacher subscription boxes out there, and how they will benefit your teaching style, mindset, and success. So go ahead and treat yourself. You deserve it.
Updated: April 29, 2019
I don't know about you, but I love surprises, online shopping, and holiday gifts. What do you get if you combine the thrill of a surprise, the ease of online shopping, and the joy of receiving new items?  
Subscription boxes! Subscription boxes are all the rage right now, and there are many different themed boxes on the market. We know that teachers are as busy as they come. You may forget at times to think about your own wants and needs. If making that extra time to research individual products sounds like a chore, you've come to the right place.
When it is your job to make learning fun and retainable in your classroom continuously it might get challenging to be innovative, especially when feeling a little bit burnt out. What better way to treat yourself than subscribing to a monthly service that sends useful items right to your door? Self-care is so important, especially for teachers, and subscription boxes provide items that aid in taking care of you. Take a look at some of our favorites for inspiration.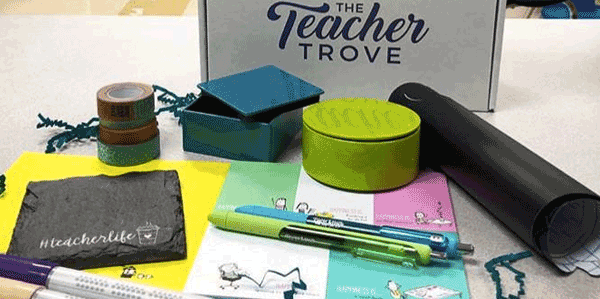 Andreana got the idea to create a subscription box with her husband Andy because she was searching for a box that did not yet exist. She wanted a box that was created by a teacher and for teachers. What makes Teacher Trove unique? Every box will be different, but will always include a place to organize your thoughts (notebook, notepad, journal, sticky notes, etc.), unique and adorable writing utensils, a conversation prompt or activity to facilitate positive relationships with your students, an original product from The Teacher Trove, and a few more surprises to enhance your teaching experience.
Why we love it: You get the option to choose between the full-sized subscription and their mini trove subscription pouch. 
Pricing: monthly $39, 3 month subscription $114, 6 months $218, mini trove subscription pouch $19. Use code TEACHERVISION for 20% off your first box - that's free money from them for you!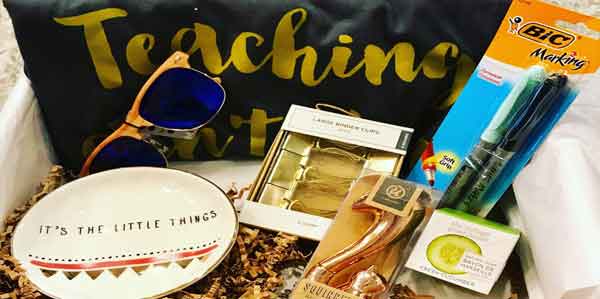 This box includes between six to eight items that are picked to celebrate you. Teach. Life. Style. believes that teaching isn't just a job, it's a lifestyle. The boxes incorporate a mixture of classroom items, teacher fashion items, and self-care items to ensure the success of each and every teacher. Because the boxes are paid on a bi-monthly basis, the boxes are cheaper than if you paid for a different box that averages about $25/month equating $50 dollars bi-monthly. If you want to get more of a feel for what sets them apart, they offer a blog section of their website to help you make that decision.
Why we love it: You spend all of your time focusing on the success of the children you teach, sometimes forgetting that what benefits you also benefits them.
Pricing: $39 bi-monthly with the opportunity to cancel anytime.
There are lots of subscription options here, and the longer you subscribe up front, the less money it costs you. For example, a one-year subscription will cost you $30 a month, but each crate is valued at over $55 worth of products, not to mention the convenience and time you save. These products include a mixture of teacher themed clothing items, swag, and classroom management items.  If you want to skip the classroom management items and only receive clothing items, sign up for Teacher Crate Wearables to get a new shipment of just clothing items.
Why we love it: Their January box included a shirt that reads "teacher I'll be there for you", and anytime Friends is involved I am in.
Pricing: Original $30.95 per month for one year, Wearables 16.99 per month for one year. Other pricing options available.
This box is full of reminders to take care of yourself first, containing products like mugs, keychains, wearables, and self-care items like facemasks and bath bombs - yes, please! The items in the crate are valued at around $60 each month, so it's a steal, essentially doubling what you pay each month for the products to be delivered right to your door. Prioritizing your well-being and letting yourself unwind is essential.
Why we love it: Each month has a well thought out theme that you won't be able to resist, for example, self-love, happy + healthy, and farmhouse style to name a few.  Even non-teachers would love this one.
Pricing: Plans start at $27.99/month with free shipping.
Who wouldn't want to get pampered once a month? Every month you'll receive 7-8 seasonally appropriate items, with an emphasis on unique items from small businesses and artisans. The box will generally include a fashion item, a personal care item, a classroom item, and a snack. The theme of April's box is Mindfulness, which is an important theme that focuses on being present in the moment, taking time to reflect, and prioritizing your thoughts and feelings therapeutically. If you are a teacher who prioritizes self-care, then this is the box for you.
Why we love it: They even make sure you'll never get "hangry" on the job.
Pricing: Pay month by month for $39.95.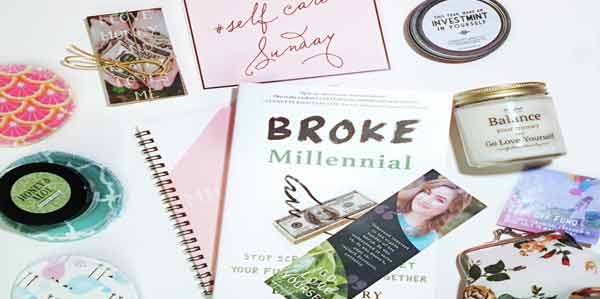 Go Love Yourself is another box that was started by a teacher. While this box isn't just for teachers, it does provide items, tips, and tricks that will make your day to day life more manageable. Some past boxes have included a "financial freedom" box, the "miracle morning" box, the "imposter syndrome" box, and the "how to break up with your phone" box. If you need to unplug, then this is the box for you. Their items include bath bombs, books, tea, travel mugs, affirmations, and adult coloring pages to name a few.
Why we love it: Sharon's (the founder of Go Love Yourself) story is relatable to every teacher, and therefore she knows exactly how to prevent getting burnt out. You can read about it here. You might find it is quite similar to your own.
Pricing: You can order this box in two ways, the essentials, and the whole experience. The self-help book essentials box starts at $30 per month, whereas the deluxe care box starts costs $49.95 per month.
Which subscription box are you going to sign up for? Share with us on Instagram, Facebook, Twitter, Pinterest, and Google+.
Meghan Killian is TeacherVision's Marketing Associate. She graduated from Providence College with a BA in English Literature. Before joining our team, Meghan was a marketing and admissions coordinator at a K-12 all girls' Catholic school. An avid reader, Meghan loves Shakespeare, and she is a passionate supporter of providing teachers with new and innovative content for their classrooms.
Pair your morning coffee with a custom newsletter created just for educators. Sign up for The DailyTeach today