CREATED BY:
LAST UPDATED: November 9, 2022
Veteran teacher Heather has curated a great collection of fun, easy, and meaningful winter holiday-themed bulletin board ideas from around the web to share with you and your students this holiday season!
The holidays are right around the corner. Before you know it, your little learners will be preoccupied with thoughts of Santa, the taste of holiday cookies and treats, and the thoughts of spending time with their family. You can embrace this jolly time by decorating your bulletin boards to compliment their excitement and anticipation.
Here are five holiday themed bulletin boards for your classroom that your students are sure to love (and you'll be pretty fond of too!).
Share this powerful message with your students, regardless of their age or cultural beliefs. This bulletin board will help emphasize that the holidays are about the spirit of selflessness and giving. It is also a non-denominational, non-cultural display, so all students are able to participate in and appreciate it. Kindness is universal!
Credit: The Simplistic Teacher
2.  Hip, Hip Hooray for the Holidays!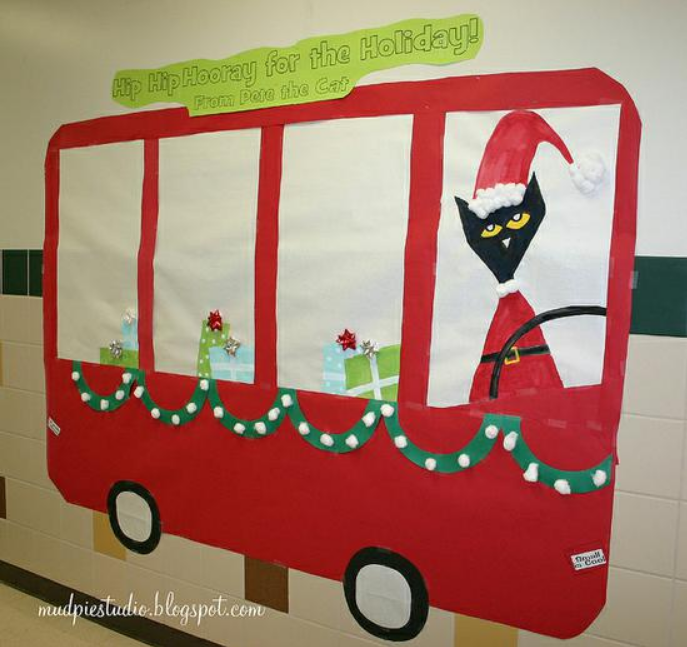 Everyone loves Pete the Cat! More appropriate for students in grades K-2 - your bulletin board will look utterly adorable when Pete adorns it. Be sure to read some Pete the Cat holiday stories while you're building the board in order to get students excited for the final product.
Credit: Mud Pie Studio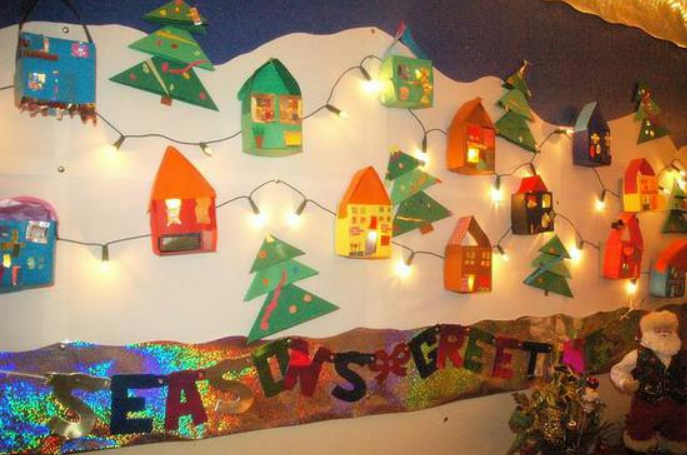 This bulletin board gets the whole classroom community in on the decorating action. Invite some parent volunteers in. Each student should bring in a small box. With some help, create 3-D houses out of the boxes. Exacto-knives will help carve out windows and doors, and plenty of construction or tissue paper will cover the boxes. Allow students to decorate them as they like. Line the background of your board with blue for the sky and white for the mountains. Using push pins, secure each box house to the board. Run a string of lights through each box, so that the light shines through. Decorate the rest of the board with student-created Christmas trees and a glittery letters that say "Seasons Greetings." These mini houses will look cute and peaceful when you dim your lights and they'll love the help they receive from parent volunteers (and so will you!).
Credit: Nienke Krook/bulletinboardideas.org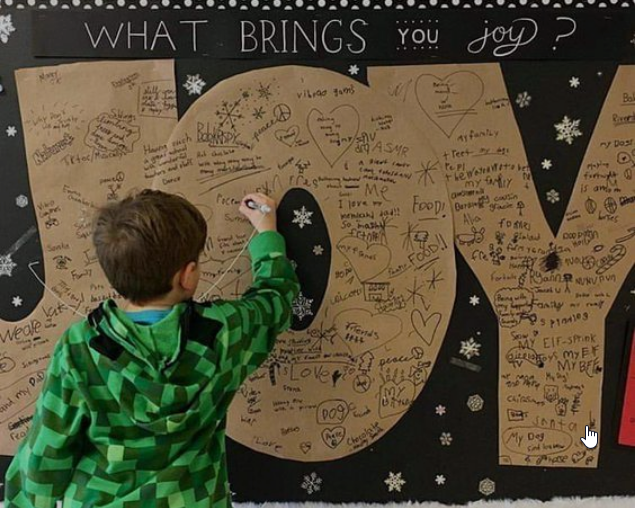 Again, keeping with the true meaning and spirit of the holidays, focusing on happiness is key. Allow the students to write what brings them joy around the holidays inside the letters. Voila! You have a boast-worthy board that was also created by your students.
Credit: Keeping Creativity Alive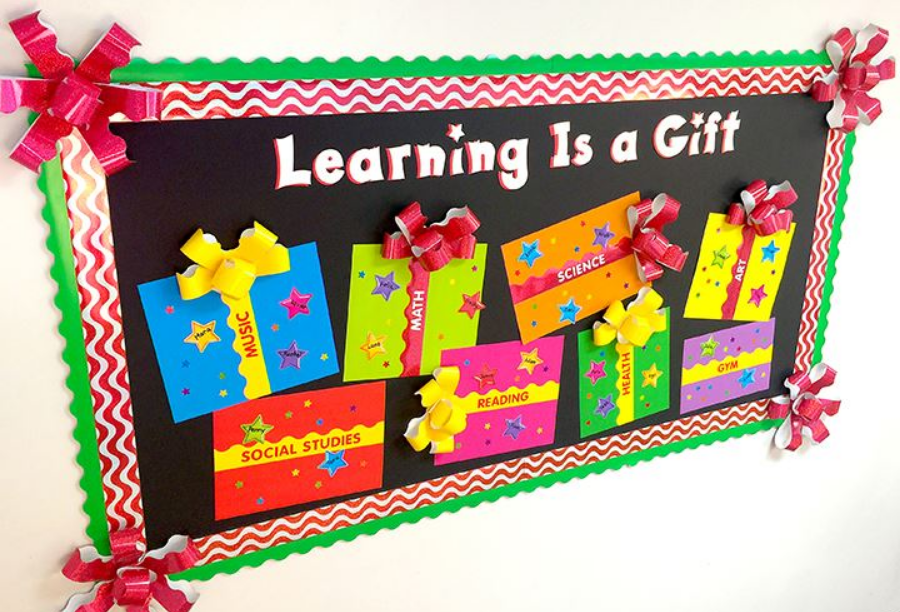 Limited for space? Why not use one of your side blackboards to set up a holiday themed bulletin board? Allow the blackboard to serve as your background. Layer up a few festive borders, and using pieces of rectangular construction paper, decorate each as a gift. Students can add stickers to them and bows. Your students will be reminded how lucky they are to have a great teacher and wonderful education everyday!
You don't have to spend a lot of money on your holiday bulletin boards. All you need is a little time, effort, and creativity. Your students will go ga-ga over these festive boards and will put them in the holiday mood (and will brighten up your spirits as well). Happy holidays!
Do you have go-to winter holiday bulletin board ideas? Share with us on Instagram, Facebook, Twitter, and Pinterest.
Heather Aulisio is a third grade teacher in Pennsylvania. She has been a teacher for nearly 15 years and holds multiple degrees and certifications. A freelancer for The Mailbox and other education-related clients and publications, she enjoys writing in order to help and entertain fellow teachers. She currently resides with her husband, Bryan; son, Matthew; and two pugs, Lily and Leo.