Rachel Sokol shares a collection of school supplies designed with the sensory issues of special needs students in mind - drawn from her own personal experience.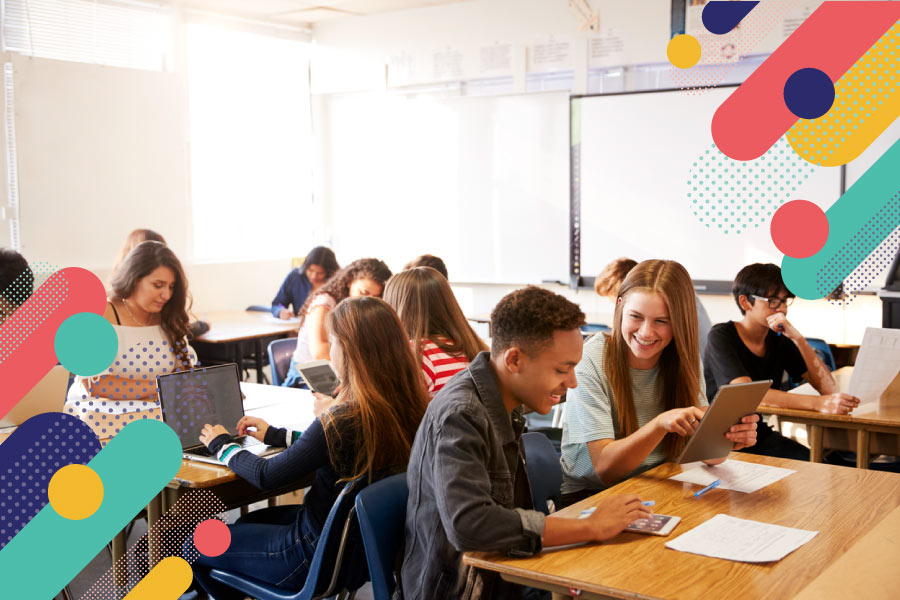 As the mother of special needs students, I've spent the past several summers doing back to school shopping of a slightly different sort than most parents. In addition to getting "the basics," I've been on the hunt for supplies that help my daughters (and their teachers and aides) with some of the sensory issues they face in the classroom. As part of that process, I've gotten great recommendations from elementary school teachers, special educators, parents of special needs students, and pediatric speech and occupational therapists - enough to put together the start of a list of really helpful products that I'm happy to share with you here! 
A friend of mine who works for Ooly recommended these for my daughter, who initially frowned at their 'twisted oval' shape. They've since become a fast favorite - my kid really loves these crayons. They're made for children who are right-handed, left-handed, or even ambidextrous.  My daughter does fine with "regular" crayons, but these are so much easier for her tiny hands to grip. This past year, I noticed that the minute my daughter arrived home from kindergarten, she loved coloring as a means of re-centering herself after a long day - it was a real stress relief for her and these were her crayons of choice. They're completely non-toxic, eco-friendly, and don't emit a funky odor or feel greasy. Your budding artist will get a real kick out of these color wonders, and they come in bright and brilliant shades.
Patti + Ricky, an online store that exclusively sells functional gifts and accessories for those with disABILITIES, offers this line of "chewelry" (from the label Chewigem) made for kids who need oral stimulation while learning. It's not only fashionable but a must-wear accessory for sensory input seekers. These chewy necklaces are lead-free, latex-free, and BPA-free; my personal favorite design is the durable heart-shaped pendant. The shop also carries hearing aid charms, crutches gear, colorful eye patches, and more.
Covering a classroom from top to bottom with stress-relief balls isn't really practical, but this Coping Strategies cube is. This squeezable cube (invented by educators and guidance counselors) is covered with positive affirmations and coping strategies and encourages emotional intelligence. It can easily be placed on a classroom - or home - desk. Perfect for older students to read, squeeze, and ponder the cube's words of wisdom to fight off anxiety and moodiness. 
I'm a big fan of weighted blankets and mats, especially for my very fidgety second child. These particular lap pads (12x18) are beneficial for kids who struggle with focus or have ADHD, anxiety, or sensory processing disorder (SPD). Soft to the touch, weighted lap pads promote calm. They're soothing during circle time or when doing independent work and can be used every day. If your child prefers the stuffed animal version, the company's Peaceful Pals are adorable plush toys that are also weighted and double as a cuddle buddy; like the lap pad, they're soothing and can help kids focus. SensaCalm also sells weighted blankets, chewelry, compression sheets, sensory sleep masks, and more.
Fidget bands for active students (especially those with fidgety legs or those who often tap their feet under a table) allow kids to move around while seated; they're a relatively inexpensive band that's easy to install - in fact, educators encourage students to learn how to attach the bands to their chair or desk themselves to zero in on their DIY skills. These particular bands are made of sturdy, stretchable latex and are recommended for sensory children with ADHD, autism, and ADD. Two types are available from this company: One band for the chair, and one for the desk. 
Kids with sensory and neurological challenges may feel comforted in the classroom by a soft vest (or a weighted shirt).  Weighted vests can help kids navigate through their sensory overload and feel like a reassuring hug. This particular model provides a child's small body with muscle and joint input; it goes right over their shirt and has hook and loop closures at the shoulders and sides,  making it easy to adjust and slip on the body. Before purchasing any weighted vest or shirt, it's best to consult with a licensed/certified special education teacher or occupational therapist to be sure your child is the right size for the model and uses the vest appropriately. They also come in funky and colorful designs!
Sometimes the simple items are the best items - we love these bracelets in my home. My sensory older daughter really struggles when it comes to processing her emotions - group sensory classes led by an occupational therapist have helped. Thankfully, products like this one have made it easier for the two of us to communicate, and for her to express how she's feeling, especially when she's anxious or wants to just be alone with a book.  They're also a great way for my daughter to communicate with her teachers in a private manner, and in general. (Which was very helpful in a classroom of 25 students!) She loves wearing bracelets, so to her, they're also fashionable. One side says, 'Please Leave Me Alone' and the other side says, 'Happy to Talk.'
To protect and soothe kids from sensory overload, consider investing in  BuddyPhones PLAY, a pair of wireless volume-limiting headphones that are formulated with SafeAudio technology. Parents of sensory children rave about this model and brand,  particularly because these headphones were specifically crafted for a child's sensitive ears. (BuddyPhones' co-founder, Yvonne Lo, is a parent whose goal was to launch a collection of safe, durable audio solutions for all children and families.) BuddyPhones are toxin-free and hypoallergenic, and have a  built-in, always-on sound control circuit to limit the volume at levels recommended for children by the World Health Organization (85 db). They easily fit into a bookbag or desk thanks to a foldable design, making them easy to transport, and each pair comes with a  lightweight dust bag for added protection and storage. Fun colors are available.
Melanie Musson, a mom and freelance writer for Effortless Insurance, told me how much her daughter, who has mild cerebral palsy, likes these basic, simple rings--because to her, they are anything but basic. They make life easier.  Says Musson of her child: "She's able to unzip her coat, backpack, pencil case, and other important things because she can get a finger in the ring and hook it. There are lots of little things like this that she needed help with before because the zipper pulls are too small for her to get a grip on." Melanie's daughter wants to be independent like everyone else, so she's pretty proud of herself when she can do things with no help - which is why these rings are a must-have for sensory kids or those who need a little help with zippers. 
There is no shortage of items available that are small and easy to carry for tactile stimulation. (When my daughter was three she always carried a small, 'bumpy' bounce ball in her pocket or hand because she liked the sensation of the bumps against her palms.) What I like about these sensory finger rings is that they are so tiny you can literally transport them anywhere and place them in pockets and zippers galore. These spiky finger rings are not REALLY spiky - they're soft to the touch and can be rolled up and down the finger for easy touch stimulation. Made of squishy stainless steel, they feel like they're hitting calming pressure points as they're rolled and may be less distracting than other stress-relieving tactile items. 
Rachel Sokol is a NYC-based mother of two young girls and often covers special needs topics. She's worked as a higher education journalist for Sessions.edu and the City University of New York(CUNY). Currently a freelancer, she's a frequent contributor to FamilyEducation.com, Reader's Digest, SHAPE, Univision, STEM Workforce Diversity, Verywell Family, and MommyNearest.