Heather shares three Math activities to try with your students this Valentine's Day. These lessons support students to practice essential math concepts like symmetry and probability. She also includes resources for teaching these concepts before you try the activities.
Updated on: February 4, 2019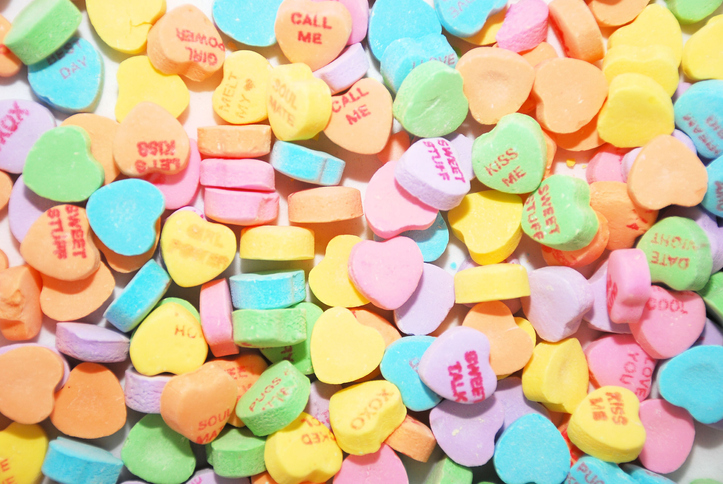 February, the month of love!
You can help your students develop a love for math (if they haven't already) this Valentine's Day.
All you need are a few supplies, some basic materials, and a little creativity. 
Here are a few unique math activities that will support your students to practice essential math skills like symmetry and probability. 
Symmetry Hearts
This activity is designed for students in grades K-4, and focuses on the concept, symmetry. 
Before you try this activity with students, introduce them to the concept, and give them the opportunity to practice drawing and finding lines of symmetry on shapes, letters, and real world objects around your room.

Here are some resources to introduce and practice symmetry with your students: Lines of Symmetry, Symmetry: Complete the Drawing, and Does It Have Symmetry?
Once you think your students understand the concept, introduce the activity. 
Explain how you can make a heart perfectly symmetric by folding it and cutting it, rather than drawing it.
Demonstrate a horizontal or vertical fold.
Show students how to draw one half of the heart.
Cut out the half by following the pattern you made.
Once the heart is open, spark up a discussion about symmetry again.
Next, place paint around a table that features Valentine colors like red, pink, purple, and white. Show students how if they quickly make blots and lines on one side of the heart, it can transfer perfectly to the other side once they press it together. Be sure to remind your students to use enough paint and to work fast before it dries.
They can even experiment with pressing the paint down compared to rubbing it once the side of the heart is folded up.
When your students open their hearts, they'll be looking at a colorful, cheerful, and festive mirror images.
Be sure to display it for the school to see on a bulletin board titled, "We love Math (and Symmetry)!"
Candy Heart Probability
Your students in grades 3-5 will love this tasty partner activity. 
Fill enough sandwich sized Ziploc baggies with a handful of conversation hearts (make sure some have duplicate sayings) so that every student receives one premade bag.
Before you try this activity with students, teach the concept, probability. Support your students to collect some data and make some predictions.
Here are some resources to introduce and practice probability with your students: Understanding Probability, Probability Worksheet, and Probability: Patterns In Data. 
After they study the sayings on their hearts, they can make reasonable guesses as to which hearts will be pulled from the bag the most and the least amount of times.
Have them team up with another student and pull out a heart 20 times from each other's bag. Using a pre-made recording sheet; tally up the results.

Here is a tally chart you can print and give to your students. 
At the end of the activity, compare results to initial predictions and engage the class in a conversation about their findings.
Students will most likely share that the hearts that had repeat sayings were pulled the most. After your discussion comes to a close, allows your kids to enjoy the sweet treats.
Homemade Valentines
A great way to promote direction following and review shapes, lines, and angles; your students will love designing their own valentine cards.
This activity works well for students in grades 3-5. 
Give each child a set of directions. Directions can be customized to your students' skill level or even individual needs. They can ask that students include a trapezoid, rhombus, set of parallel lines, and an obtuse angle somewhere on their card creation.
Hand each student the same size blank card (heavier construction paper works best for this) and pull out your art supplies.
After students comply with your requests, they can start decorating their card and sign their name on the bottom (remind them to not forget a fun saying on the card-"My love for math is not obtuse," "I think you're acute.").
Once all cards are complete, dry, and turned in, toss them in a grab bag and allow one student at a time to pick from the bag (they should put back their own if they pick it).
It's an easy, free, and fun way to not only review geometry concepts, but to trade Valentines with classmates as well!
Here are some additional activities for Valentine's Day: Valentine's Day Math Word Problems, Valentine's Day Word Games and Pop-Up Hearts Cards.
Heather Aulisio is a third grade teacher in Pennsylvania. She has been a teacher for nearly 15 years and holds multiple degrees and certifications. A freelancer for The Mailbox and other education-related clients and publications, she enjoys writing in order to help and entertain fellow teachers. She currently resides with her husband, Bryan; son, Matthew; and two pugs, Lily and Leo.