Veteran teacher and TeacherVision Advisory Board Member Mikaela shares 5 of her most useful and impactful anchor charts. If you want to try some new approaches to making both academic and social-emotional learning visible, this is a great place to start!
Updated on: March 3, 2020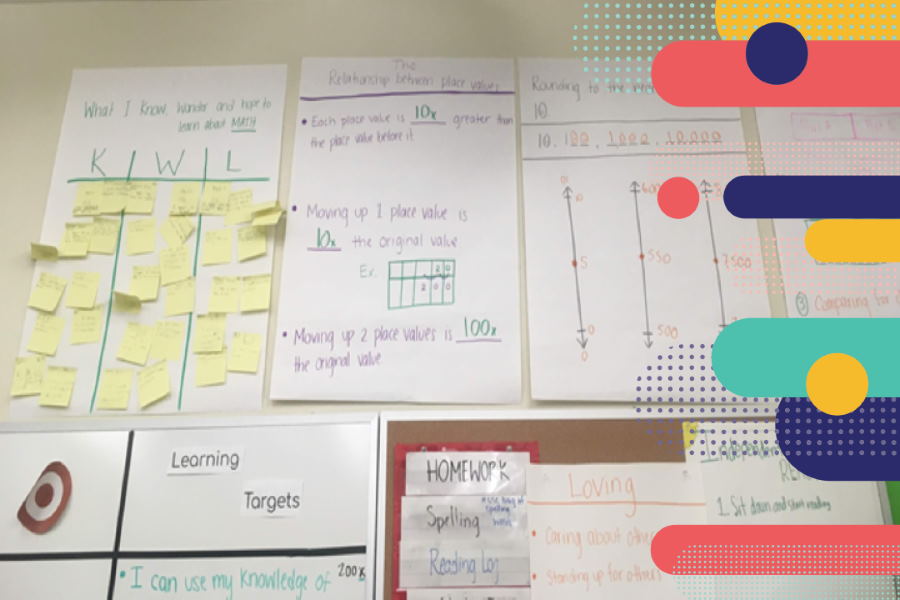 Anchor charts are a great and helpful way to support both academic and social-emotional instruction in the classroom. While they are typically used as a visual tool to track progress, emphasize, or reinforce lesson content, they can also be adapted to "coach" students on classroom rules, expectations, and community guidelines. Here are 5 of my favorite anchor chart ideas, all of which have been used in my classroom in one form or another!
Growth Mindset Language Sentence Frames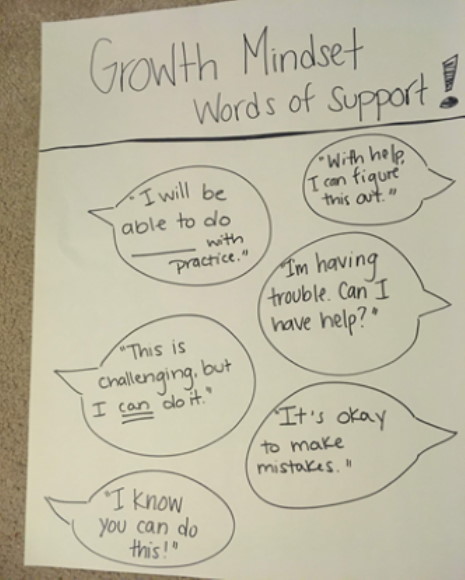 Growth mindset language can be difficult for students to use, especially when they're frustrated with themselves or others. "I can't," comes much quicker than "I will be able to do this with more practice." To help students in my classroom, and honestly myself, we set aside time in the beginning of the year to create an anchor chart with words of support, growth mindset sentences frames and "I can't" replacements. This anchor chart looks different each year, and it is the most effective when you co-create it with your students.
Once we have our anchor chart, we hang it up on our wall so everyone can see it. When students speak with a fixed mindset, I redirect them to the anchor chart. In the true spirit of growth mindset, the more students practice the easier it becomes for them to shift their mindset and believe in themselves. In classes with English language learners, you can add sentence frames in students' native languages.
Discussion Tools and Sentence Starters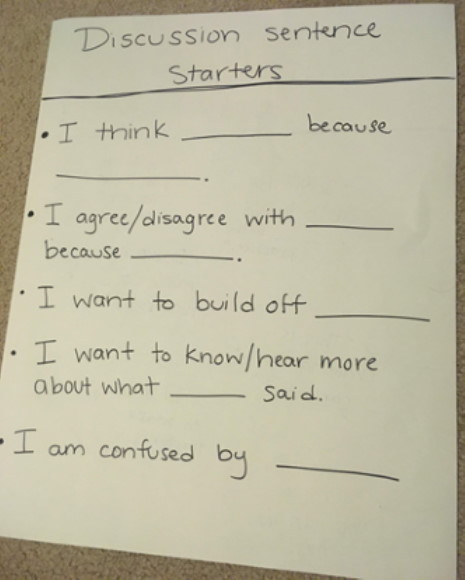 Whether you put it in your lesson plan or not, students are discussing things everyday. To help guide them in the classroom, creating a discussion sentence frames anchor chart goes a long way. This anchor chart can help for a few reasons. First, the sentence frames give students a clear and respectful structure to talk with each other. I know I often forget that students do not intuitively know how to engage in discussions. They need scaffolding! An anchor chart with discussion sentence frames is a low lift way to provide students with that support. Second, an anchor chart of sentence frames allows every student to access the discussion, especially language learners. Instead of worrying about how to say things, students can focus on what they want to share or add to the discussion. Third, it pushes students to support, explain or defend their thinking. Using sentence frames like "I agree because…" or "I disagree because…" sets students up to bring in evidence or further describe their thinking.
T-Charts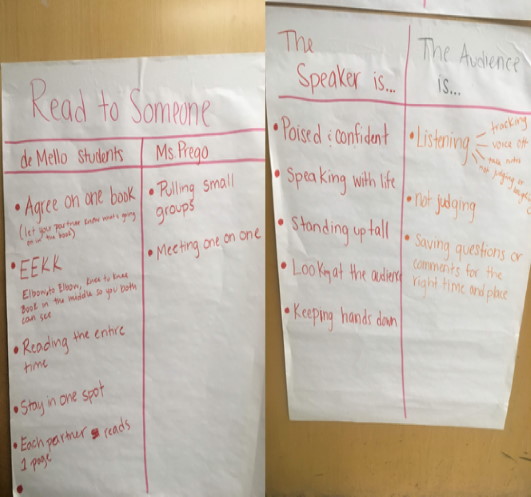 T-charts are wonderful because they can be used for anything, whether it's a routine in the classroom or a specific lesson. Their purpose is to give a clear outline of what students should be doing and what the teacher should be doing. I use t-charts the most for our routines in math class and ELA class. Since I am pulling small groups or working with students, it is important for the students to understand their responsibilities and expectations during independent work time. Again, I make these charts with the students. I think when they are co-created, anchor charts carry more weight with students. They are engaged in the process and therefore, more accountable for meeting the expectations that are set. Co-creating anchor charts also ensures that it is written in student language. This prevents confusion or misunderstanding.
At the beginning of the year, I bring out the t-chart and review it with students before every lesson. As the year progresses and students become stronger at our routines and procedures, I keep the t-chart visible and reference it when we need a refresher.
No Opt-Out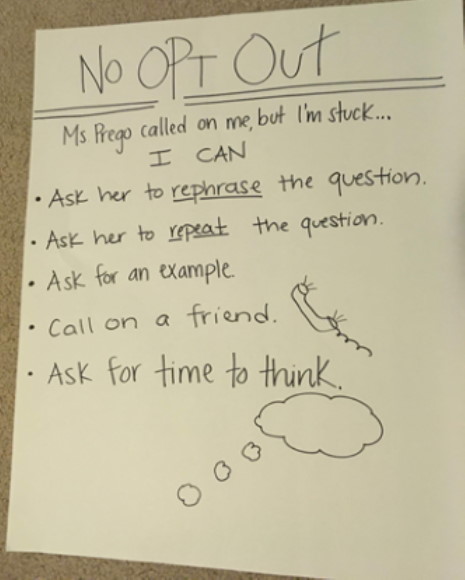 I was a very shy student and if I was called on without raising my hand I would freeze. I still have students who freeze up, or don't want to answer. A "no opt-out" anchor chart helps all students participate, whether they are ready to or not. Instead of not answering a question, they can pick from a list of strategies to help them. The favorite in my classroom is phoning a friend. My personal favorite is when students ask me to rephrase my question. It keeps me on my toes! Like many of the other anchor charts I've mentioned, this one is very low lift for a teacher, but it goes a long way in keeping students engaged and prepared to participate in lessons. 
Student-Created Anchor Charts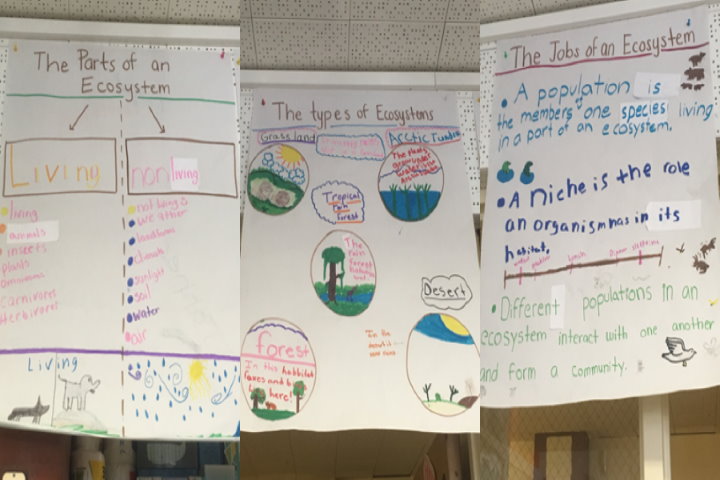 This has to be my absolute favorite kind of anchor chart. It takes more planning, preparation and scaffolding than the others, but the end result is powerful. Students not only learn in the process, but they take pride when their work is hung up on the wall and used as a resource.
In order to support students in creating high quality anchor charts, we come up with a criteria list. This sets clear guidelines for what needs to be in the anchor chart and what it should teach others. Sometimes I let students design their anchor charts completely on their own, and other times we come up with a few different formats they can choose from. The ones above were created to teach us about ecosystem content and vocabulary.
How do you use anchor charts in your classroom? Share with us on Instagram, Facebook, Twitter, and Pinterest.
Mikaela Prego is an elementary educator from Massachusetts. She spent the last 3 years teaching 4th grade in Colorado, now she is back teaching in Massachusetts. Her favorite subjects to teach are math, science and social studies and she is a huge fan of putting the students in charge of as much of their learning as possible. You can follow her classroom (@whoareweintheworld) on Instagram.