TeacherVision has partnered with Lean and Green Kids to bring their interdisciplinary and creative nutrition program to you. This program is designed to be integrated into your curriculum, and teaches students the power and importance of nutrition education.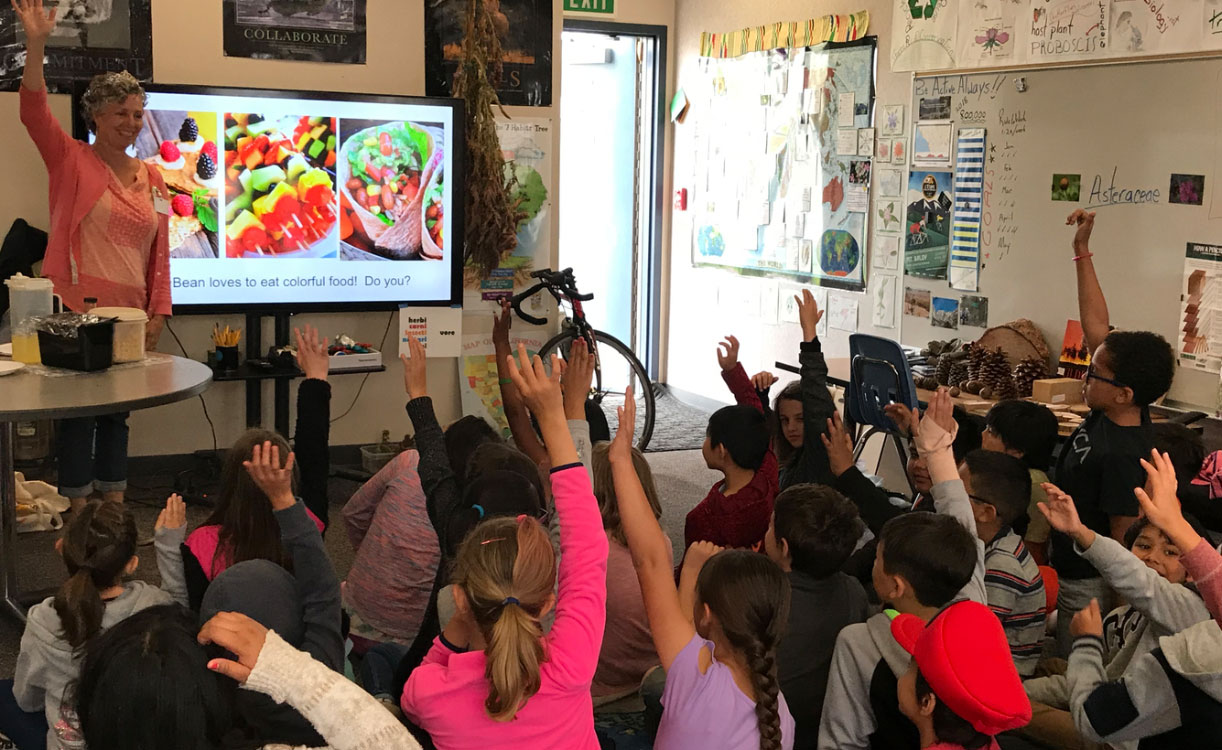 Because eating habits begin in childhood, nutrition education is an especially important subject to teach. However, the reality is, it can be difficult to fit into the syllabus, with extensive standards in other subject areas - subjects that are tested.
Add to the equation, many nutrition education resources come from industries that have a vested interest in promoting their products, and do not include consideration for sustainability in our food systems.
Lean and Green Kids
Teacher Vision is excited to share a truly innovative and creative nutrition education program that emphasizes the life-changing, planet-saving power of eating plants - especially "beans, the lean and green protein!" It's called the Daily Scoop, and was developed by the children's eco-nutrition education organization, Lean and Green Kids. You can access the Spring issue, April issue, and May issue on TeacherVision. 
The fun, easy and free Daily Scoop nutrition education program is a series of "byte-sized," kid-friendly nutrition tips that can be added to the school wide daily broadcast, or your opening routine. The Daily Scoop elevates nutrition education to a daily practice, without adding more than 30 seconds to your busy routine. 
Here's What Teachers and Industry Experts Are Saying
The Daily Scoop has been a fantastic nutrition education resource across the district. It easily aligns with our Harvest of the Month program, giving teachers another avenue to connect students with nutrition information. I love how the tips include a cultural and environmental perspective in addition to the more science-based nutrition tips." Amy Haessly, Vista USD Nutrition and Education Specialist.
The Daily Scoop is filled with fun kid-friendly health messages that spiral and build on each other over the course of the month. By making this part of our morning routine, my students have started to own the vocabulary to express how and why they should fill their plates with healthy fruits, vegetables and "cool beans!" Hillary Rogers, Elementary School Teacher.
An Interdisciplinary Focus 
Each monthly issue focuses on a fruit and vegetable "Harvest of the Month," plus a "Cool Bean of the Month," with each Cool Bean having a multi-cultural connection linked to a timely social studies topic. For example, in honor of MLK Day, students learn about soul food and black-eyed peas. In February, around the Chinese New Year, kids learn about the protein-packed soybean, popular in Chinese cuisine.
New this year, Lean and Green Kids is developing a monthly food-themed social studies enrichment lesson to align with the Daily Scoop. With beautiful images and a fun and easy script for teacher, students take a virtual tour around the world, learning about wondrous places and wonderful ethnic food. Also included with each Daily Scoop issue is a color poster (pdf) and reproducible take home information/recipe card for parents (English and Spanish).
How To Use It In Your Classroom 
The Daily Scoop is designed for easy integration into your curriculum. 

You might ask your students to take turns standing up and reading the Daily Scoop each day, as part of the classroom opening routine. It's a great way for the kids to take engage with the information, and get some public speaking experience.

A teacher who partnered with Lean and Green Kids created an end of year taste-testing event, so students could sample all the Cool Beans from around the world. In addition to the taste testing, she printed up all the recipes provided with each monthly issue, and the kids assembled a Cool Beans from around the World cook book to take home.
You could also put the daily nutrition tip on the white board for discussion. The bellringer activity could ask students to write about it, and how it relates to their own lives. You could then engage in a class dialogue, which would allow students to practice oral communication skills. 
For more eco-focused food education resources from Lean and Green Kids, including two children's books, visit www.leanandgreenkids.org.
 
What are your ideas for using this curriculum? Share with us on Instagram, Facebook, Twitter, and Pinterest.
Barbara Gates has been a children's health educator and advocate since her own children entered publish school, and in 2003 spearheaded a CA coalition to successfully pass the first ever school lunch legislation calling for daily plant-based vegetarian school lunches and nutrition education that includes the vegan/vegetarian perspective (ACR 16, CA 2003). Three more states followed suit. She founded LGK in 2010, to further the goals of the legislation. Barbara earned a BFA in theater, and every now and again works as a professional actress in So Cal.