Ashley shares how she applied the KonMari method to tidying up her classroom after being inspired by Marie Kondo's book, The Life-Changing Magic of Tidying Up. She includes a step-by-step process for organizing your classroom around what brings you joy and she shares thoughtful questions to guide your clean up.
Updated on: January 23, 2019
The popular new Netflix show, Tidying Up with Marie Kondo, is inspiring people all over the country to tidy up their homes. The KonMari method of tidying up can apply to your home away from home as well—your classroom. Marie Kondo's lessons can help you create a classroom environment free of clutter and full of creativity. Here's how to get started.
Start with a Mini KonMari Session
If you want to test out the KonMari method on a smaller scale, dump out your teacher bag. The premise of Kondo's method begins with taking everything out of an area before attempting to declutter. Since most people are already used to this process when it comes to cleaning out their bags, it can serve as a great motivator before applying the KonMari method to larger classroom areas.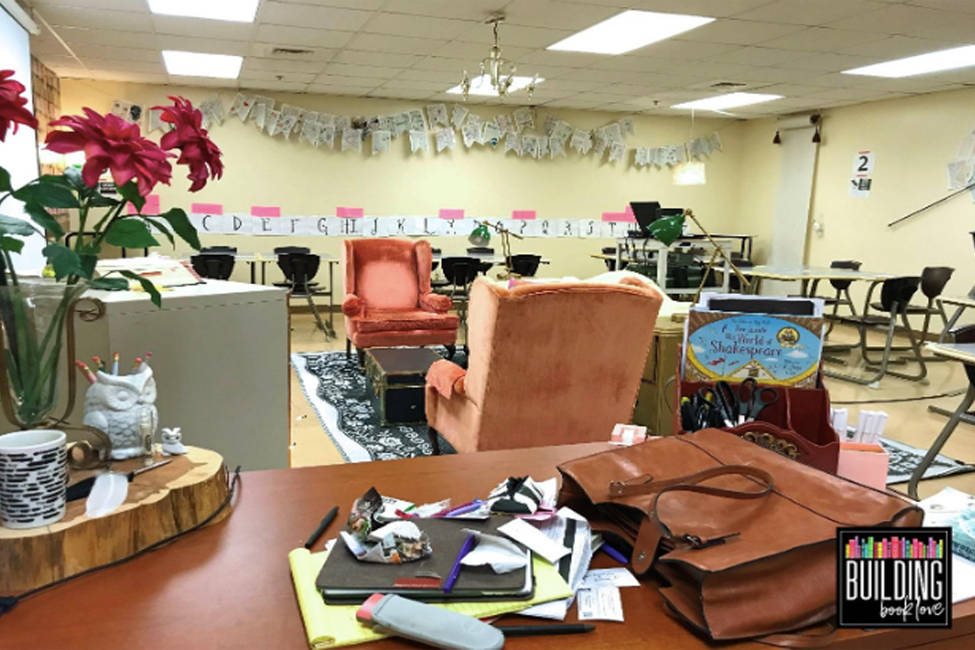 Ashley applies the KonMari method to her teaching bag
Once you dump everything out of your teacher bag, take a moment to appreciate the blank slate. Look at the empty compartments and take note of how light your bag feels.
Next, touch every single item and decide if it sparks joy through its helpfulness, attractiveness, or effectiveness. If it sparks joy, put it neatly back in the bag in its own designated spot. If it doesn't spark joy, thank it for its service and discard.
While this might sound like a simple process, things do get a bit more complicated when you actually go through your stuff. For example, if your bag is full of papers that need to be graded, those probably won't spark any joy at all. In reality, those stacks of paper are much more than just paper. The ungraded stacks of paper are symbolic of feeling overworked, ineffective, and unproductive. Essentially, you've been carrying around a hefty amount of emotional paper baggage. This is the real magic behind The Life-Changing Magic of Tidying Up. It makes you think beyond the physical items you are holding on to and gets at the real issues behind your clutter.
Take the Next Step by Detoxing Your Desk
After you have experienced the benefits of taking everything out and replacing it with only the items that bring you joy, it's time to apply this method to your desk. Start with your desk because this is your domain. This is where you make the magic happen. This desk is used to plan engaging lessons, give feedback to help students grow, rest when you need a minute to regroup, and display items that represent who you are and what you care about. If there's one place in your classroom that deserves a makeover, this is it. Do it for you.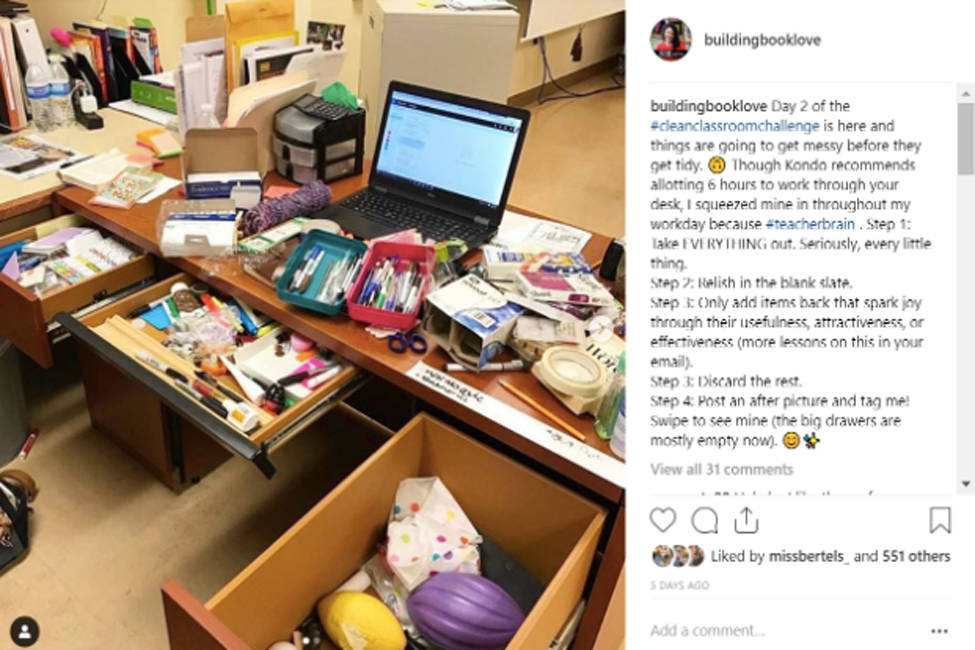 Ashley (@BuildingBookLove) applies the KonMari method to her teaching desk
After you take everything out, admire the clean slate. Open the empty drawers. Relish in the tabula rasa. Then, only put back the items that spark joy through their usefulness, attractiveness, or effectiveness. Be sure to work in order from unsentimental to sentimental.
Here are some prompts to help you as you are going through your clutter:
What type of writing utensils brings you the most joy?
Which items make your day better when they are handy in your desk? Keep those. Discard the rest.
Which tools do you find useful? Keep those. Discard the rest.
Which "to-be-graded" piles will give the most effective feedback to help your students reach their goals? Keep those to grade. Reevaluate the rest.
Which personal tokens bring you happiness when you see them displayed? Keep those. Discard the rest or wait until you can better understand your sentimental items. It wasn't until reading The Life-changing Magic of Tidying Up that I was able to let go of sentimental items without guilt.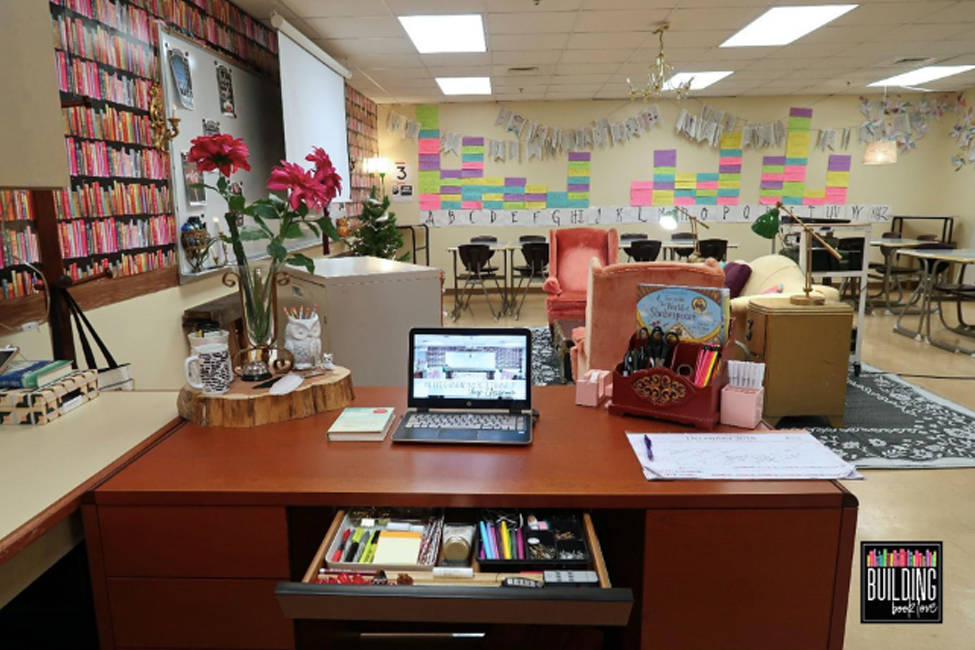 Ashley's classroom after she applied the KonMari method
Keep Applying the KonMari Method to Your Classroom
After you find success with your teacher bag and desk, keep applying the same decluttering concept to your entire classroom. If you want to learn more about how you can apply the KonMari Method to the rest of your classroom, head over to The Life-changing Magic of Tidying Up Your Classroom.
Have you tried the KonMari method? Share with us on Instagram, Facebook, Twitter, and Pinterest.
Author Bio
Ashley Bible is a high school English teacher who loves creating a clean and creative space for her students. For a peek inside her classroom, follow Ashley on her Instagram account, @buildingbooklove and her website Building Book Love. She has already reaped the benefits of applying The Life-changing Magic of Tidying Up to both her home and classroom and loves helping other teachers to do the same. You can read more about her clean classroom challenge in her blog post here.
*This post contains an affiliate link