Many new and veteran teachers alike struggle with how to teach reading. In this post, veteran teacher and TecherVision Advisory Board member Olivia shares the most helpful reading instruction strategies, tips, and techniques she's learned throughout her teaching career.
Updated on: December 17, 2019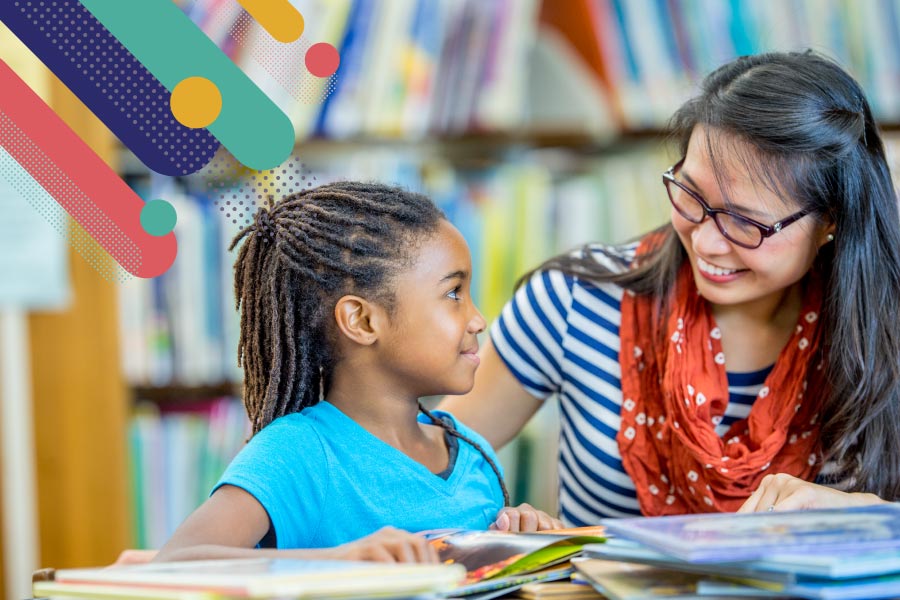 Reading instruction seems to be an area of practice that both new and veteran teachers struggle with. Despite the best intentions, the universities that educate us and grant our teaching degrees do not always prepare us for the realization of all that goes into teaching students how to read. Throughout my years of teaching, both in special and regular education, I have come across the following methods and strategies that have helped me define a well-rounded basis for reading instruction. Hopefully, there are some ideas here that will be useful for you, as well.
Reading Strategies
As adults, we tend to forget all of the different ways we were taught to read because it is now a skill that is second nature. Your students, however, are looking for ways to attack an unknown word, and just like the strategies we give them in math such as using fingers and drawing pictures, there are many that you can provide for your students for reading as well. I have used the following popular phrases and strategies to great effect over the years when teaching reading - these are common in many classrooms, and you can find a variety of resources online to support them.
Lips the Fish: Get your mouth ready to sound out the beginning sound.
Tryin' Lion: Try to re-read the sentence.
Eagle Eye: Look at the pictures.
Chunky Monkey: Find chunks you already know in each word.
Flippy the Dolphin: Flip the vowel sound (ex. try short and long sound).
Stretchy Snake: Stretch out the sounds in the word.
Skippy Frog: Skip the unknown word, and see if you can determine what would make sense.
Keep in mind that your students will not automatically know these strategies - this is something you need to constantly teach and practice! We like to do this during our read-alouds, and it only takes an extra 30 seconds out of your carpet time to implement.
Comprehension
In the early stages of teaching reading, when the emphasis is so heavily focused on decoding, it is very easy to set aside the focus on comprehension. But this is not something to put on the back burner.
As students begin to read at higher levels, the comprehension questions will continue to get harder, so build the foundation now!
Typically, I go through phases of comprehension questions/story retells until the students in each group have a solid grasp. Then I move on to the next phase. For example, I begin by asking students to tell me the beginning, middle, and end of a story - being able to sequence a story into the important events is crucial moving forward! Once students can do that, we move on to retelling the story using the starters: first, next, then, last. As you can see, each phase builds off of one another, and can be used at any reading level!
Comprehension practice does not have to be confined only to reading groups; just like we practice our reading strategies during read-aloud, we also practice comprehension questions such as "Who is/are the main character(s)?", "What is the setting?", etc. Talk about the author(s) and illustrator(s) of the books you are using in read-alouds and define the words for students!
I find that it is helpful to teach comprehension in four specific phases as a way to scaffold all students and groups into the same general foundation. Below are the first few phases I use when teaching and practicing comprehension:
Phase One: Beginning, Middle, End.
Phase Two: First, Next, Then, Last
Phase Three: Problem, (3) Main Details, Solution
Phase Four: Main Characters, Setting, Main Idea, Problem, Solution
Comprehension is difficult to teach, especially across varying levels, and requires a steady, persistent, "front and center" approach!
Phonics
This part of reading instruction can be very broad, especially considering what your school or district chooses to use for phonics instruction. While I personally am required to teach using a specific program, I also provide small-group phonics instruction during my reading groups, as well. Depending on reading level, students will be encountering different phonics-based skills that are necessary to decode unknown words.
In my classroom, this small-group phonics instruction is usually delivered in short bursts (5 minutes or so) between or at the end of other activities, and follows a format this looks something like this:
Quick-read practice: A short, focused reading or re-reading of a current or specially-selected book or passage.
Identification/marking of known word components: An opportunity for students who are struggling with phonetic components to get some practice at identifying and mastering them.
While the English language can be confusing, I have found that showing students ways to break down a word into small, manageable parts gives them the power and confidence to attack otherwise daunting words. For example, we begin with being able to identify consonants and vowels - students should know the difference and be able to verbalize it!
Next, we identify short, closed syllables - this is where students become very familiar with "CVC words." Not only should students be able to tell you what these things are, they should be able to mark a word to help decode it - write a c or v below the letters, identify if it is a closed syllable and therefore a short vowel sound, and mark the vowel with a breve!
This will come to be a very helpful skill when writing, too - if a student knows how to break apart a word to read it, he or she can apply those same skills to write it, as well. If you'd like to know more about this method, take some time to look into the six syllable types and Orton-Gillingham multisensory reading instruction.
Sight Words
Simply put, sight words are so important to a child's reading success, specifically in the early stages of reading! We practice our sight words as a reading station - students can read with a friend, rainbow write them on a piece of paper, or use an iPad app called Bitsboard to practice their word identification. Our district provides specific lists for us to use, however, if you are looking for a place to start, look into Dolch or Fry words for a database of sight words students should know to be successful in their reading.
If you choose to use Dolch or Fry, I suggest breaking them into lists of your own, about 20-25 words per list, so that you can track them for data purposes and give students a manageable amount to learn at one time.
Reading Groups
Every teacher conducts their reading groups a little differently. However, here are a few tips that you may choose to implement in your own reading groups to help improve their efficiency:
1. Students in a group should be at about the same level, though this isn't always possible. Try to structure your groups so that each student is reading at either one level above or one below their instructional reading level.
2. Make a schedule for the week and do your best to stick to it. I make a schedule so that I know which group I am meeting with and on which day(s), and at what time. This is helpful as it ensures that you are meeting with your lower groups more often, and helps you to stay on track.
3. Log the books you are reading with each group and what skills are being practiced, and jot down notes as you work with them. This helps you to reflect on student learning at a later time, track which books you have already read together, and identify which skills you have already taught.
4. Make sure to vary instruction - beyond just reading a book, you can also incorporate some quick phonics practice, comprehension, and writing during this time!
"Book in a Bag"
This is purely optional - however, I have found it to be a very effective method to get students excited about practicing their reading at home, and a way to get parents involved as well!
After I read with a group, I put the book we read in a bag with a folder that has a reading log and sticker chart. Students take the book home that evening and read it with a parent or an older sibling and log it with a parent signature. If students bring it back to me the following day with a signed log, they receive a sticker on their sticker chart.
Once their sticker chart is full, they receive a prize! On days that we do not meet as a reading group, I check their log and put in a "cold" read (a book we have never read together before) at their independent reading level. Either way, they are practicing their reading and taking ownership of their learning at home.
Some Helpful Resources
In the beginning of my teaching career, I turned to many different texts and resources to help me refine my own methods for teaching reading. Below are some resources I found to be helpful/influential in my development as a teacher in reading instruction:
How do you approach reading instruction? How? Share with us on Instagram, Facebook, Twitter, and Pinterest.
Olivia Bechtel is a first grade teacher in Westerville, Ohio who loves implementing engaging, innovative lessons to inspire her students. In her free time she enjoys spending time with her husband, son, and two dogs.