Looking for a safe, flexible, work-from-home gig that will let you flex some serious educator cred? Pearson has some great opportunities for you.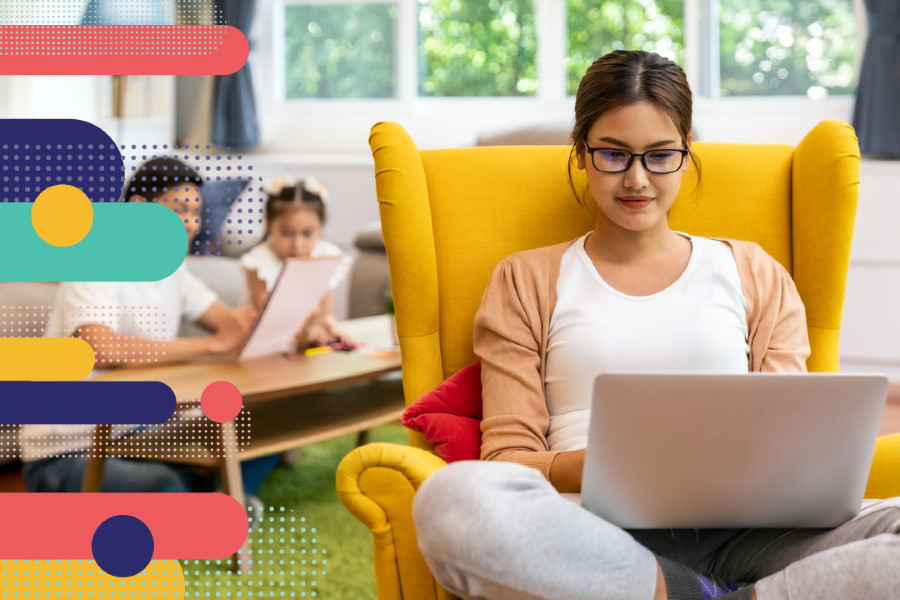 Editor's Note: Pearson Assessments and Operations is the largest provider of educational assessment services in the US. They partner with educators to develop new and personalized ways of learning through effective, scalable assessments that measure 21st century skills and inform instruction throughout the school year. They have a number of seasonal employment opportunities in the areas of operations and test scoring, and we've partnered with them to make teachers aware of these great seasonal roles.
Summertime, and the livin' is easy! 
You've written the last report card comments, handed out the last student achievement awards and certificates, packed away all your folders and supplies, and closed up the classroom at the end of a pretty crazy year of teaching. (Or maybe you've just set your Zoom status to "On Hiatus..." Yeah, it's been THAT kind of year.) 
Recess duties are a thing of the past, you will actually have time to EAT your lunch, and the only behavior management you're worried about is remembering what to do at night and on weekends. (Hint: It's called "recreation.")
Another school year is in the books, and it's time to relax, recharge, and reacquaint yourself with those people called "adults."
Well...kinda. 
If you're like a lot of other teachers, chances are that "summer planning" involves taking a good, hard look at the ol' bank account before deciding how to use up the blissful weeks between the end of June and the end of August. 
Teaching may be a rewarding, fulfilling, and meaningful career choice - but it's probably not earth-shattering news to most educators that the compensation packages are usually...ahem, underwhelming. 
And so, many teachers find themselves trying to line up some form of part-time summer work to cover the cost of, y'know, having a life outside the classroom. And sometimes to keep their skills sharp, or have experiences that are completely different from what they get from teaching. Whatever the reason, "summer jobs for teachers" is definitely a thing. (Just ask Google. Seriously, go ahead.)
Landing a summer gig is not without challenges, however, even for the most motivated among us. Ask any teacher who has to juggle childcare, vacations, summer PD, back-to-school planning, and myriad other responsibilities how easy it is to find a "regular" part-time gig that works for the "regular" teacher on summer break. Chances are, you'll get a lot of hand-waving and eye-rolling. It's tough to make a part-time gig fit the summer schedule. 
Not to mention the whole global pandemic thing, either, but...chances are you've spent enough time being an essential worker already this year, and the prospect of working somewhere on site or with the public isn't something you particularly relish. 
Finding convenient, flexible, seasonal, AND rewarding remote work opportunities can be done - but definitely requires some effort. Or used to, anyways.
Before you head off to trawl Indeed or one of the gig-work platforms for that perfect summer job, allow us to make a suggestion that will save you time and headaches, and let you work safely and conveniently from home.
Get in touch with Pearson.
Yes, THAT Pearson. Specifically, the fine folks in the Assessments and Operations group. They feel your summer gig pain and are here to help with a variety of opportunities for teachers just like you. 
If you want solid, flexible, remote seasonal work that keeps you safe while working from home and ALSO enables you to flex some serious educator cred, Pearson has you covered. 
Want to use your writing instruction chops to score open-ended assessment items? Consider becoming a remote Test Scorer or Supervisor. 
Does scoring National Board portfolio entries seem more your speed? Pearson would love your help with that. 
Interested in being on the cutting edge of new teacher assessment? Well then, how about remote work scoring edTPA portfolios?
The good news: These are just a few examples of the opportunities Pearson has available for teachers this summer. The complete list, plus descriptions, can be found at the Pearson Scoring Jobs - Assessment and Operations Seasonal Employment page.
If your plans include summer work that will challenge you, reward you, and give you the opportunity to stay safe and work from home while things return to "normal," pay the folks at Pearson a visit. The livin' can, indeed, be easy.