Authored by:
Last edited: August 21, 2022
Teaching at the elementary level is challenging enough when the kiddos are right in front of us - but teaching from home is a whole new level. Take a look at what veteran teacher and TeacherVision contributor Lisa has been doing to create routines, accountability, and community for her students.
Teaching just got thrown its wildest curveball yet. If you had told me a few months ago that I would be going about my school day from home for weeks, possibly months, I would have laughed in your face. Teaching at the elementary level is challenging enough when the kiddos are right in front of us, but it is a whole new ballgame teaching from home. Take a look at what I've been up to to create routines, accountability, and community for my fourth grade students.
Side note: I am incredibly, unbelievably grateful to work in a district in Massachusetts that had already set up distance learning, originally for snow days. Wakefield created the Learn Anywhere Project, initially configured as a means to not have to make up any snow days at the end of the year. Kiddos are assigned various amounts of work (depending on grade level), and that work is due one to two weeks after the snow day. Now, obviously, we are not in a perpetual snow day, and we did not plan on using our distance learning long term, but we'll take what we can get.
My Setup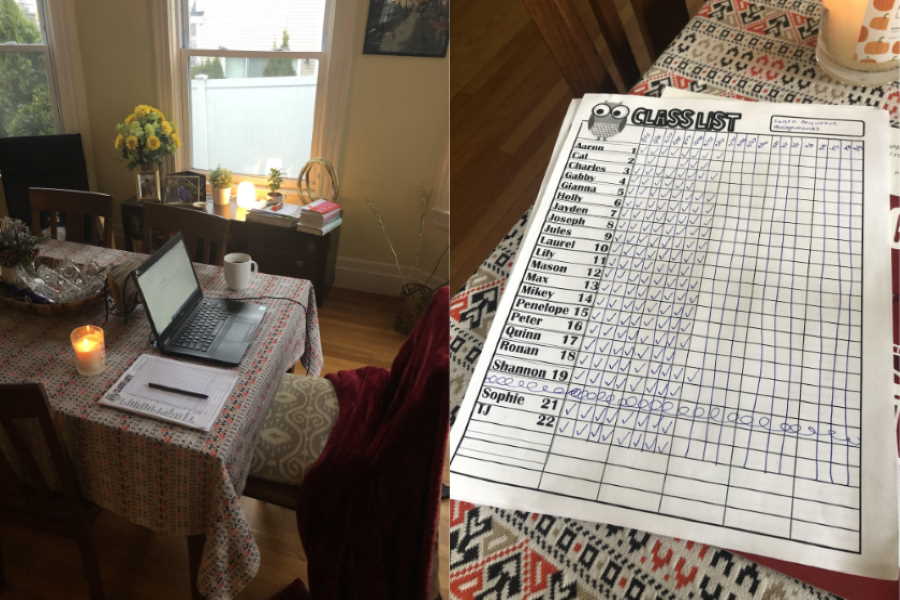 Coffee: obvious part of the setup.
Chair with a comfy pillow on it, blanket across the back: also obvious.
Computer: duh.
Class list: I've been using my class list to mark off who has done assignments each day and also take note of who is attending my twice-weekly class video chats.
Blank paper: using to make anchor charts.
Phone: using to film videos of myself teaching relatively easy new concepts to post to the Seesaw app for kids to view.
My Daily Schedule
Wake up around the same time I normally would for a regular day of school.
Around 8:30-12-- sit at my set-up area, create the Learn Anywhere assignments for the following day (I'll give many, many ideas for tools and assignments next!), and respond to parent and student emails as they come in.
Around 5 or 6 PM-- email out the following day's assignments so that kids and parents who like to plan their day around the work can have a heads up as to what is coming the next day!
Mondays and Fridays I host an 11 AM Google Video Hangout with my entire class, and almost everyone has joined! I set it up on a schedule so that parents and kids know exactly what days and what time it will happen, and I send out a meeting link for it the night before within my assignments page.
Tools and Assignments
Side note: If your students do not have laptop/tablet/computer/internet access, these tools will not work for you. Any engagement in reading and writing that the kids are able to access is a great way to continue learning without a computer, and any activities that kids are doing with their families such as baking, reading a book together, going on a nature walk, and more, are all ways to infuse learning into daily activities. This site offers a ton of great ideas for engagement without a computer:
Google Docs: My students have used Google Docs for years, so it was an easy transition to bring it home. I had them create a Learn Anywhere folder inside of their fourth grade writing folder which was already shared with me earlier in the year, and any time I offer a writing assignment, they make a new document in their Learn Anywhere folder to keep everything organized.
Seesaw: I have used an interactive app called Seesaw with the kids for many years. It allows kids to post their own photos, videos, or written responses, and I can also post updates that push out to all parents and kids. I've been using Seesaw lately as a very easy platform to post long videos. I have been filming myself with my phone teaching the kids some new (but easy to learn) concepts (such as geometric terms like lines and rays), and posting the videos to Seesaw only takes a few seconds! Then, I can grab a shareable link that the kids can click and it takes them right to the video! I have also been using Seesaw as an optional place for kids to post fun photos and videos of what they have been up to!
Epic: Epic is an incredible digital library that offers kids thousands of books to choose from. The site appears to be free at the very least during school hours, and may work later into the evening as well. My fourth graders love reading on Epic and it's a great way to offer lots of choice if kids don't have many books at home.
Scholastic Virtual Field Trips: So many different platforms are offering free virtual field trips for kids, and I have used Scholastic so far to send them on a field trip of the Revolutionary War!
Educational Videos: YouTube and many other places are great to find educational videos! The ones I've been sending out lately are the Liberty Kids American Revolution series, which are cartoon episodes of the various events of the Revolutionary War!
Prodigy: Prodigy is one of my ALL TIME FAVORITE math tools and kids of many different elementary grades LOVE it. The game is free, easy to learn, and gives kids practice with math concepts that you can assign to them as a teacher, or let the game take them through the concepts. The game has an algorithm to know when the kids need more practice with various concepts, too! It is very easy to log on as a teacher and see exactly how many problems kids have tried!
i-Ready: Another math tool that allows for custom lessons for kids, and the program gives them a full video teaching them the concept as well as opportunities for practice and a quiz at the end. Very easy to see student work!
Readworks: Readworks is another free site that allows teachers to choose articles based on grade level, lexile, genre, and more, and provides space for students to respond to multiple choice questions as well as engage in written responses. It's very easy to access and very straightforward, and is another great way to see who is engaging with the work.
Mr. N 365: A paid site (but when I joined they had 80% off due to COVID-19) that offers hundreds of games, lessons, and activities for all ages. I found some incredibly fun math games on there, and it was super easy for the kids to log in!
Communication with Parents
Email: Email has been my main source of communication with parents, and as I have done about two weeks' worth of Learn Anywhere, I have learned that less is more. I make a point to include in a single email each night all relevant information for the following day's assignments, video hangouts, and anything else that may be going on so that the parents are not bombarded with too much information. I also think it is VITAL to let families know that whatever engagement their kiddo has with the distance learning is great. Take a look at a piece of an email I pushed out to parents recently:
"My goal for Learn Anywhere is to try to give kids a semblance of routine, because I know that many, many kids desperately crave and need routine even if they think that they just want to goof off. Whatever that routine looks like in your house is GREAT. If the kids are reading daily and maybe playing Prodigy here or there, great!! Or if you're spending time together as a family and reading a book together, or if you're going outside and engaging with nature, or if you're finding virtual field trips or fun podcasts or the kiddo is practicing an instrument or learning how to bake. Obviously it's wonderful for me to see them engaging in the activities I've provided and learning new things, and if that has been working for you, keep on with the usual. My true goal, though, is that the kids feel happy, connected to me and the rest of the class, safe, healthy, and mentally and emotionally okay."
All in all, the most important part of teaching from home in a time of coronavirus is to maintain connections, promote happiness, and support our kiddos in any way that we can. Whatever you have been doing as a teacher, whether it's sending out videos of yourself reading a book, sending an email just to say hello, hosting video chats, providing full assignments: You are doing a great job. 
What does your average day look like teaching from home? Share with us on Instagram, Facebook, Twitter, and Pinterest.
Lisa Koplik is a fourth-grade teacher at the Greenwood School in Wakefield, Massachusetts. She loves teaching math, reading intense read-aloud books that promote complaints when she has to stop reading, and figuring out educational games to play with her students. Check out her video series on classroom management!.