CREATED BY:
LAST UPDATED: May 11, 2023

The Best Shoes for Standing All Day in the Classroom - As Voted By You!
There are plenty of occupational hazards of being a teacher. We're limited in our bathroom breaks. Water bottle spills can be deadly. Sometimes our "lunch" is scheduled at 10 a.m. But there is one thing in particular that profoundly affects our quality of life that few people talk about: Our feet.
Teachers are in the classroom for over 8 hours, and most are standing nearly the entire time. Not every shoe is built to withstand the kind of beating a teacher gives their footwear. Blisters, bunions, foot and heel pain are common complaints.
Comfortable and supportive footwear isn't a luxury as an educator; it's a necessity. So we turned to our Teacher Advisory Board and our TeacherVision members to ask what their most recommended brand of everyday footwear was that stood up to the long hours.
Here's what we found!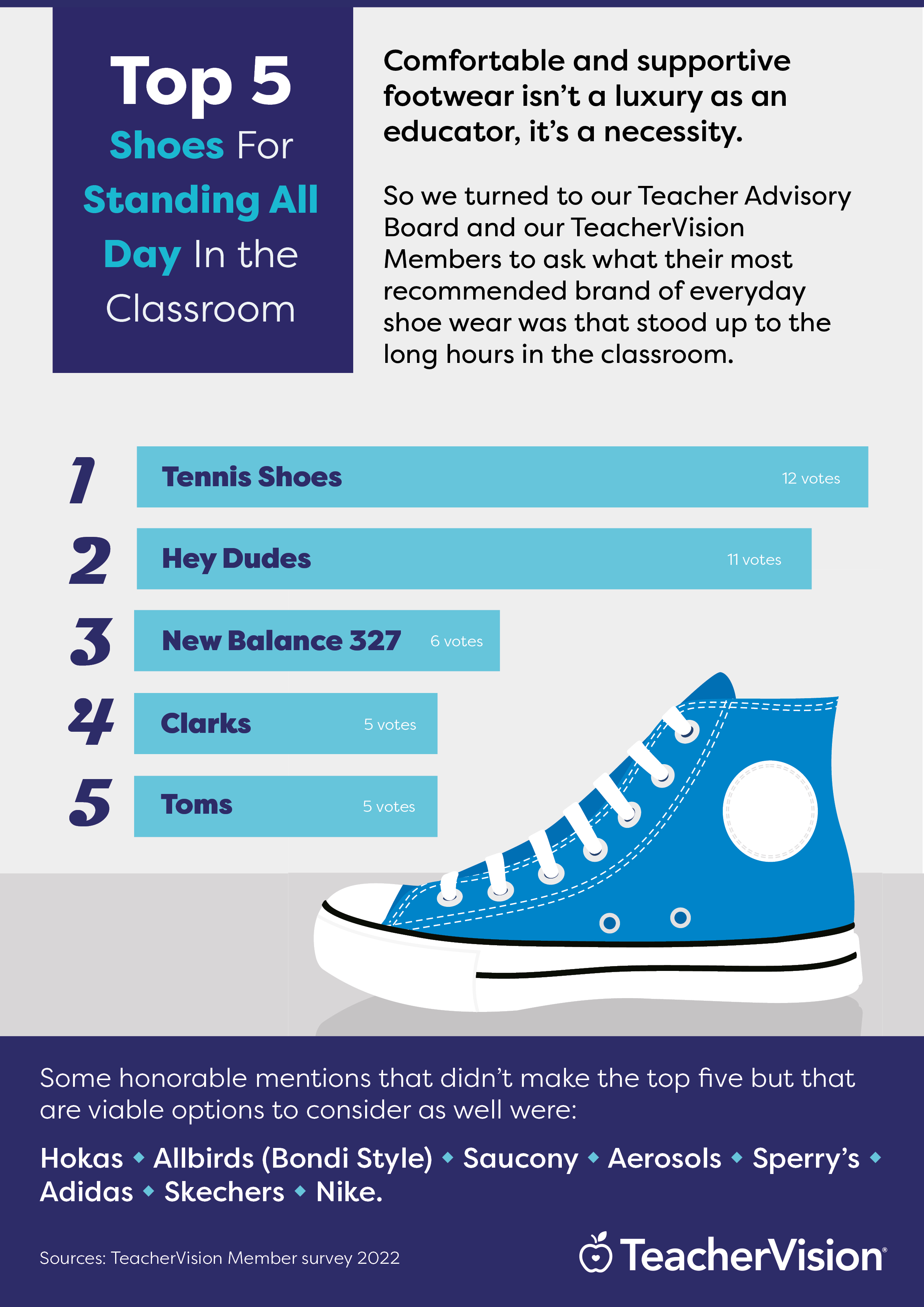 Your Top 5 Most Comfortable Shoes for Standing All Day Are:
#1. Tennis Shoes
Perhaps this doesn't require explanation, but tennis shoes/sneakers are designed for athletes. Not even athletes are on their feet for eight hours, so I think it's safe to say that tennis shoes could also be called "Teacher Shoes". They provide incredible arch support making even flat feet and high arch sufferers more comfortable with extra cushioning. Some people might think that a tennis shoe is not a work shoe. I would strongly encourage them to stand in your classroom for 8 hours in heels before they change their mind.
#2. Hey Dudes
Hey, Dudes came in at number two in our top picks for our readers, and it's easy to understand why. This lightweight, comfortable and affordable pair of shoes are also slip-ons, making running out of the door when you're late for first period much quicker and more efficient. They're also made of sustainable materials and are suitable for those with wide feet. Perfect for those long days when you have hour shifts for playground duty.
#3. New Balances
New Balances are crafted in the United States and have proved their longevity by maintaining their popularity since the 1970s. Not only are they stylish shoes, but the extra support they provide through shock absorption and arch support is the way to go for active educators. The New Balance fresh foam is tailored explicitly for active bodies that also suffer from overpronation. The best part is that New Balance are so popular they can be purchased anywhere from online stores such as Zappos to local brick-and-mortar shoe stores.
#4. Clarks
If you're looking for a shoe or clog that gives the appearance of more formal footwear but still provides all the comforts, Clarks is the best option for day wear. Non-slip, water-resistant, shock-absorbing and orthotic options mean Clark has educators covered to give them the ultra boost they need to make it through the day.
#5. Toms
Toms is another great option that's stylish to boot. Now available with memory foam, Toms has proven that they're interested in what's trending and what's comfortable. If the foam insole wears out, there are even options for a replacement! Toms is a great workday choice that transitions seamlessly to everyday wear.
Some honourable mentions that didn't make the top five but that are viable options to consider as well if you'd like to have machine-washable, breathable mesh, mesh-uppers, leather-uppers, and ortholite options for all-day comfort were: Hokas (Bondi style) Allbirds, Saucony, Aerosols, Sperry's, Adidas, Skechers, Nike and others.
As teachers, students are always keeping us on our toes; protecting our feet should be our top priority.
Looking for Self-Care Ideas?
Head over to our Self-Care for Teachers Hub where you'll find a trove of webinars and wellness resources to help you.
Sign up for the TeacherVision newsletter to get daily or weekly updates on everything new and coming up in the world of teaching. Create a free TeacherVision account to start downloading your free teaching resources and lesson plans from our huge library of resources and too.