TeacherVision Advisory Board Member Connor acknowledges how challenging it is to have a growth mindset. He shares four steps he took to keep growing his teaching in hopes that they will inspire and encourage you to keep learning.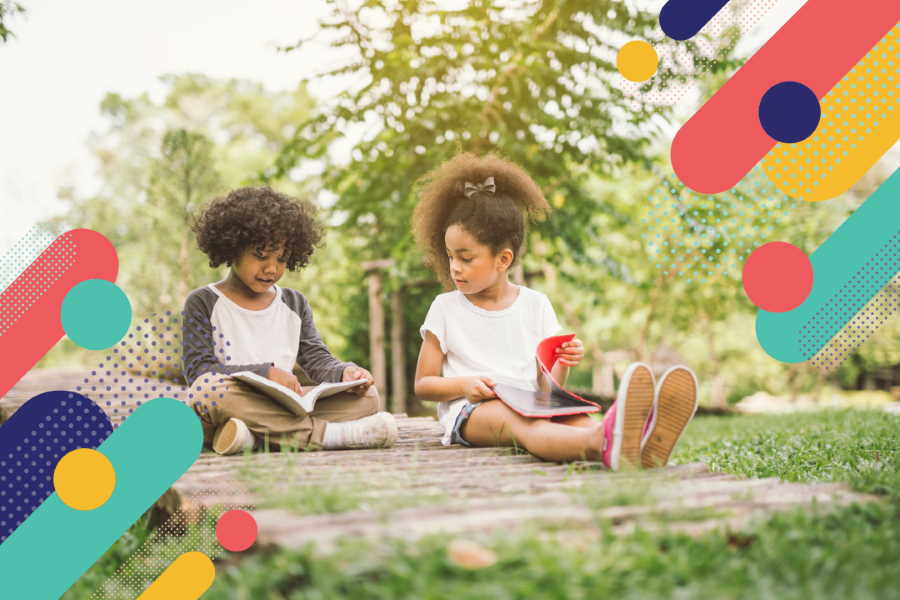 While summertime is a glorious and monumental occasion in the lives of most elementary students, parents can worry that between all the playing, swimming, and gaming, their little learners are going to regress with their reading fluency and comprehension. You can keep their minds engaged and their skills fresh by introducing them to some awesome summer reads. Approved by teachers, these summer reading recommendations are sure to hold a child's interest and can be easily toted along to the beach, read by the pool, and enjoyed before bedtime.
Here are some of the top summer reading picks for early elementary, elementary, and advanced reading levels.
Early Elementary (K-2)
Aggie the Brave by Lori Ries
Designed for beginning readers, this boy and his dog adventure totally connects with young readers. After Aggie has to go to the vet, Ben learns how to face his fears and spend a night without his best buddy. The third book in a series, children will want to read the rest!
Themes:  Friendship
Owl Diaries by Rebecca Elliot
This series is part of an early chapter book line called Branches, which is aimed at newly independent readers. Its high-interest content, fast-paced plots, and relatable illustrations; these books boost reading confidence and help readers grow.
Themes:  Realistic Fiction
The Bad Guys by Aaron Blabey
This set contains the first five books of the series. Filled with laugh-out-loud moments and graphic illustrations, kids will have a hard time putting these books down as they take daily journeys with wolf, shark, snake, and piranha.
Themes:  Humor, silliness
Elementary (3-4)
I Survived the San Francisco Earthquake by Lauren Tarshis
Lauren Tarshis has a knack for making students feel as though they've literally stepped back in time. With descriptive language, facts, and a little fiction thrown in, you have one enticing book for an elementary student. An added bonus? Once they're hooked, there are many others in the series to enjoy!
Themes:  Historical Fiction
Dragonbreath by Ursula Vernon
Book 1 of 11. The main character, Danny Dragonbreath, can't breathe fire, but has no fear. This modern remake of a comic book format introduces funny characters and situations kids can connect with!
Themes:  Humor, crazy adventures
The Land of Stories by Chris Colfer
This box set comes complete with the first 6 books of the series. Fascinating and powerful, twins Alex and Conner enter into a foreign land full of magic and fairy tale characters kids grow up reading about.
Themes:  Fantasy, adventure
Advanced Reading Levels
Nightmares! by Jason Segel and Kirsten Miller
Delightfully entertaining, this hilarious and frightening novel set requires a boy named Charlie and a group of kids to face their fears in order to save their town. With three books in the series, kids will be begging you to read the rest by the end of summer!
Themes:  Fantasy, humor
Spy School by Stuart Gibbs
Ben Ripley, an undercover nerd, is on his way to becoming a super star detective because his life depends on it! Thrown into a junior CIA academy, could everyone's safety come down to him? Funny and mysterious, kids connect with this awkward character and his extraordinary circumstances.
Themes:  Mystery, humor
Snow and Rose by Emily Winfield Martin
Main characters Snow and Rose had no idea they were in a fairy tale. The story of two sisters put under terrible spells in an enchanted forest, this book is full of beautiful full color illustrations and unusual but relatable characters. This unique story will truly resonate with older readers.
Themes:  Fantasy, adventure
These leveled books are highly-esteemed and are just what your elementary-aged kiddos need to foster their love for reading and implement some "school" time during the summer. Check them out today and be sure to bundle them up for your vacay or staycay! Regardless of your plans, your children are sure to love them.
Which books are on your summer reading lists? Share with us on Instagram, Facebook, Twitter, and Pinterest.
Heather Aulisio is a third grade teacher in Pennsylvania. She has been a teacher for nearly 15 years and holds multiple degrees and certifications. A freelancer for The Mailbox and other education-related clients and publications, she enjoys writing in order to help and entertain fellow teachers. She currently resides with her husband, Bryan; son, Matthew; and two pugs, Lily and Leo.